September 3, 2011
last update Dec. 12
<< The Tripoli Massacres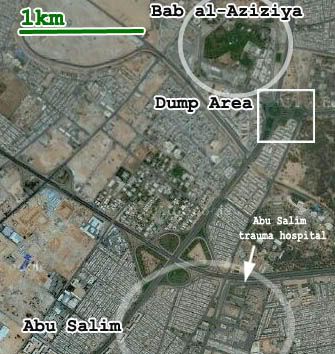 This post will deal with, and gather posts going deeper into, the grisly finds just outside the Gaddafi compound of Bab al-Aziziya on August 24 and then 25. (Location at left, labeled"dump area") As rebels tightened their grip on the area, they also claimed Gaddafi's shadow fighters had killed at least 26 people here. The dead look to be apparent Gaddafi fighters/"mercenaries" and/or loyalist civilians fleeing with bedding and/or manning a loyalist encampment, including treating wounded in a medical tent.
The dead seem to be in two groups and of two types that are quite distinct, although some sources tend to jumble them together. One group is about one dozen (or two truckloads) of black men, in a mix of civilian clothing (primarily) and partial military clothing (at least two, bound tightly). They look like the usual hodge-podge frequently dubbed "African mercenaries," when most clearly aren't. Those in civvies aren't even dressed "sporty." At least some of these bodies (the two real fighter types at least) were executed
somewhere
some days prior to their discovery
, judging by the maggots and decay I explain (along with the implications)
here
. (Un-noted there, ready for update - Reuters filmed the previous day and saw
none
of these same bodies. It seems unlikely they could miss them, and no way are they overnight, on-site kills. The two apparent fighters at least
must
have been dumped there)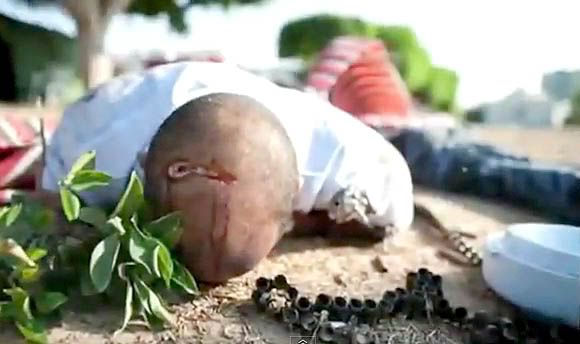 Others, approximately a dozen total, apparently, are unarmed civilian Gaddafi loyalists killed in a medical tent and elsewhere, apparently early on August 25 itself. Some at least clearly died by the blade, not the bullet. One conveniently bald-headed victim apparently had
a sword thrust through the top of his skull
. (see right - victim #17 as given at the link and map below). He might've been there two days or more, trickling a little blood, no sign of decay. One could wonder if he was even killed or just put into a coma. And one hopes that was figured out before burial.
Sub-Post:
The Tripoli Massacres: Mapping out the Roundabout
Setting the minimum number of dead as 26, placing them pretty exactly, in space if not time, and giving each a number. The final graphic is below:
There are a further seven bodies that were seen on the 25th, quite nearby, and arguably part of this crime scene. These were however too far away to fit on a workable map, out of this public space, and sort-of within the compound's walls (just off of the upper right corner here). These bodies are covered in
this post
.
Timeline:
Aug. 23:
rebel fighters first enter Bab al-Aziziyah. The area, like the 95% of Tripoli they claim, would seem to be under their control. However, as
Sean Smith noted for the Guardian that day
: "[The Gaddafi loyalists] certainly hadn't fought to the last man.
There weren't the bodies of Gaddafi supporters lying around
." They would start doing that soon. 33 right around the compound, 18 just south, 75-200 (reports vary) slaughtered and dumped at the hospital south of that, many others scattered about, and then Yarmouk...
Aug. 24:
Bodies filmed by Al Jazeera and Reuters, both seemingly late afternoon. Bodies 1-8 plus bodies 19 and 20 are shown. The medical tent victims (#21-26), just behind these dead men, were probably deceased by then too, and quite likely #17/18 nearby. Bodies 9-16 are not shown this day.
Aug. 25:
CNN and other footage is recorded, at various times all day. There seem to be more bodies; #1-8 seem to be missing, but all others are visible this day, as well as the seven just north of there.
The below stuff will be revised / split-off / whatever at a later date.
The tent victims
The first I heard of any of this was from Hadeel al-Shalchi, AP, Aug 26:
http://hosted.ap.org/dynamic/stories/M/ML_LIBYA?SITE=AP&SECTION=HOME&TEMPLATE=DEFAULT
By sundown the rebels appeared to have won the battle for the Abu Salim neighborhood, next to Gadhafi's captured Tripoli compound [...] Outside his Bab al-Aziziya compound, which rebels captured Tuesday, there was another grim scene — one that suggested mass, execution-style killings of civilians.

About two dozen bodies — some with their hands bound by plastic ties and with bullet wounds to the head — lay scattered on grassy lots in an area where Gadhafi sympathizers had camped out for months.

The identities of the dead were unclear, but they were in all likelihood activists who had set up an impromptu tent city in solidarity with Gadhafi in defiance of the NATO bombing campaign.

Five or six bodies were in a tent erected on a roundabout that had served as a field clinic. One of the dead still had an IV in his arm, and another body was completely charred, its legs missing. The body of a doctor, in his green hospital gown, was found dumped in the canal.
The last could be related to this, or to Abu Salim Trauma Hospital, or to the doctor and nurses killed nearby, two black male nurses seen executed among 18 others... Mr. al-Shalchi writes that "it was unclear who was responsible for the killings," but they were Gaddafi-supporting people by the look of it, and found slain just as rebel fighters pushed in that way. The doctor I'll deal with separately, perhaps in connection with the Abu Salim trauma hospital, about one km south of the spot in question (see below) and about 1km west of a canal. The hospital had its staff "run away," leaving about 100 dead black men unattended to there.
As far as this medical tent is concerned, there is
a very high resolution image
I found elsewhere of the victims (five visible). And they were killed. At least two victims are black, and smallish. Those shown are not charred, bloodied, but not gory. It's not obvious how they died, really, but throat-slitting seems to fit the bill as much as anything. I'll come back to this ...
The
Independent
reported
on the 27th, explaining how this number of victims is at least a bit higher than the five inside:
[The murders] had taken place at a makeshift hospital, in a tent marked clearly with the symbols of the Islamic Crescent. Some of the dead were on stretchers, attached to intravenous drips. Some were on the back of an ambulance that had been shot at. A few were on the ground, seemingly attempting to crawl to safety when the bullets came.
[...]
"Come and see. These are blacks, Africans, hired by Gaddafi, mercenaries," shouted Ahmed Bin Sabri, lifting the tent flap to show the body of one dead patient, his grey T-shirt stained dark red with blood, the saline pipe running into his arm black with flies. Why had an injured man receiving treatment been executed? Mr Sabri, more a camp follower than a fighter, shrugged. It was seemingly incomprehensible to him that anything wrong had been done.
The "Gaddafi fighters"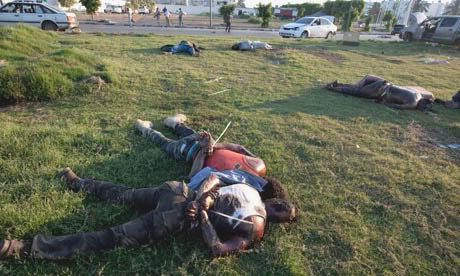 Then there's
the video
, with Dan Rivers reporting for CNN on August 25 - twice it seems. This shows the grisly scene also visible, in part, at left. He counted twelve bodies in the area he was shown, hands bound behind, executed. "It's a grim, grim scene, and just redolant of how fierce the fighting was here," he said.
Actually no - as I've found, and as the smell should have told him, these guys (at least the two in the foreground here) were long dead, discolored, crawling with maggots, and just starting to come apart. "We don't know what happened to these people, whether they were executed by the rebels [turning in their direction, as a shot is fired in the air] or, or what." Then his drivers/minders, rifles out in their pickup, honk that it's time to go and they do quickly turn and go.
Another view
, again skipping the embedding for consistency, has Rivers again, with a somewhat different report - presumably also from CNN - from the same scene (it's videotaped off the screen, with titles cut off). Here the camera pans in on the bodies more, and he relates that "
the rebels say they were executed by Gaddafi's men
. But these bodies appear to be black Africans. Black Africans make up a large portion of Gaddafi's army, raising questions about whether the men were executed by the rebels."
I should add that he can't say if they were Africans (foreigners) or black Libyans. And both groups make up a good part of his civilian supporters as well as fighters. His rebel minders apparently didn't take him to the medical tent.
There's also a better resolution
AFP video
of these and other victims, the tent and whole area, and
the high-res photo
of two victims that has little obvious use except to prove the decay in disgusting detail.
The
Independent,
perhaps getting groups conflated to get a high count:
Around 30 men lay decomposing in the heat. Many of them had their hands tied behind their back, either with plastic handcuffs or ropes. One had a scarf stuffed into his mouth. Almost all of the victims were black men. Their bodies had been dumped near the scene of two of the fierce battles between rebel and regime forces in Tripoli.
[...]

The corpses were on the grass verges of two large roundabouts between Bab al-Aziziyah, Muammar Gaddafi's compound stormed by the revolutionaries at the weekend and Abu Salim, a loyalist district which saw three days of ferocious violence.
http://www.independent.co.uk/news/world/africa/rebels-settle-scores-in-libyan-capital-2344671.html
Connecting the Victim Groups
Why anyone would dump decaying corpses right there is a small mystery, but compounding it is why the numerous unarmed civilians who were camped out right next to that spot. I'm currently pondering both mysteries, and welcome anyone else's thoughts.