December 22, 2011
(incomplete, rough draft/outline)
The NTC Commission
The Rebel NTC ("Libyan government") has created a National Missing Persons Commission," tasked with matching names of the missing (some perhaps fictitious) to bodies of the unidentified (primarily loyalists), and thus suggesting who killed whom nationwide,
It's partially headed by one
Dr. Salim al-Ferjani
of Tripoli Medical Center, a hotbed of rebel medical propaganda. He's already surfaced under a false name (Dr. Salem Rajub) as a false witness to a disputed incident with uncertain identities involved (see the previous link). He decided from what he "saw" that Gaddafi loyalists had killed the roughly 150 captives of
the Khamis Brigade shed massacre
. Under his other name, al Farjani showed the site of that incident
to UNSG Ban Ki Moon on November 3
, where they gave him as "the acting Chairperson" of the commission.
Mentioned in late November as jointly heading the commission with Farjani was a DNA specialist, Othman Abdul-Jalil. [
VG
] The DNA part of this "National Missing Persons Commission" can be quite helpful if done right, and I have no cause to doubt Dr. Abdul-Jalil's ability. But something tells me this is added just to sound fancy, and will have little effect on the process, besides sometimes giving it a sheen of hard science.
If the National Missing Persons Commission was for real, I would assume they would have some presence on the web. I have found nothing.
A Ministry to Head it
Hurriyet Daily reports
on the new government, November 23:
[Prime Minister Abdurrahim El-Keib] will head a 24-member government which will include such portfolios as the ministry of martyrs, wounded and missing people, and a ministry of civilian society.
The Libyan Society of the Missing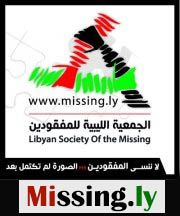 Facebook logo and website
header for Libyan Society of
the [Rebel] Missing.
Loyalists welcome to type in
their info as well... but
they might not.
Hatem el-Turki, head. El-Turki said loyalists wouldbe fairly identified too, in the search for justice." We don't discriminate." [
VG
]
Petri Krohn comment
, 12/16
The one person mentioned in the article that is trivially easy to find is Hatem el-Turki, the head of the Libyan Society of the Missing. He has a Facebook page that again links to
the Facebook page of the society
. Their official web page is at
www.missing.ly
Other Comments
Felix comment
, 12/17:
This
YouTube video,NATO and Libya: The search for missing relatives in Tripoli, Libya (w/subtitles)
uploaded 11 October shows someone called Muhammed Hatem Musbah from the Community for Missing People(almost zero internet presence in English for it or the interviewee) uploaded by NATOchannelTV (er..) it also mentions the Libyan Society of the Missing. "There seems to be too many missing people organisations working independently of any official authority" (hence the near zero success rate)
Petri Krohn comment
, 12/21:
There is an important point noted by
Mohammad Miloud Benhammed
, the vice president of the
Mitiga missing persons group
on this
Russia Today video
. Families of dead Libyan Army soldiers and other Gaddafi supporters will claim that their relatives were "civilians caught in the crossfire" – this when speaking to the only neutral party in Libya. With a little pushing and some help from a Massacre Masseuse any dead Gaddafista can be turned into a revolutionary martyr. Who would want to be related to a dead servant of a dead tyrant when a far better afterlife is on offer as an icon of the revolution.