November 27, 2011
Last edits Dec. 31
August 23, Tuesday
Around sunset:
Alleged slaughter in the shed behind the Yarmouk military base, by general consensus. This date is well-supported (by witness accounts if not verifiable facts) but has two variants. Bashir al-Siddeq said it happened "Monday night," the 22nd, and an unnamed witness said "Last Wednesday [Aug 24], sometime after the early evening prayer, I heard the sound of heavy gunfire and grenades, then complete calm."
[HR]
The former is supported by another witness and via him, by news giant CNN.
Among other purported attacks, forces commanded by Khamis Gadhafi killed an estimated 150 captive civilians on August 22 as they retreated from Tripoli, alleged survivor Muneer Masoud Own told CNN.

[CNN3]
These outliers could be simple cases of misspeaking or mistranslation, or possibly a clue of something else, but the majority I won't bother citing puts the story firmly on Tuesday the 23rd. Even those who disagree on the date or other details agree in specifying roughly sunset (7:44 pm in Tripoli that day
[WC]
), or as late as 8pm (per Rafaii), if any time at all.
The alleged attack had about 150 prisoners in an agricultural shed/barn/warehouse/hangar killed by members of the Khamis Brigade (32nd brigade), using machine guns and hand grenades. 45-53 of these bodies were only later burned to the bone inside the shed. It's the only known massacre to involve that number of dead and to include grenades to explain the mangled remains.
Tuesday Night:
The bodies are burned, with many of them still alive, by a few accounts. Most, however, do not mention this.
Tuesday Night or Earlier Yet:
Rebels conquer the Yarmouk base and size up the aftermath? See below.
August 24/25, Wednesday/Thursday
Wednesday 6:15 AM:
The UK Telegraph announces the following:
The Information Center For Misurata Military Council claim to have found 140 bodies in a Tripoli prison. They claim the prisoners were killed by grenades thrown into their cells. So far 13 bodies have been recovered.

[T1]
The location isn't given, but the use of grenades and number of dead match only with this massacre (see
here
for a more explicit explanation). "Cells"in a jail are mentioned, as opposed to an open shed (requiring quite a few grenades). But if the batches are the same, rebels have already taken the base, found and/or made about 140 corpses, and announced an explanation for them. There is no mention of burning yet.
Thursday, 9:40 AM:
The Telegraph has an update:
A [rebel] statement said: "Over 140 were killed, no more than 10 survived. Doctors at main Tripoli Hospital know more. Prisoners were locked up, grenades were thrown into rooms that contained many of them. This was followed up with many gun firings. So far only managed to retrieve 13 bodies. All badly burnt. Unclear if this was main cause of death [was because of] grenades. Potentially many prisoners were burnt alive. Unclear at the moment. We are trying to get understanding from city morgue."

[T2]
This looks more yet like the same massacre, as few others featured any burning of bodies. How they know ten or less survived isn't clear. When the bodies had been burnt is unclear, but quitepossiblyafter being recovered. That the main fire was set yet is doubtful. The location still isn't specified, but it doesn't sound like the shed (yet), with the reference to "rooms," though these each "contained many," as opposed to individual cells. The rebel fighters know nothing, and hope the hospitals or morgues will be able to tell them what happened to these people they …handed over to them?
Wed/Thu:
Business as usual? 32 Brigade remains in control of the site, allegedly. From the little I know, August 24 is the latest time anyone killed there would likely be crawling with maggots by Saturday the 27th, as Der Spiegel noted for an un-burnt body.
[DS]
Late on August 25 (Thursday), or perhaps the following morning, or the next night depending on the narrative, is the most logical burn time in the accepted version (the latest that it could happen under Khamis brigade control).
Mid-day Thursday:
Rebel fighter Jamal al-Ragai, recently escaped from prison he says, tries to save the prisoners at the Yarmouk base. As Robert F. Worth wrote for the New York Times, "at about midday, Ragai said, he got a call from one of the other fighters on his cellphone. The man had reached the Yarmouk prison and seen the deserted grounds. "It's too late," the man said. "Everyone is dead."
[NYT]
August 26, Friday
- Early morning:
Rebels capture the Yarmouk Base. Der Spiegel:
Rebels captured the barracks on Friday. Gadhafi's troops put up such a bitter fight that many rebels suspected that the dictator himself was holed up in the barracks.

[DS]
Human Rights Watch:
Human Rights Watch also interviewed an NTC fighter who said that he and his brigade found the warehouse while it was smoking when they seized the Yarmouk military base in Salahaddin on August 26. He told Human Rights Watch that as his brigade entered the base around noon, they went looking around. "We smelled it," he told Human Rights Watch about their discovery.

[HR]
Daylight hours:
August 26 is the date on
a set of six photos
, apparently shot around the middle of an overcast day, showing the shed interior and
the victims just outside it
. victims outside. These photos by Daniel Berehulak, Getty Images, were taken a day before any other media footage of the shed. The description is later and notes the charred bodies "discovered" the following day.
Friday, Another Version: AFP reports an odd statement by NTC commander Abdel Nagib Mlegta, "head of operations for the takeover of the capital."
"In Bab al-Aziziya there was a mass murder. They killed more than 150 prisoners. The guards did it before running away. They threw hand grenades at them."

[FP2]
He's got the same basic story the Misratans reported, but has it six miles north, inside Gaddafi's own compound. That's odd.
A Victim Identified:
The Ottawa Citizen reports Friday that a onetime Ottawa Citizen, Abdulhamid Darrat, was identified
"[earlier] this week
among over 150 others in a Tripoli
warehouse
, members of Canada's Libyan community report." This is the first mention of a warehouse as would emerge, as opposed to a multi-cell prison. Note that this guy was said to have been found among the dead, by rebels, prior to this day. No location specified. His family believes he was killed month prior.
[OC]
Friday, 23 Escapees Known:
ITN News speaks with two brothers who escaped a version of the massacre with "more than 120" killed in an open common area, with five grenades, more than 120 victims.
[IT]
Amnesty International has already spoken with several escapees of the shed massacre, two of which (Lafi and Saleh) were named in a report issued this day. The shed is rightly described, but no mention is made yet of burning. They have already learned of all 23 survivors they would later know about. The location is specified and given correctly here for the first time.
It is unclear how many survived, but to Amnesty International's knowledge, at least 23 detainees managed to escape, including four who received medical treatment at a Tripoli hospital.

[AI]
Friday night:
Rebels defeat the Khamis Brigade and capture the Yarmouk Base. Telegraph:
[Locals] were unable to leave their homes to investigate while fighting in the area continued, but on Friday night rebel forces captured the base and drove out the remaining fighters. Yesterday morning, residents and rebel forces moved in to discover the still-warm remains of at least 53 people.

[T3]
Fri/Sat, late night, pre-dawn:
The loyalist-held Yarmouk base is bombed by NATO forces, says rebel fighter Nurdin Yussef Misrata, ahead of a planned rebel attack.
[NP]
August 27, Saturday
Morning - mid-day:
Sky reports only one base in Tripoli remaining in Loyalist hands.
[SK1]
The Yarmouk base of the Khamis brigade is described in reports from later as the last remaining loyalist base, taken at mid-day on the 27th. The News (Pakistan) explained it on the 28th:
TRIPOLI: Libyan rebels said they captured the last military base held by forces loyal to strongman Moamer Qadhafi in the Tripoli area on Saturday [the 27th]. "Nato struck and then our special forces attacked," fighter Nurdin Yussef Misrata, 36, who took part in a dawn assault on the base of 32 Brigade commanded by Khamis Qadhafi, a son of the leader, told AFP. He said the battle in Salaheddin, a suburb five kilometres (three miles) south of Tripoli, raged for seven hours.

[NP]
A Spanish version of an AFP article
[FP3]
specifies, as the English one
[FP1]
does not, that by their sources (translated):
The base of the 32nd Brigade was taken on Saturday by rebels after a NATO bombing.

[FP3]
All Day Saturday:
"Local residents" find the shed with the charred remains inside.
[HR]
First video footage from the site. Euronews filed on the 28th, but at 12:03am, so filmed on the 27th.
[EU]
Der Spiegel report, not filed 'til the 29th, was based on a site investigation on "Saturday evening," the 27th.
[DS]
Sky News: posted 10:29 pm August 27, filmed mid-day, with shadows short, light slightly from the southeast.
[SK2]
Telegraph Video, posted 9:13pm, suggests an earlier filming yet, with the shed's southwest face still barely in shadow.
[T3]
Video analysis of sunlight direction give a solar azimuth of about 113 degrees for the Telegraph's video, and 145-155 for Sky's. Using the rough coordinates 32.46.33N, 13.12.50E, the date, and the magic contained within
NOAA's solar calculator
, the Telegraph filmed at about
9am
, and Sky at around
11am
. Both had almost exactly a twelve-hour delay getting the videos up, and they became by and large the next day's news.
Human Rights Watch was there to examine and photograph the place by late afternoon, judging again by shadows. They counted
45 distinct human remains in the shed.
[HR]
Witnesses in place to speak on the 27th: "Moftar Abdullah," Dr. Salem and his unnamed survivor friend, Rafaii, Boukhatwa, Abu Ghraim, A.M. Haleem, and an unnamed local, at least.
August 28, Sunday
More widespread media reportage on the massacre, and many more witnesses, especially from inside the shed. All continue to implicate the loyalists in charge on the 23rd, and while conflicting on important details of how it happened, they confirm from one to six grenades were used and up to 30 or more escaped. 53 charred bodies are repeatedly counted within, apparently in addition to the eight outside the shed. Approximately 100 more are believed hidden in or near the compound, but not unearthed yet.
Late Afternoon:
The bodies have all been found and removed, as CNN's Arwa Damon reports, saying about
150 burned bodies had been removed from the shed itself
, according to volunteers.
[CNN1]
This might be a simple mix-up, with the other hundred taken from ... elsewhere easily found, or with the other 100 being fictitious. But this visit is also unique in showing not just smoke rising from the almost human-free debris, but, as shared in a later broadcast,
open flames
(see below),
[CNN2]
. This too may or may not have an innocent explanation.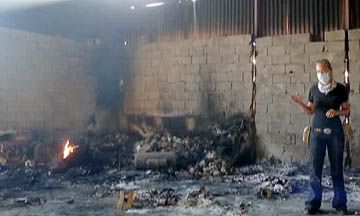 August 29, Monday
ABC (Australia) footage captures a ninth body found executed near the shed. Nothing is obviously different at the vacated shed itself (see
here
) .
[AU]
After nearly a week, the on-site saga seems to be about done with.
Never
Nowhere in this sequence is there any footage or reportage on the Khamis Brigade soldiers who had occupied the Yarmouk base winding up dead or captured. The closest I've seen is this explanation of where they had gone - escaped alive, or carted off by their fellows, every last one of them:
Majid Fayturi, a fighter from one of the Misrata units involved in the storming of Brigade 32, blamed the grisly massacre on Gaddafi forces pushed to retreat by rebels.
"They ran away like rats and then we came along and found these bodies. They burned them. We cannot say they are Muslims. They do not belong to any religion in the world."

[FP1]
I was wanting to bold every word there for possible irony, but that would only dilute the effect. In conquered Tripoli on the 26th, after the "last base" had fallen, the guys inside just slipped out and ran away to wherever, every single one of them?

Or have we seen them - just behind the base, mostly charred now?
Sources:
[AI] http://www.amnesty.org/en/news-and-updates/libya-detainees-killed-al-gaddafi-loyalists-2011-08-26
[CNN1] CNN. August 28,2011. http://articles.cnn.com/2011-08-28/world/libya.massacre.report_1_pro-gadhafi-forces-warehouse-libyan-leader-moammar-gadhafi?_s=PM:WORLD
[CNN 2] The Warehouse Massacre. Added On September 13, 2011. CNN's Arwa Damon talks about her experience in Libya and the uncovering of a warehouse where captives were executed. http://edition.cnn.com/video/#/video/international/2011/09/13/ex-damon-warehouse-massacre.cnn
[CNN3] Rebel commander: Khamis Gadhafi, Moammar's son, killed in Libya. August 29, 2011|By the CNN Wire Staff. http://articles.cnn.com/2011-08-29/world/libya.khamis.gadhafi_1_rebel-commander-national-transitional-council-rebel-forces?_s=PM:WORLD
[DS] Warehouse of Horror: Evidence of a Massacre Found Near Tripoli. Spiegel Online, International. Aug 29, 2011
http://www.spiegel.de/international/world/0,1518,783020,00.html
[FP1] Fifty charred skeletons found in Tripoli. By Dominique Soguel From: AFP http://www.news.com.au/breaking-news/fifty-charred-skeletons-found-in-tripoli/story-e6frfku0-1226123709811
[FP2] http://timesofindia.indiatimes.com/world/middle-east/150-prisoners-dead-in-Tripoli-mass-murder-Rebel-chief/articleshow/9750139.cms
[FP3] http://www.rionegro.com.ar/diario/rn/nota.aspx?idart=694648&idcat=9521&tipo=2
[HR] Libya: Evidence Suggests Khamis Brigade Killed 45 Detainees
Bodies Found in Burned Warehouse
AUGUST 29, 2011
http://www.hrw.org/news/2011/08/29/libya-evidence-suggests-khamis-brigade-killed-45-detainees
[IT]http://link.brightcove.com/services/player/bcpid601325122001?bckey=AQ~~,AAAAAEabvr4~,Wtd2HT-p_Vh4qBcIZDrvZlvNCU8nxccG&bctid=1128958791001
[NP]Rebels claim capture of last army base in Tripoli
Sunday, August 28, 2011 http://www.thenews.com.pk/TodaysPrintDetail.aspx?ID=65109&Cat=1
[OC] http://www.ottawacitizen.com/news/Former%2BOttawa%2Bfound%2Bdead%2BTripoli%2Bwarehouse/5313471/story.html
[NYT] http://www.nytimes.com/2011/09/25/magazine/the-surreal-ruins-of-qaddafis-never-never-land.html?_r=1&adxnnl=1&pagewanted=all&adxnnlx=1325208114-ZvdN+sahuUpYZZkZMgM10Q
[SK1] Greater Tripoli Is 'Almost Under Control' Sky News. 7:36am UK, Sunday August 28, 2011 http://news.sky.com/home/world-news/article/16057781
[SK2] Mass Killing' Evidence Found In Libya. Sky News.10:29pm UK, Saturday August 27, 2011. Stuart Ramsay reporting.
http://news.sky.com/home/world-news/article/16057724
http://www.google.com/url?q=http://www.youtube.com/watch%3Fv%3DpLPktJPwAI0
[T1] http://www.telegraph.co.uk/news/worldnews/africaandindianocean/libya/8721573/Libya-August-24-as-it-happened.html
[T2] http://www.telegraph.co.uk/news/worldnews/africaandindianocean/libya/8723976/Libya-August-25-as-it-happened.html
[T3] Human Slaughterhouse discovered in Tripoli: Rebel forces mopping up the last remnants of Gaddafi regime resistance in Tripoli have discovered a warehouse containing the charred skeletons of scores of prisoners killed and burned as troops fled.http://www.telegraph.co.uk/news/worldnews/africaandindianocean/libya/8727498/Human-slaughterhouse-discovered-in-Tripoli.html
9:13PM BST 27 Aug 2011
[WC] Time and date.com. Sunrise and Sunset in Tripoli, for August 27, 2011. http://www.timeanddate.com/worldclock/astronomy.html?n=252&month=8&year=2011&obj=sun&afl=-11&day=1