August 26, 2011

last edits April 24, 2012
Note, September 28:
This post addresses massacres more than likely from late August and after, in the battle of Tripoli, that may have been carried out by rebel forces despitebeing blamed generally on "Gaddafi's men." It does NOT cover the field of animal bones near Abu Salim prison "thought" to be the mass grave for 1,270 prisoners allegedly killed there in 1996. That's instead covered
here
.
Intro Dec. 22:
This from Sarah Leah Whitson, Middle East and North Africa director at Human Rights Watch sums it up nicely.
"The evidence we have been able to gather so far strongly suggests that Gaddafi government forces went on a spate of arbitrary killing as Tripoli was falling."[HRW release]
The cartoon villains had wanted to unfurl their evil plans to kill all more slowly, but as freedom drew near, they had to kill as many as they could quickly.Per HRW and most of the world, it was a last chance for barbarity, but it's all over now. In reality, it was the first chance for rebels to slaughter as they screeched into town. And unlike the cartoon villains, they got away with it and are now in charge, positioned to let any remaining evil work itself out at allleisure (so long as "sleeper cells of Gaddafi loyalists" can be blamed).
---
Snapshots of Freedom
There are a multitude of aspects to what's going on right now in Libya, Tripoli in particular - things I don't know well enough yet to speak on. But one aspect grabs my attention enough to start finding out about. A side-effect of the near-total liberation of the capitol is literally blood flowing in the streets from brutal mass killings. At least one journalist has captured some of the horror of it as armed butchers from one side or another massacre fighters and civilians alike in growing numbers all across the city. (thanks to Brian Souter for tipping me off to this story)
I start with one rather stark, and detailed, article by Hadeel al-Shalchi, AP, Aug 26:
Fight 'the rats,' Gadhafi urges as rebels push on
(Associated Press writer Rami al-Shaheibi in Benghazi and Donna Bryson in Cairo contributed to this report.)
TRIPOLI, Libya (AP) — The streets where rebel fighters bombarded snipers loyal to Moammar Gadhafi were strewn with bullet-ridden corpses from both sides Thursday. Streams of blood ran down the gutters and turned sewers red.

By sundown the rebels appeared to have won the battle for the Abu Salim neighborhood, next to Gadhafi's captured Tripoli compound [...] Outside his Bab al-Aziziya compound, which rebels captured Tuesday, there was another grim scene — one that suggested mass, execution-style killings of civilians.

About two dozen bodies — some with their hands bound by plastic ties and with bullet wounds to the head — lay scattered on grassy lots in an area where Gadhafi sympathizers had camped out for months.
[...] Five or six bodies were in a tent erected on a roundabout that had served as a field clinic. One of the dead still had an IV in his arm, and another body was completely charred, its legs missing. The body of a doctor, in his green hospital gown, was found dumped in the canal.
Ms. al-Shalchi writes that "it was unclear who was responsible for the killings." It used to be clear to most that the exterminator col. Gaddafi was responsible for all such things. But after the rebels have been caught slaughtering their captives time and again, with greater frequency in this final push to the capitol, the credibility isn't there. Even in this extreme situation, where Gaddafi is again calling for a slaughter of "rats," and some are taking him up on it - it doesn't look good when hands-bound people in civilian clothes, and apparently Gaddafi supporters - wind up strewn across neighborhoods the rebels just took.
The "Freedom Fighters" will say - and are saying - the regime planted their own victims - those who "wanted to defect," perhaps - in the rebels' paths. The story also mentions that "on Thursday they announced that their leadership was moving into the capital." Wow, Mr. Abdel Jalil will be so giddy. It was just days ago that he predicted the fight for Tripoli
would be "a bloodbath,"
one he hoped to celebrate, at the scene of the crime, by the feast of Eid (August 30 this year).
And finally, "Rebels say one of their key targets now is Gadhafi's hometown of Sirte," where stiff tribal resistance - that is, loyalist civilians, just as armed and civilian as the rebels but without an air force, are expected to put up a stiff fight. "I am appealing to the areas not yet liberated to join the revolution," an official told reporters in Benghazi. "There is no excuse for them not to join."
And, judging by the way things have gone in Misrata, Tawergha, Brega, Qawalish, Qawalish again, most of the Nafusah, az Zawiyah, Sabratha, etc., and now finally Tripoli, there's plenty at risk, as well as no damn excuse, for those people of Libya to refuse to surrender to this popular revolution
The good news - NATO's campaign to "avert a bloodbath in Benghazi" is finally bearing fruit.
Below is more on the Tripoli massacres of late August, probably September, and fall of 2011.
---
Identified Massacres
App. 24 victims:
Slashing and Dumping at the Roundabout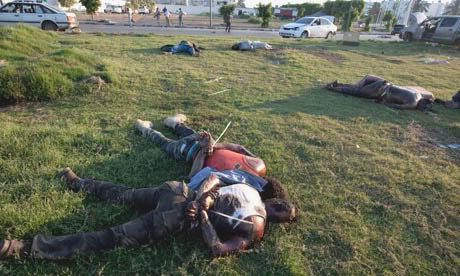 Between the activists and the wounded in the medical tent, and about a dozen long-dead rotting black men, about 24 bodies were found August 25 on the grassy roundabout area just outside Gaddafi's Bab al-Aziziya compound.

This is the scene of the now-famous photos and video like the image at left. See the link for several sources considered for the clearest picture possible of what's up with these victims. (nothing totally amazing yet, but I can see why they stunk so bad.)




17 Out of 25 at Mitiga Hospital

(added Dec. 22)

Al Jazeera English had a crew in Tripoli as well, but later, and they filmed 15 bodies in a morgue that's apparently under rebel control.

http://www.youtube.com/watch?v=2eTnEzQobBs

Correspondent James Bays reported that there had been 17 bodies, but two were taken off by family.

As Petri Krohn notes with nice irony: "This much of

what James Bays says

is true: "political activists" ... "near the Gaddafi compound" ... "when the opposition fighters started to enter the compound" ... "they were killed." ... "injuries have the hallmarks of a mass execution."

A sub-masterlist is forthcoming, and

one sub-post on imagery of the dead

is up (above comment from there).

75-200: Abu Salim Trauma "Hospital"
(I go with the smaller number) This really upsetting report came in from Andrew Simmons for al Jazeera English. He should rightly be messed up for life from seeing the scene of Abu Salim trauma hospital, just south of Bab al Aziziya. I describe and analyze the report at the post
Abu Salim Trauma "Hospital" or the summary
Urgent Appeal: A Major, Unnoticed Rebel Abuse in Plain sight.
This one is just frighteningly clear, gruesome, massive, and brazen. The victims were Government loyalists and primarily black men, patients killed in their beds, slit throats and missing heads, floors lacquered with blood, gunshot execution spatters in the halls, all staff "ran away" (like rats?), rebels saying they just found it that way. All the Western media did was show how hiorrible it was and smelled, let that fall naturally on Gaddafi, and walk away perplexed. Coverage and follow-up lasted one day.
And "more than 150" at Military Camps
Dec.22: Section finally removed - it mostly referred to the below, with some added confusion in thenext entry.
Fifty-three charred skeletons were just found August 28 in a shed/barn/farmhouse near the HQ of brigade 32, "Khamis brigade." It has up to 150 killed, by guards using hand grenades before fleeing to nowhere in particular. Thus, this must be the incident referred to above by Amnesty and by cmdr. Mlegta. But this time, it was a few miles southwest of the main slaughterhous around Bab al-Aziziya, behind the Yarmouk military base.
Several witnesses
swear there were 120-150 or more prisoners stuffed in the shed when they were killed. But only 53 charred skeletons were there after the fire, suggesting to most of the witnesses there must be a mass grave nearby for the remaining victims. Watch for this number to grow.
Another source
noted of the several un-burnt bodies scattered outside the shed: "The bodies of three men covered in winter blankets and flies lay just outside, as a fourth
eyeless corpse
rapidly decomposed in the heat. One of them had his ankles bound with green rope." Eyes are being gouged out in Tripoli. Wonderful.
Later I looked into this and see
at least 21 victims around the shed massacre site
. All but a few are black men, and some suffered horrific violence.
Killings at Qasr Ben Ghashir
A second incident occurred at another makeshift prison run by the Khamis Brigade on Aug. 21, 22, and/or 24. In this case, 5-6 people were shot, with 3-6 being killed. 50-70 other prisoners simply walked away after letting themselves out of their cells.
18 By the Dry Riverbed
More mostly black victims, some medical personnel, executed in a few spots, again, quite near Bab al-Aziziya. At least 13 of these are visible in various news footage and photographs.
Sub-set: Black Trash: Eight+ More in Ghargour
Eight of those 13 looked at separately. The burned dumpster they're stashed around hints at more victims here yet, perhaps cremated inside.
Seven More at Bab al-Aziziyah
Piled up in a barren area, doused in oil(??) and partly burned. These may be a subset of the roughly two dozen bodies said to be found near the roundabout, which they were piled just north of.
At Least Two at the Internal Security Building
These execution victims were seen by
Human Rights Watch on the 26th
, in a closet beneath the stairs, and
photographed
in all their bloody glory.
On August 26, Human Rights Watch also examined two corpses that were still in place at the Al-Amal al-Akhdar Internal Security building in Gargur where the suspected execution of detainees took place.
This is the 25 that Mr. Swayi referredto.I'm hazy as to whether or not their bodies turned up and were identified as such, or if this was to explain some set of 25 of those we've seen scattered around the area.It seems only the two were found there. (Building location, perhaps a dedicated post, forthcoming).
Related:
Un-Placed Victims
Mysterious massacres at ambiguous locations, sometimes figured out.
Planted Bodies?
It looks like some of the victims, perhaps the last one mentioned above, and the blackAfricans at the roundabout, plus some others I've seen, had been dead some time. That could support regime authorship. Or ...
A Rebel Terrorist Maestro?
An "emir" of the terrorist Libyan Islamic Fighting Group, Abdel Hakim Belhaj, is the man in charge of rebel military operations in the capitol. A look at what that could mean in connection with the massacres under examination.
A Witness-Faking Government Godfather to Solidify Cover-Stories
On shed massacre witness Dr. Rajub, who's actually Dr. al-Farjani, NTC head of matching certain identities to certain corpses nationwide. Look for his commission to find zero rebel atrocities, and every drop of blood shed by bad guys who then just disappeared...
Mass Graves
At Least 125: Mass Graves All Over
Around September 11 we started hearing mainstream media reports of roadside graves in and around Tripoli.
BBC, 9/11
:
The corpses of up to 20 people have been found in two roadside graves on the outskirts of Tripoli. Forensic experts are investigating the deaths, thought to have occurred last month. The graves are located just off the 11th June highway, in the Souk al-Jumua area to the east of the capital.

Separately, the charred remains of two bodies were uncovered on airport road in Tripoli.

The corpses were found near the oil tanks of a site known as the Hadba Project, a witness has told the BBC. Local residents in the area said the men were killed on the 22 August.
[...]
Local people said there were around 15 bodies buried at one grave site.

They were said to be mostly the remains of African mercenaries who had been fighting for Col Gaddafi.

A few hundred metres away, at a separate site, another four bodies had already been dug up.
Sept. 15: Mass graves discovered 'weekly' in Libya
Mass graves are being discovered every week in Libya, the international Red Cross said on Wednesday, noting that it has dealt with the remains of 125 people at 12 sites in and around Tripoli.

"As mass graves are being discovered on a weekly basis, the International Committee of the Red Cross is striving to bring answers to grief-stricken families of people who have gone missing and to ensure that any human remains uncovered are properly handled," said the relief agency in a statement.

"The ICRC has helped to ensure that the remains of 125 people found at 12 different sites in and around Tripoli have been handled properly," it added.
Sept 14: 13 mass graves found in Libya

"This week we dispatched two forensic experts to the field to support our colleagues already involved in the management of human remains," said Carole Pittet, an ICRC staff member in Tripoli.

"The experts will also be advising the Libyan Red Crescent, local councils, health and religious authorities and other partners."

The statement added the discovery is particularly important to preserve any available proof of identity when no family member has come forward to claim or identify a set of remains.

We learn they do not intend to gather evidence for possible crimes against humanity procedings, just wanting to do identification work. And that might be hampered by careless handling in the numerous ad-hoc exhumations occurring.
HRW, September 22: Halt Exhumations of Mass Graves
Forensic Experts Needed to Identify Remains, Secure Evidence
Exhumations began on many of the grave sites from the recent conflict as soon as they were located. Local authorities and groups typically conducted these exhumations without central coordination and at times without professional forensic assistance. The ICRC helped arrange the handling of 125 bodies from 12 different sites, but the organization is not involved in collecting evidence for possible use in legal proceedings. Where unplanned and unassisted exhumations have occurred, the opportunity to identify bodies and the circumstances of deaths may already be lost, Human Rights Watch said.
Translation: all graves of rebel victims should de dug back up and maybe burnt. They're giving the excuse they'll use why they called those ones inconclusive, thus presumably the old regime's doing.
8+ More Bodies Behind the Rixos
Another find published on September 28, in a wooded area (Tarabalus Zoo park?) near the Rixos hotel. Famous for hosting, allegedly by force at the end, the international press corps, the Rixos was oneof the last areas to remain in government hands before rebels violently took it as well. Shockingly, dead bodies were found there -surely the work of the regime that controlled the hotel until they didn't any more.
Sky News reports
The National Transitional Council (NTC) say the latest site is being unearthed near the Rixos Hotel, where 37 foreign journalists were trapped by the Gaddafi government during the fall of Tripoli. A total of eight corpses have so far been uncovered although no evidence has yet been made available linking it to the previous regime.

The discovery was made after a soldier saw blood on the ground and what looked like broken limbs. The military spokesman for the armed forces of the NTC, Radwan Elbuzedi, says "the bloody behaviour is typical of the style of the Gaddafi government". It is thought the alleged victims died within the past five months and the NTC is speculating that they could be local civilians.
Hmm, broken branches and blood on the ground are unusual and eye-catching in Tripoli these days? They've been advised (on the 22nd) against hasty digs, which might destroy valuable clues as to who killed people and when. As I noted above, this warning might just spur rebels to dig up their own victims and provide the excuse for HRW and others to call them inconclusive. And here they are digging up a grave, just as the warning was repeated (
on the 26th
).
Why are they so willing to throw away clues about the regime's "bloody behavior?"
"An Estimated 900" in Suburban Mass Graves
October 5, reports are made official of numerous graves in the Tripoli suburbs of Gargarish and Tajoura, totaling and estimated
900 bodies.
900. Many at least seem to be government soldiers, bound and executed, even tortured, gathered and buried in these mass graves. The NATO rat spokesman announcing this epic find called them "two mass graves of victims of the old regime." Onceagain, they'rehastily exhuming the sites to "identify" thevictims (or ruin the possibility of it perhaps).
1,000 in a Mass Grave on Airport Road?
New, April 22, 2012
An S.O.S.
The Tripoli-based Libya S.O.S. website has
a different viewpoint
from most of these other sources.
From Zawiya I herad that still people and even families are disappearing during the night, the same in Tripoli. Some remain disappread - others are found next day killed. It is a hidden repression and a hidden revenge to those who belived and still believe in the government.
The person running the site lives in Libya and supports the government. That site had bettter keep running.
Initial Conclusion, August
Investigations are called for. Seriously. Blood samples should be taken, forensic work on government vehicles and rebel ones, and the like -
all science, all access
. I don't trust what the BBC called "the existing Commission of Inquiry on Libya" that will naturally oversee an "inquiry."
These are terrible things happening, and I fear the world will simply not allow itself, at any cost, to blame this on anyone other than the crumbling regime. Someone has to take the blame, and how on Earth can our humanitarian intervention start to seem sane if we put the butchers of Abu Sallim and the rest on Tripoli's throne?
Do we have the courage to face up to the reality of the situation, whatever it may be? I fear not. I hope desperately to be proven wrong.