December 22, 2011
last updates Feb. 17
<< The Tripoli Massacres
<< 25 Activists / 17 Corpses
This is regarding a "Tripoli massacre" I've neglected until now - 25 or so people allegedly executed near Gaddafi's Bab al-Aziziyah compound, found and turned to 17 corpses and a survivor seen by many at Mitiga Hospital in the east of Tripoli. I'm getting a grip on the sources and the case, but before I assemble a detailed post, I wanted more visuals, or to at least get that started.
I'd like to number the fifteen seen in news videos and ascertain whatever clues are present, especially (as usual) their skin color. Among these fifteen of 25 executed anti-Gaddafi "political activists," al Jazeera reported "some men had been identified. One man, Abdelsalem, came from the town of Taghma. Others were simply
marked "non-Muslim" for burial purposes.
" Usually that means "African mercenary,"
unapologetically killed by rebel fighters, shamelessly called an ordinary Libyan killed by the baddies when speaking to the Western media. It seems a good number of the dead - possibly a majority, but not all - are black-skinned. Never a good sign for an alleged Gaddafi atrocity. (The "survivors," however, are never black - no exception here)
And then also I'll be looking for this,
from BBC
: "about half the bodies had bullet wounds to the back of the head while others had
disfiguring injuries to their limbs and hands
."
The only place I know we've been allowed to see these is not being killed, and not in situ at the execution site.It's only after they've been dumped at the hospital and had an acceptable story attached that we see fifteen corpses under blues plastic shroud shrouds in "the outroom of a Tripoli Hospital" out at Mitiga Air Base.
There are very few photographs I can findof the scene. The first was
this image from Al Jazeera
, from
an article of August 25
. The area of interest is enhanced in
this optional image
.
Gulf News also ran a piece, mostly about the scene at Abu Salim trauma hospital. with
one photo
of the Mitiga 15 included, usefully showing all of them laid out. With a bit more looking, I found
a slightly better version
I'll use to number the victims below. Credited to Youssef Boudlal, Reuters.
With one exception, the rest of the imagery I have found is all from the online videos I know of, and not great clarity. I may have something better to replace these later. The videos:
Al Jazeera English: James Bays
In numbering I used #16 and 17 as tagged at the scene (see below), counting backwards and then forward down the left side, with some guessing in the middle. My #1 is the body laying uncovered at lower left, whether it's how they did it or not (let's say #2 and 3 were the ones "claimed by family" so far, bloody bodies dragged out, leaving a smear). This victim #1 is clearly not a black man, perhaps a clue why he's exposed. I'll return to him in some detail at the end.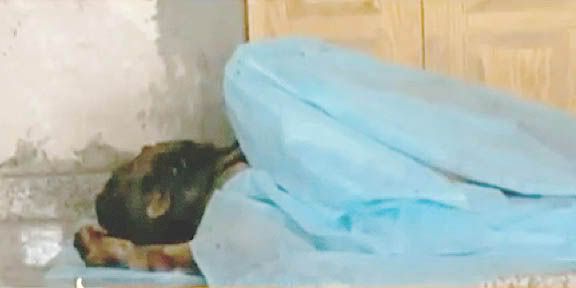 Just looking at visible color, I'd say six victims (4, 5, 6, 13, 15, and 16) seem black-skinned. four (1, 8, 12, and 17) seem light-skinned, with five (7, 9-11, and 14) too covered to say. I'll qualify that guess with the fact that I had included Victim #8 as appearing black as heck from a distance, but less so close-up and enhanced at right). He has wrist injuries, perhaps from shackles, worsened by moderate decay. Like #1 he look discolored, a bit green. Bearded, perhaps, and with some gray hair.
#16 and #17 are visible on the tags seen at left. 16 seems to be a black man, if naked. I can't read the writing.
We have too many views of these two bodies, and hardly of anyone else. Lower right corner of the panoramic view, and at the center of the al Jazeera photo enhancement, all show mostly #16.
Below are the feet and lower left leg of #17 from the BBC's footage, badly sliced up and bloodied. Again aswith #1, a light-skinned male, selected for the most visible outward position. Perhaps by chance. He remains covered except for the feet. I believe that's 16's feet behind them, chocolate brown.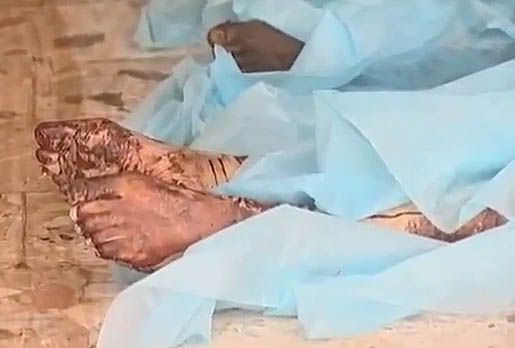 Serious injuries under #17's shroud. #8 in the back is a little more visible here than in the panoramic view. #12's pale bloated belly and ... [#11's elbow?] and the other invisible victims of
someone's
cruelty lurk mysteriously in between.
Here I'd like to return to victim #1. He suffered uncertain but widespread cruelty, and might be bound behind the back, except... his right forearm isn't right (the Boudlal photo above agrees). It's burnt, and seems to get too long and thin, as if pulled like taffy, and it's not clear his hand remains. This is at least some, and hopefully all of of the "disfiguring injuries to their limbs and hands." The photo alsoshows general trauma to his side, with multiple puncture wounds.
A photograph from an unusual above angle helps clarify his injuries in a broader context.
Uncredited at All Voices
, it's captioned "A dead body lies on the floor at a hospital in Tripoli." Below is a lightened version with an enhancement over his head.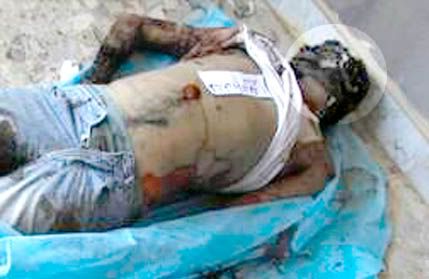 His head always seemed like anindistinct black mass, and even from the angle that should change that, itlooks the same, with the addition of whitish patches. Is that even his whole head? Was it burnt, or what? His right arm looks more normally proportioned here, so the above thoughts might be irrelevant. The left arm however seems to possibly stop short or have an extra angle added halfway to the elbow, right where it gets bloody.
And one can hardly miss the big round hole in his upper abdomen, where he was punctured by some device of cruelty. We can see blood down his side from that, or perhaps infected/discolored veins, and then blood on, or something else wrong with, his back. Both known views show blood from a possible groin injury on his jeans, and here we see that he seems to be the source of the blood smear as his intensely brutalized remains were swiveled into place.
So...
Update, Feb. 17:
Speaking of swiveling into place, I just stumbled across
a Youtube video
, dated Aug. 25, of what seems to be these bodies being taken off the truck and placed here. I haven't analyzed it closely yet, but made sure to save a copy. Our final mangled victim #1 is apparently placed at 2:22 to extra thick cries of Allahu Akbar." His face appears somewhat burnt but intact, and they poke at a slashin his belly I didn't notice before (dark/burnt, off-center). Also, his shoulders look badly tweaked-look at that stratched skin. 3:05 body #8 on the platform? Appears to be a black man here, bloody and brutalized, right arms half gone, maybe eyes messed up.
Here it is embedded: