Feb. 26, 2012
Photographer Daniel Berehulak took a series of photos of the massacre site dated August 26, sometime in the mid-afternoon, from the general direction of sunlight. Image 2 is the only one I found useful for trying to set the exact time. External link, new window:
http://www.zimbio.com/pictures/4j2SQVwCzEZ/Burnt+Bodies+Discovered+Tripoli+Mass+Killing/7l_03GCUoMV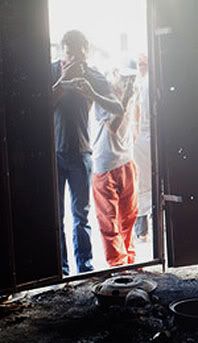 An enhanced crop of this is inset at left. The men in the door are bathed in two types of light: ambient (from our left, mostly, and all sides of them but the front) and brighter, direct sunlight (apparently from our right/their left and somewhat above them). The door frame and even shadows inside will also help. But still, I can't decide on even a narrow range. Maybe another reader can help decide.
For now, I'm dealing with solar azimuth only, direction to the sun in its east-west arc across the sky. Solar altitude I can only say is above horizontal, so well before sunset. In the image below, the Google Maps image of the shed oriented to true north. The green line is an approximate line of sight within the shed. The yellow lines are possibly consistent sunlight directions shining towards the camera. The earliest is approximately 222º from north (southwest), with the others at 244º, at 267º, and as an outlier, 280º (just north of due west).
Anyone? Which of these four, or other angles within our outside that range, do you think best explains what the photo shows? I have the correlating times, and a reason for wondering. But just to keep it about the imagery, I'll hold off explaining until I or someone figures out what's the best reading among those.