Feb. 15, 2012
I haven't been keeping up much with things like, for example,
Green Army raises Jamahiriyah flag in Bani Walid
, video posted today on Lizzie Phelan's new site. There are few questions about what this shows, but just when and where it was filmed isn't entirely clear. Petri has some good thoughts on that
here
.
But just on the off-chance, some things I noticed checking my Flag Counter. Early this morning, I was surprised to see Libya finally pass Sweden on viewers (572 now!). Maybe it was that alone that was new, as there was no green flag replaced, but I could swear the country name too had been changed from Libyan Arab Jamahiriya to just Libya. It said the former this morning and still now. Has it always and I just didn't notice? I let that slide.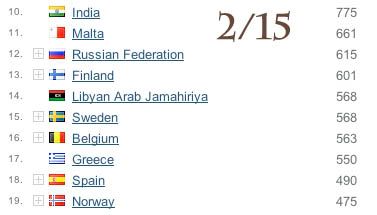 But then today looking at my totals, an odd thing again. The Jamahiriya is now listed in the top viewing nations, with Libya's flag next to it. Cool! Been a while since I've seen that.