The Capture, The Killings, and Those Who Don't Know Right From Wrong
October 21, 2011
last edits, Oct. 28
So it's more than 24 hours later and still no retraction, and a pretty convincing video exists. It seems Muammar Gaddafi himself was captured, roughed up and bloodied pretty bad, and then shot dead by a hyped-up teenager. Sounds about right for how the rebels work. Celebrations worldwide have greeted the images. What a splendid little war that finally gave us this rush of fulfilling a long-programmed desire. All it took was a lot of scheming, lying, stealing, manipulating, and the often brutal deaths of several tens of thousands of people, and... I could go on.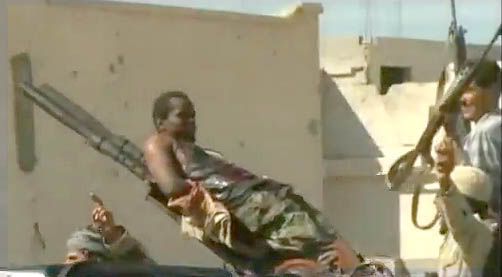 I have created this space for comments in case someone else finds anything interesting on the reported murder of Muammar. I have nothing to add, aside from the image at left. Thanks to Petri Krohn for the tip on this from
al Jazeera
of a black man taken captive, strapped to the barrel of anti-aircraft gun as greatly-amused "government forces" drive through Sirte displaying him to general cheers. One doubts they'll be able to resist the temptation to fire off some celebratory rounds with this baby, perhaps until the prisoner dies of shock as his back is seared through to the spine.
Allahu Akbar!
Update October 25:
Pleasesee the comments below for full video cataloguing, additional links and thoughts, and so on. In addition to other revelations and questions I haven't included here yet, yesterday news was broken of a video analysis by Global Post's brilliant Tracey Shelton. I caught it
via CBS News
, but the original video stills and explanation are
here at Global Post
. From two different camera views, it looks like the former Libyan leader was casually
sodomized with a knife,
by a playful captor, before his untimely execution.
More, October 28:
Among Muammar Gaddafi's last recorded lines is apparently this "laughable" but truly apt line, which I've adopted partially as the site's new by-line: "Do you know right from wrong? What you are doing is wrong." There is also Mutassim Gaddafi's execution and odd wounds to consider, the story told by a self-described South African security man who tried to help the Gaddafis escape, how the leader came to be inside that storm drain, and so on. Again, see below.
Update Feb. 23, 2012:
Long ago, I starter
another post to discuss Muammar's torture and murder
, which got many comments but few updates from me. Reader Stan Winer has also written a short PDF report on the episode and its implications. This report, Lies Killed the Colonel, is currently available (the link downloads the PDF) at his site
Truth-Herz.net.