February 3, 2012
<< Khamis Brigade Shed Massacre
<< Shed Massacre Witness List
This sub-post is to address three witness names/images in detail to clear up a spot of confusion between them. The family name similarity and brotherly captivity details suggest there are only two escapees described between the three names, But the imagery of them raises enough questions I'll hold off deciding how to mergethese
The El Goula Brothers: an early account
Lindsey Hilsum reported for ITN News, on August 26, from the Mansoura district of northern Tripoli (
video
). A day before any other video reports on survivors of the Khamis Brigade shed massacre, and not even clearly described yet, she heard from two brothers at the apartment (flat) of the el-Goula family (phoenetic spelling, not typed on-screen).
Only one of these spoke to ITN - a heavily-bearded and traditionally-dressed "Munir" (first name only typed). Hilsum related Munir's story of being "arrested last Saturday night [the 20th] and interrogated for three days, but then
released
[sic] by Gaddafi's soldiers. Munir's story is almost too raw to relate." He weeps. The locale isn't specified, but the date is right (Tuesday the 23rd implied). The high number of dead and the use of grenades that he describes suggests it could only mean the shed massacre. "He says somehow he escaped," but doesn't explain how, and he "believes 20 soldiers and more than a hundred prisoners were killed." [ITN] As translated, he said:
"When they opened the gate, mercenaries came and pushed the soldiers back into the jail. They shot an old man in the leg. I didn't think they would kill us, but the mercenaries entered the jail and shot the prisoners in the legs. One took a grenade and threw it in. Five times they opened the door, shot inside, and threw a grenade. A lot of people died. My brother Abdullah was behind me."
Abdullah apparently perished, or at least hadn't been heard from by the 26th.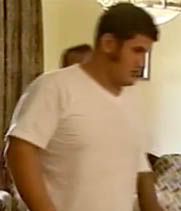 Munir El Goula's silent, unnamed brother who sat for the interview was apparently not Abdullah,who implicitly died, or was missing, this brother was also shown on ITN. This brother is shown limping stiffly into the room, as if slightly injured. Hilsum said
"two sons are still missing
. Two have returned from a horrific ordeal." The singular form of "ordeal" suggests he survived and escaped the same massacre as his brother. He looks nothing like his brother, with the burly build, shaved chin, and muttonchop sideburns.
Amr Dau Algala, 34, Former Police Officer: A Late Account
The name alone wouldn't be clear, but the details, especially on brothers (see above and below) suggests this newly discovered witness is the same person as one of the above, and the first name doesn't sound like Munir. Amr Dau spoke to Kim Sengupta at the Independent,
reported only on September 10
, two weeks after Hiulsum's invterview above.
Amr Dau Algala was picking through the ashes with a stick when he came across the charred and broken bones. A little later he found the buckle. "Only my brother was wearing a belt in our group. This looks like my brother's," he whispered, looking down at the twisted piece of metal.
Around 60 men, prisoners of Muammar Gaddafi's regime, died when guards first opened fire and then tossed grenades into the warehouse where they were being held. Among them was Amr and three of his brothers. They ran for their lives amid the flames, noise and confusion and escaped. A fourth, 25-year-old Abdullah, is missing.
"The last time I saw Abdullah was there, sitting in that corner," said Mr Algala, pointing at a blackened corner of the metal box, around 25 feet long and 20 feet wide, into which more than a hundred captives had been crammed. "He is young and looked very scared that morning. When the guards opened fire I started running. I looked back, but there was too much smoke, I could not see my brother. Some people got away after us, we are really hoping Abdullah was one of them, but we don't know."
Hmm... He wasn't one of those neutral "rebular" Libyan guys, but neither exatcly a fighter, he says.
Amr Dau Algala, 34, knew that he would receive particularly harsh treatment from the regime because he had joined the underground opposition in the Libyan capital while still a serving policeman.
He had done his bit to sabotage the machinery of state, he said, by destroying messages from embassies abroad he had been tasked to decode. But with Colonel Gaddafi clinging on to Tripoli, Mr Algala decided to play a more active part and started smuggling guns into the city.
"There were many, many police officers who were working in secret to bring down Gaddafi. But someone must have said something and there was a raid at night. They took me and my brothers away," Mr Algala recalled.
The Algalas were taken to Abu Salim prison, a place of fear where 1,200 inmates were slaughtered following riots in 1996. "We were beaten repeatedly there with sticks and pieces of hosepipe. They didn't even bother to question us much, they just kept hitting us," said Mr Algala. "After two days we were driven out of Abu Salim. I was put in the boot of the car and I wished that I would die there. I did not want to be taken out and tortured again. My hands were tied with wire, I could not move them, they swelled up."
Mr Algala and his brothers, among others, were locked up for two days and nights in a prison van at the "Khamis Brigade" headquarters. "I don't know how we survived that. But we were taken out and the beatings began immediately. Then we were put on chairs and given electric shocks. My whole body shook. I have never felt such pain. After that we were just thrown into the room and left there."
The maltreatment started again soon afterwards. One warehouse, with bloodstains on the walls and ceiling, coils of orange and green rope on the floor, was where prisoners had been strung up by their wrists [or ankles?]. "They were begging to be cut down, but the guards would not listen," said Mr Algala. "They really had no pity. One man had been shot in the leg. He was so thirsty that he drank his own piss. But still they would not give him any water. I believe he died before the guards started shooting."
Mr Algala recalled that one day the guards announced that Khamis al-Gaddafi was arriving himself and the prisoners would be free. "People got very excited and the guards started laughing. They said that being 'free' of this place meant that we will all be killed. We did not know whether to believe them or not."
The threat proved to be real the following morning when the murders began. "Three guards came to the doorway and started firing, they took turns to fire, then there were loud bangs. I realised they were throwing in grenades. We were all shouting and we ran out," said Mr Algala. "We climbed over that wall and we ran through the houses. They came after us, firing, and I saw some people fall. But others got away.
"Maybe my brother was one of them. Maybe he was injured and someone is looking after him. Maybe we shall hear from him soon."
So, anyway, theIndependent also had
a photo of Mr. Algala
inside the shed, and just outside it showing a scar on his wrist from the wire. The former was captioned "Amr Dau Algala stands in the the warehouse where Gaddafi loyalists slaughtered their rebel victims," and is cropped in the center below, flanked by the Elgoula brothers - Munir and... Amr Dau?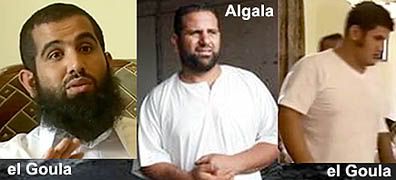 Too much forehead? Wrong hairline? Right weight? The sideburns and clean chin seen three days after the escape do suggest the style of a police officer, on an American TV show if not in Libya. The timeline suggests more than three days, doesn't it? At least an action-packed five days. Coincidental sets of four brothers with so many parallels and arguably consistent photos? A brother with a different story from his other brother's?
And which brother's belt buckle was that? Did it belong to Abdullah, or to the fourth brother no one talks about and we should presume dead?