July 17, 2011

last edits September 21
Note Sept. 21:
It's not worth changing everything in this post over, but it should be noted I apparently got the date wrong. The incident under discussion seems to have happened on February 18 (see below).
The Official Story on the 19th - Scant
Before looking at the evidence and claims of this one day's violence in Libya's second largest city, we must remember there are two basic versions of the initial uprising in Libya – that of the government, and that of the rebellion (and for the most part, the outside world). One has outside-supported insurgents getting themselves killed attacking government buildings to steal weapons, blaming the government, and getting a lot of credence. The other, well... we've heard what they have to say.
Drawing on Libyan official sources, R. Breki Goheda's video
Libyan Crisis: Events, Causes, and Facts
has intense attacks on the 18th - by protesters, and against the city's main military base, the Katiba as it's commonly called. These, he says, involved small bombs, Molotov cocktails, and at least one bulldozer used against the Katiba's high walls. Goheda cites 24 killed in the process, mostly martyred attackers one presumes.
The 20th would see the Katiba's fall – and Benghazi's - to
an al Qaeda style suicide bombing
breaching the north gate, in tandem with
a lynch mob
then loosed upon the exposed military. These are confirmed by numerous sources, but Goheda's video adds that seized tanks and artillery were used in this final push, providing rebel pocket video of such weapons deployed, if not used, in Benghazi.
But February 19 seems to have been the relative calm between these two bloody days. The video makes no mention of attacks on the walls, only mentioning the attackers having better arms – a number of "machine guns confiscated from Shehat City." This was well to the East of Benghazi, near al Baida, and fell on the 19th (
video of liberated Shehat
). The guns were apparently sent to Benghazi the same day by swift truck, but the heavy weapons took more arranging and didn't get there 'til the next day, perhaps explaining the lull in sieging the Katiba.
For comparison, the UN Human Rights Council fact-finding mission found for death toll in Benghazi for these days: "The Commission received information that 20 demonstrators were killed in Benghazi on 17 February with a further 20 killed on 19 February and 60 killed on 20 February."[
PDF link
] Comparing Goheda/UN we get these stated estimates: Feb 17: 14/20, Feb 18: 24/NA, Feb 19: NA/20, Feb 20: "more victims from both sides"/60 demonstrators.
The Rebel Version: A Funeral Massacre
Goheda's video offered no number of deaths for the 19th, the UN mission gives 20, and initial Western media reports were clear in the lowest number - fifteen protesters. Consider with this from the morning of the 20th, in the UK
Telegraph
:
Mourners leaving a funeral for protesters in the eastern city of Benghazi came under fire, killing at least 15 people and wounding many more. A hospital official said one of those who died was apparently struck on the head by an anti-aircraft missile, and many had been shot in the head and chest.
The paper added, up top, some other parts unsupported by the reportage or anything much else:
140 'massacred' as Gaddafi sends in snipers to crush dissent ... Women and children leapt from bridges to their deaths as they tried to escape a ruthless crackdown ... artillery and helicopter gunships were used against crowds ... thugs armed with hammers and swords attacked families in their homes ...
All they could show in support of any of this was a single video, which I've also
found on Youtube
as "Dozens killed in crackdown on Libya protests." That was posted by user TOENews, February 20, and linked to
an article of the same name
at
The Times of Earth
. It was used there to support the same news:
Benghazi - There are reports that 15 people have been killed in Libya after security forces opened fire on mourners attending a funeral for anti-government protesters. The Associated Press and Al Jazeera television quote hospital officials who say the mourners were killed Saturday [the 19th] in the northeastern city of Benghazi. The officials say many other people were wounded.
The video, Then, Shows What?
It's only implied that the video shows a portion of this same massacre of mourners. Here's the video and analysis:
The camera comes in across a tree-rimmed square along with other civilians, converging there where others are already standing in the street. Across from them is a large building and low walled area with large trees, an official looking facility with a green band covered in Arabic writing across the top of its front entrance. The time of day isn't certain, but something says late afternoon, near sunset, on a hazy or smoky day.
One injured "protester", possibly dead, is carried by others from the left to the right (west to east?) in front of the building , suggesting the gunfire was elsewhere to the left, away from this building or at least this side of it. No one here seems terrified or running, but agitation, alarm, and in some cases dismay, is evident in the vocal soundtrack. As the body-bearers pass the building's sheltered doorway and this camera, it's clear those gathered there are huddled over another injured already laid there. Pools of his blood cover the tiled floor, and the mood indicates he had just passed from injured to dead.
Looking to the west and the setting sun's glow, the non-terrified crowd mills about, as a large bonfire burns about two blocks off. I was able to locate the site on
Google Maps
, mostly looking for areas with green islands fronted with trees like that, across from anything compatible with this building, perhaps near the Katiba (the large compund there marked with "Birka barracks" in the middle). It seems the building they're in front of is the Tariq bin Zeyad school, the camera is crossing the park south of it, and the wounded are being brought up Al Hijaz Street. They're coming
from the direction of the Katiba's north gate
, about 300 meters to the southwest, as I thought. All clues match that area, and so I say that's it, and for anyone who'd like to double-check, here is the overhead. Compare it to any scene from the video.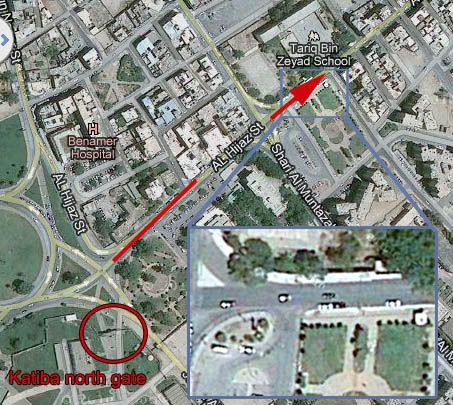 Also note, the injured were not being taken to Benamer hospital - if any, it was more likely al Jalaa, which I haven't located yet, and which they reportedly took over on the 18th - upon torturing and killing the managing director (
see here
).
Wherever the injured and dead were being taken to, it's fairly clear where they were coming from. One might think after two days of "funerals" there that turned into slaughters of the innocent, as they said, the "protesters" would have learned their lesson by the 19th ...
Why is this all there is?
Times of Earth
passed on that
Earlier, Human Rights Watch estimated at least 84 people were killed in this week's crackdown on protests [...] the toll included 35 people hospital sources say were killed by security forces in Benghazi. It says most of them were killed with live ammunition.
Yeah, that can happen if, for example, you persist in attacking the military base. But we saw almost nothing to prove either side's story, which is odd if the rebel's version is the slightest true. Western journalists noted they were for some reason getting very little footage from Libya (including the rebel side) in these days. We know they had plenty of pocket cameras – at least two filmed
this strange scene
of supposed brutality (but it seems to be only hype) on the 18th, and I'd say dozens are gleefully capturing
this public beheading
in Benghazi's main square of a man they claimed was an Afrrican mercenary. At least two views of that made it to the Internet.
But when they're being massacred while simply walking in Benghazi, no one at all gets the footage of them actually being shot?
Another video, posted as "
Violence 300 dead 5 shot in the head Libya2011
", is a segment from the NBC
Today Show
, apparently of February 20th (the stupid title is not theirs). Correspondent Ron Allen conflated and combined the 15 reported killed the day before and HRW's finding of 84
before that
, into "Human Rights Groups are estimating as many
as a hundred people may have been killed in Libya yesterday."
That should be
as of
yesterday.
And in Libya's main battlefield then, Benghazi, all we've seen is two civilians wounded, one at least apparently dead. The actual circumstances of their deaths, and that of any others, comes down to he said vs. he said. But it could be that the rebel video silence is because those killed were too obviously militant to send out to the news media. And here was Mr. Allen, left with and passing on an image of blasted bodies of helpless freedom-seekers, piled by the dozens on the streets of some unspecified peaceful neighborhood or public square.
And yet, on the morning of the 20th, Allen's sources claimed 20,000 more helpless people were in the streets anyway,
surrounding a military complex and a courthouse
. The base was being surrounded and attacked as he spoke with tanks, artillery, and a suicide bomber driving amongst yet another "funeral procession" right there on the field of battle. That would be the last day they had to repeat that charade.
---
Sept. 21:
Another video I found shows (after a cut at 1:00) the same scene from a different angle and much lower resolution.
Benghazi (2/18) - Mercenaries shoot at protesters
mukhtaralasad, February 18
This view is from within the school's doorway, and we can see the dead "protester." The resolution is awful, but that's a blessing. 1/4 of his head is a red mess. Just then, the second victim is carried by, just like in the other video. This one is dated February 18, so I'm left presuming, unless two exact repeats happened two days in a row, that I had the date wrong, and the other posting was just delayed a day.