Or More Accurately: The Qawalish Tree Farm Massacre
August 9, 2011
last update Sept 19
Note Aug 16:
I just changed the title, only by adding quote marks and a by-line. The Qala'a massacre is the name I chose for this slaughter of 30-34 civilians, but also the name chosen by Shabbab Libya the same day when asking for a probe. As shown below, however, it's located much closer to Qawalish, the significance of which is accidentally explained up front. Thus I quote them on the more famous "official" title of what I'll otherwise call the Qawalish tree farm massacre.
Note August 20: I've moved the original discussion to
its own dedicated post
, for reference only. This post will eventually summarize the findings of this investigation and provide links to the sub-posts that cover certain aspects.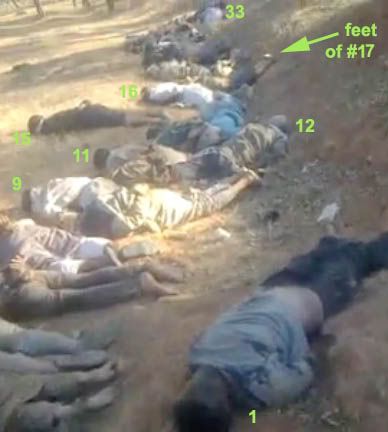 The links so far for
the Qawalish tree farm massacre,
one of the most underreported war crimes of the Libyan war:
Video Postings and Posters
- information on the different versions of the single video we have so far, most citing it as another Gaddafi massacre. Patterns of information management, damage control, unlikely claims of familial knowledge, and possible conspiracy emerge.
The Victims
- 34 people cut off from life, all - or most - clearly civilian. Here I give each a number and a scan for clues. Who were they and who killed them? Why are so many local villagers black and dressed in sporty "mercenary"clothes? And why do some wear army fatigues?
Mass Grave Locale
- A fascinating confusion of names (al-Mal'ab, Almliab, Alumblyab), satellite imagery, desert and tree farms, Gaddafi forces previously reported hiding in one possible match, not in the other. Again, rebel sources aren't helping sort this out. Only this blog and one intrepid reader (so far) are.
The Victims, Exhumed
- A great update on the September recovery and supposed identification of the victims, buried in as positioned on video, and then dug back out. The location is still vague, but about where I have been saying. There's lots of talk of just how and where Gaddafi's guys did it - they had mercenaries with tribal scars, and lots of people witnessed lots of things at that "scouts base." The coffins are displayed,one too many, with all the black victims apparently left unidentified. Hmmm...