August 19, 2011
last edits Aug 21
Why it's a Tree Farm
Of major importance to the investigation of the
Qawalish tree farm massacre
, of 30-34 civilians
allegedly
killed by government forces and dumped "in the Qala'a area" is precisely
where
the mass grave was discovered. The spot is possibly not far from where government soldiers were dumped and
found, in a water basin
, in July. This is generally presumed a rebel crime, despite the thin excuse that Gaddafi did it.
To establish the location of this other, nearby, crime, one must first accept the general locale given. This is the area around Qala'a, by Yefren, about 12 miles northeast of Qawalish, in a small nook of the Nafusah mountains (maps below).
Then one should consider the immediate surroundings as they were filmed. The image at right is made from a lower resolution copy before I found the clear one at Facebook (
all copies listed
). But well enough it shows the view in seven of eight directions (barring due east). These might be backwards. The long shadows indicate a time near sunrise or sunset, and for some reason it seemed more like morning to me. If that's wrong, you would flip all directions - northeast would be southwest.
As we can see here, tall evergreens (cedar?) proliferate in all views. Hundreds of them are visible from this one spot. (To actually get a good look, open it full-size in a new window.)
First, it became clear this wasn't the immediate Qala'a area. Aside from the moderate slope to the west and northwest, the ground is too level. There are also too much foliage in too many directions to be the minor forested area that separates Qala'a from Yefren with only thin ribbons of trees along ridge crests. (see the area
here
)
There are however at least
two tree farms
that have come to my attention as possible locales, thanks to some research by reader Peet73, and a third location that's
not
a match, thanks to a Libyan rebel group. These are variously given as farm, forest, and agriculture center. The satellite imagery shows the two that matter to be covered with neat rows of irrigated and managed trees suggesting a farm, answering all descriptions fairly enough.
The different locations and names of locations that have been offered for this site have helped us start to identify it, but have also helped confuse things along the way. All three given names are similar enough I was at one point willing to call them all variants of the same. But on examination, they seem to refer to three distinct forested spots. One is irrelevant. The other two both could be a match. One of these reportedly
housed government forces and weapons
back in May and June at least - and thus perhaps their alleged victims as well.
The Outlier: Al-Ma'lab
Four days after the tree farm massacre surfaced in video form, the group Shabbab Libya
issued an August 9 demand
for the government (in Benghazi) to open an investigation into this government (in Tripoli) crime. This press release cites the locations as, possibly, "
the Al-Mal'ab forest area.
" It was urgent the bodies be found and given a proper burial as soon as possible, but it'd be slow going, since "this location is heavily mined and it is impossible to search." They also called for mine-clearing teams to get to the area quickly.
This name, al-Mal'ab, is just different enough from the other two, nearly identical-sounding ones, that I had to double-check it. There was no record at Google maps, but a listed "Wādī al Mal`ab in Yafran," at worldgeographics.com, had
a roads-based map and a pin locator
for it. It was near enough to matter. So I sought the same spot on Google maps, looking for a tree-lined river bed (a wadi is a dry river bed that flows only seasonally).
It's there, about thirty miles (as the crow flies) to the north of Yefren, not outside of dumping range I suppose, aside from having to cross the mountains and drive nearly an hour.
But what's there is only a tiny, tiny stretch of river valley at the sometimes-river's ben. There are only a few dozen trees, perhaps, visible from any one spot. Whatever the species, that's not enough foliage to explain what the video shows. Shabbab Libya was wrong, but hopefully the NTC can send a team to al-Mal'ab to investigate, and they can step on some mines. Meantime, I just investigate with what I have here.
The Big Farm: Alumblyab
The named location of the mass grave in one posting of the video, by
Algelawy2009
, is "the farm Alumblyab." At least that's according to Google translate; the Arabic comment gives "مزرعة المليعب" as the location of this "apparent mass murder."
This clue was spotted, and the spot located, by Peet73 on Wikimapia, which has
a mile-wide, circular patch of trees in the desert
well south of Qala'a, conveniently spelled out as the "Alumblyab forest." This is pictured at right; seen zoomed in, it is a nice match for the scene's gently rolling topography, tree cover, and unusual packed and scored soil.
This gives us a location
nearer to Qawalish
- the town just outside of which the water basin discovery was made - than to Qala'a. Also known as al-Galaa, the town this video is attached to is Algelawy2009's hometown, he says. "I am from Algalah and I know this area very well," he says in
a separate comment
at someone else's posting. And he's sure this is at the Alumblyab tree farm. In the area he knows the best, it's right by the town
not
recently associated with barbaric rebel atrocities.
The One of Previous Interest: Almliab
In
a June 3 press release
, rebel support group Shabbab Libya (Libyan youth) had mentioned an "agriculture centre" called "Almliab" in the Yefren and Qala'a area. Its location wasn't shown, but the co-ordinates were given, and I decided to double-check using
Earth Tools
. I used their number for the forest itself (31°58'38.03″N, 12°40'26.62″E), and the first of the four buildings listed (31°58'59.04″N, 12°40'30.84″E). I got it as close as I could (within tens of feet), and both came out right next to each other, but not on top of or even next to the area we were looking at. It's a separate forested area about 3-4 miles south
east
of Qawalish, further yet from Qala'a. The tree cover and topography could also explain the video, in my opinion.
All this information was provided in a different context unrelated to the massacre discovered two months later (see below). But "Almliab" is similar enough in name, and the possible match good enough, that it's worth wondering, as Peet73 and I did, if this is what they meant.
Then I was tipped off to a comment I missed, by the same Algelawy2009 who specified Alumblyab. At
this video
's comments (same as cited above), the al-Qala'a native says "it is in Algalah in the area called
Almlaeb
" It almost seems that
he's now specified both tree farms.
This Alumblyab/Almliab distinction can be a bit confusing, and I acknowledge I've got no certain answer to it. But here are the possibilities:
- There are two tree farm areas flanking Qawalish with very similar names
Or:
- The places are considered the same, with one name, just in two sections several miles apart.
Or:
- Wikimapia had it wrong (who plugs this info in and updates it?)
Or:
- Some other kind of linguistic mix-up, error, or misdirection.
Threat Positions
The June announcement via Shabbab Libya, mentioned above, was mainly to claim the opening of a supply line to Yefren and al-Qala'a from rebel-held Az Zintan, to bring "humanitarian" supplies to this front line, and asking for NATO air support to protect it. They also gave specific co-ordinates of government forces that "threatened [...] the region of Yefren and the Nafusa mountains."
Among the precise spots "threatening" (otherwise, defending) the area and its civilians was "Almliab forest (VERY IMPORTANT)." This is also called by them a "
scouting camp
and agricultural center," which housed a "large force including at least 4 tanks, grad, ammunition, personnel, etc. It is the main army supply to the area (substation) for forces heading west." Beyond this, they assured NATO that "command and control is highly suspected to be in one or more of the 4 buildings given."
Map: Positions of Gaddafi forces near Yefren and Al Qalaa
Posted on May 25, 2011 by admin, at Libyafeb17.com.
This map, posted by Amazigh_Libya on May 22nd shows the position of Gaddafi forces around the towns of Yefren and Al Qalaa. The area has been under siege for 2 months.
http://www.libyafeb17.com/2011/05/map-positions-of-gaddafi-forces-near-yefren-and-al-qalaa/
One ImazighenLibya, probably not the same as this Amazigh_Libya
,
has an interesting involvement with protecting the rebel version of the tree farm massacre video, as explained
here (last section)
. I mention that on the off-chance the Youtube activist is the same as this regional activist, using sources inside, one supposes, to show NATO where to bomb, perhaps. And also, perhaps,
where to plant rebel victims in order to blame Gaddafi.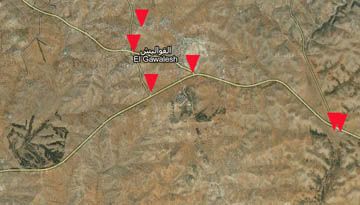 Here is an image I made from that, zooming in on the Qawalish area where the bodies were found, with the blue pins re-done in red.
We can see this collation of whatever data pinpoints the Almliab tree farm base at the right edge with two pins, as well as four other spots around Qawalish, mostly at road intersections where there's nothing but a small shack. Simple check-points "threaten" the people of Yefren and Qala'a? And why, even in June, is the threat to closer-yet Qawalish not mentioned?
There are no pins that line up with the Alumblyab forest, for whatever that's worth.
Pinpointing the Locale: Later, Maybe
At the moment, it remains unsettled just where the video was filmed, let alone by whom. It is possible, hypothetically, to find a match from satellite imagery with the exact clearing shown in the video, in one or another of these tree farms. But I won't bet any time trying. The images used are are usually some years old, and while trees tend to grow many years in the same spots and patterns before being cut, they do get cut, and there's no guarantee what the videos shows will really match anything the satellite saw in the year 20whatever.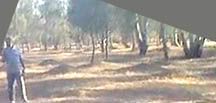 However, for what it's worth as a clue, there is a different type of tree visible, for only a frame or two, in only one direction - to the northeast as I have it, nearest "soldier" #4. I can't identify it yet. It doesn't look like an olive tree or a few others I considered. I'm open to suggestions.
It might be nothing but some mixed plating, or the start of someone's orchard blending a bit into the edge of the evergreen factory, helping set the location - near the forest's edge. Does the lighting pattern suggest the area further to the right is more open, with smaller trees and less canopy? I think it might. But again, I'm not planning to pinpoint the locale at this time.

The confusion over the location names is also unsettled. The same supposedly knowledgeable source seemingly gives both tree farm names to describe this one place, from the small area he comes from and "knows well." And the foreign-based rebel info conduit Shabbab Libya is pointing way to the north and asking for minesweepers already so someone can have a look there.
Conclusion/Prediction
The requested rebel investigation in Benghazi will surely form and have a look, at both this and the newer, larger,
Tawergah massacre
of 150 civilians, blamed on Gaddafi, plus whatever other slaughters are "uncovered" as the rebel advance.
Only time will tell if they're able to say these 30 bodies were dumped in a forest (reportedly) used by Gaddafi's forces and, therefore, clearly killed by them. Time will probably say "yes, that's just what they found." I predict they will specify the Almliab scouting camp and agriculture center, and again blame the old regime.
Will the world still believe them? Or has the spell worn off?
Update, October 7: A Location guess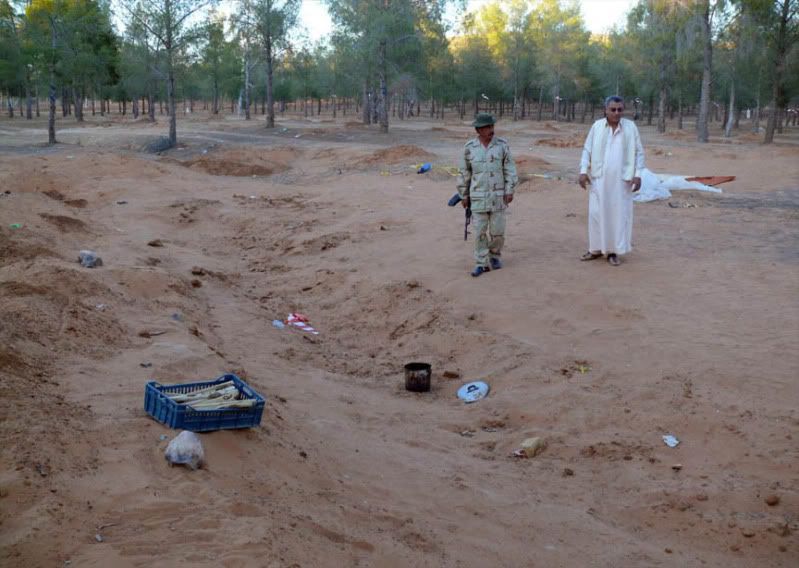 A photo of the scene I recently came across helps clarify enough details to let me make a guess for a specific mass grave location. The photo at left (
original page
) was taken Sept. 7 by Abdel Gassem Kreir, a Qalaa native and apparently also a photographer for the Associated Press. It shows the trench after its exhumation in late August. As far as trees go, it's mixed planting all around. What helps here, perhaps, are the roads visible.
I decided by the long shadows crossing the trench that it ran roughly north-south. To be more precise, presuming the video was shot in the morning, it would be rotated about 1:00 when seen from above, the north end pointing a bit east and the south end further west. That means the photo is taken looking about due south, and it shows a track road curving just twenty feet away from the trench's south end and western edge. Another, more major road is visible in the background. By the directions established, it runs roughly east-west. Its south side anyway has a cut bank - shallow, but noticeable.
This implied road intersection, with a minor road curving west and then north off a major east-west route might be useful. I scanned on Google maps all three forested areas around Qawalish, especially Almliab and Alumblyab, for areas that match. The major road made it easy to decide. Almliab doesn't seem to have a match for it anywhere - its main road runs south and only minor roads branch off east and west. Nothing at the forest behind the checkpoint just south of town seemed a fit either.
But the Alumblyab tree farm west of town has one area that fits the criteria, and only one that announced itself to me. It's got an east-west road with a cut bank on both sides, discernable by the irregular shadow along the south edge. It has a road branching off north into an area with a possibly consistent clearing. There's a faint trench in the topography there -
oriented about 1:00
, its apparent bottom highlighted in brown. I put the grave area in red (it seems to run into more level ground at the south end), and the rough angle of view and camera position in aqua.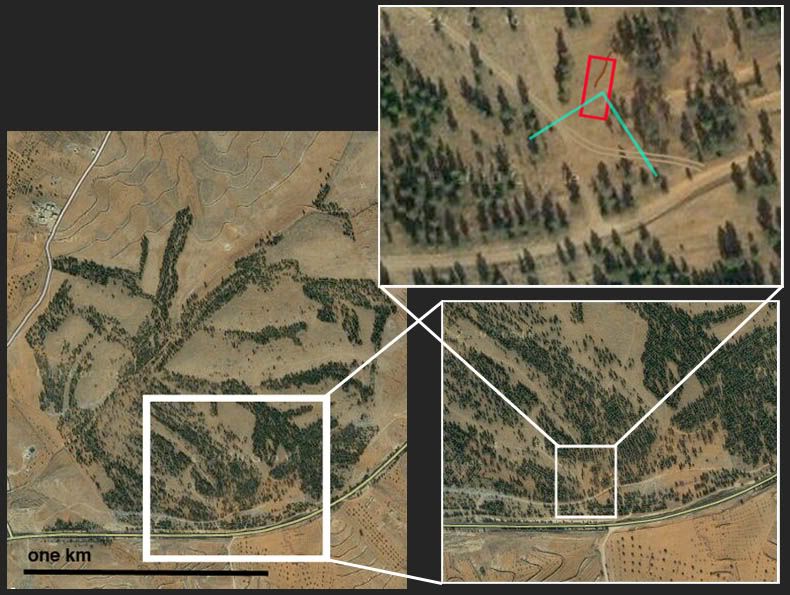 The main road here is right at the forest's southern edge, just off the main highway. The grave site is just a bit off that road, and only 20 feet from the trucks. That's consistent with
known rebel body-stashing practices in the area - lazy.
The problem with the road is evident - the one shown runs roughly straight north, with a branch to the northwest only
outside
our field of view here. There's nothing curving south of the trench like the one seen. What I propose is that a new road was blazed, about as shown here with the tan tracks. Such a road makes total sense for access reasons, and it fits with the photo. To the right should be about where the two roads would intersect, and we may see this here. The whokle area is flat and uncertain, covered with piles of earth from the dig, but with no trees. I think I see signs between the trees of that north road going back a bit, but that's not really certain.
Trying to match the trees has confused me, but my latest look suggests a view centered about due south might fit with the photo as far as where trees are nearer and further away. Perspective can be tricky at times like this.
Although compound uncertainties exist, I think this is the most likely single location, and worth venturing. The significance is this: the excavation, by several sources, happened at a forest/scouting camp behind a government check-point near al-Qawalish (see
here
). The location behind the check-point, where locals say they were detained and saw people beaten or killed, was the best clue this was the government's work. Well, that and the supposed ID match with several alleged detainees.
But the scouting camp is at Almliab, southeast of town, and
this patch is at Alumblyab
, to the southwest. There were no government facilities listed for this forest, and likely little or no access control. Anyone could have dumped bodies there, maybe even in June. Asof July, the rebels were the only ones in a good position to dump anyone anywhere.
If I'm right and there's a disconnect still, with confusion over the locale being perpetuated, it's worth asking why.