October 10, 2011

last edits Oct.12
I turn now to a video Posted October 1 by Quatchi Canada to his massive, deceptive, and carefully managed video empire, as "
Captured Chadian Mercenaries in Sirte (Libya)" Sept. 29, 2011
." It was also posted same day by scupcenter Tube as "
Persecution of Black people by NATO Rebels Continues
." (and then this huge account, like VSMRK's, was quickly deleted).
It shows a team of rebel fighters (NATO plague rats) gathered around a pickup truck, somewhere in whatever outskirts of Sirte NATO bombed them into. They'e detained two young black men, obviously suspected mercenaries, and have them cuffed in the back of the truck. They show the world all the clues that their hunch is correct as always.
If you're not familiar with their track record on this issue so far,
give it a look
before proceeding. I'd guess by now it's slightly higher than 0%, but back in February when everyone was screaming bloody murder over "the African mercenaries!!!" the rate seems to have been
exactly 0%
. Many of those accused were killed, burned alive, tortured, etc. Some were then shown off - as vicious mercenaries who deserved it, and who "proved" Gaddafi's army had defected.
And here they are at the end of September, considering another two for
some kind
of punishment fit for a mercenary. Whatever they're calling that these days, nearly eight months after they lynched their first innocent black man. Slow learning curve, or what?
- Skin check: they're pretty darn black. That's sometimes clue enough for a summary death sentence.
- Gaddafi loyalty check: Apparently, one had Muammar's green book, or some other small green book the rebels disdain.
- Headwear check: One of them has got a yellow construction hard hat, just like
the notorious first mercenaries in Benghazi
. They put it on his head momentarily for effect. See? Vicious killer.
- Wallet check: One has a photo of a pale person, the discovery of which elicits calls of Allahu Akbar for some reason.
- There is a moderate sized wad of cash money.
- An ID card is found for one of them, showing the flag of a foreign country - blue, yellow, red. Looking it up to be sure, it's the flag of Chad.
- There's a passport that prompts the cameraman to say "Chad." The name of the holder, in Roman letters, seems to be "Abdullah Doukmour Adin" (??). The embassy there should be hearing about him soon, right?
- Another paper says one of the two is HIV negative. That seems to be it.
Even with
the lack of actual weapons or combat gear
, all of this could mean only one thing - irrefutable proof these guys are African mercenaries. Why else would an African worker have money? Only Muammar pays his slaves, and then only to kill innocent Libyan protesters/freedom fighters. And the hardhat just seals the deal. Why would a simple foreign worker have one of those?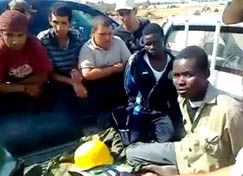 The captive on the driver's side is slightly darker in skin tone, dressed in sporty blue sweats, and perhaps not conversant in Arabic - he remains silent and withdrawn, and largely ignored. The one on the passenger's side is dressed more formally, and actually spoken to and asked questions, which he seems to answer with understandable Arabic.
In his shirt pocket is found some kind of charm or talisman - four or five small leather pouches on red string, which causes some amusement as they pull it out. His questioner starts repeating "haram," I believe, which means "forbidden" in Islam. This causes the boy to behave defensively, as if he was doing fine but had finally been caught in a crime. He seems to answer affirmatively when asked if he's a Muslim. "Well, that thing is haram," he seems to be told.
So one way or another, they've got something good on one of them. Some kind of Christain/animist/voodoo stuff, showing clearly he was there to kill Muslims, undercover even. Very deceptive. The sneers and grimaces of disgust on the surrounding, light-skinned Arab, Libyan Bubba faces might show they know the end of this story already. If anyone runs across a corpse around there dressed like him with such a charm, perhaps stuffed in his mouth, this will be the crime he was killed for in liberated Libya.
Note Oct.12:
It just occurred to me these fellows might not have been captured in any sort of battle sense. Between bombs, rockets, and a lack of every basic of life that can be denied by the rebels, every single person inside the city is
being compelled, sternly, to come out and put themselves in rebel hands
. Quite a few people (nearly everyone from a city of 75,000, the rebels are saying, and the Red Cross puts it above 20,000) have already simply surrendered themselves, just to be allowed to leave and live.
Some of those people are bound to be black men, and even foreigners. Although the usual roadblock situation most refugees pass through isn't visible nearby, well, it wouldn't be. Best do some special interrogation like this off to the side.
People leaving Sirte as instructed might be expected to have with them, aside from other things (not shown) cash and papers. They might carry a green book if they're foolish and brave, and a hardhat ... if they're worried about flying debris in case a beardy kid starts shooting? A charm might be present, if he thinks it'll bring him good luck like he's never needed before, and doesn't realize it might get him killed instead. Haram + black in liberated Libya = a bad combination. We'll see how bad when and if Mr. Adin (or is it his companion? Can't tell) ever surfaces alive.
See the comments below for some better investigation (it's not too hard, really), especially on who's running this truck in Sirte processing "suspected mercenaries."