This story emerged along with the alleged capture of one of colonel Gaddafi's more prominent sons and national security adviser, Muttassim, who's been talking tough and keeping Sirte resistant for a while now. It was for real this time, the NTC said; they finally did capture a Gaddafi family member and Sirte should just give up now. There were celebrations with gunfire, but no proof, then back-tracking on the claim, a loyalist surge, a rebel retreat, a renewed rebel push, renewed NATO strikes...
We're here to check. We don't know what happened. We don't know the story. But clearly they [the victims?] are revolutionary fighters.
As fighters for the transitional government advanced into inner Sirte today 42 bodies — beaten, bound and executed – were found on what a local man identified as the property of Gaddafi's son Moutism.
[...]
The bodies were discovered in four locations in the fields behind Moutism's [last known, allegd] home. Two groups lay along a concrete fence, appearing as if they had been lined up and executed. Another group lay scattered in a field among cattle. Rebel fighters held their noses against the smell, and looked at the bodies with anger, sadness and disgust.

"There are 42 bodies," said volunteer medic Nabeel Alghoail, as he checked the bodies from the first location with a team of four. "All have been shot many times. They are all civilians."
I thought they were clearly "revolutionary fighters?" The article continues:
All were men and appeared to be aged between 20 and 40. They were bound at the wrists with plastic ties. Yusef Haddaga was among the group who discovered the bodies. "We were moving through at around 2 p.m. when we found the bodies lying here like this," he said.

Haddaga said he recognized one of the men as an engineer from Misrata. Others said they believed the men to be prisoners captured by Gaddafi troops several months before, but no positive identification has been made at this time.
What they say, with words out of their mouths, can't be trusted in a case like this. And further, it's not clear how we can know that five days ago Muttasim's people, but not the rebels, had access to the area (or can we? see below). They've been pushing into various districts for weeks now. And further, loyalist leaders are likely moving from any known homes, like this one where bodies were found, to new undisclosed places, perhaps underground.
Many of them seem to be prisoners from Sirte's jail. "See their hands. Their hands are tied behind their back," Lt. Hussein Abdelsalam said through a translator as he showed the sites to a reporter.
How's that for sleuthing? Plastic handcuffs can only come from a Gaddafi jail now. A rebel doctor again gave the usual story: killed by the bad guys, and before the good guys got here (we'll be able to check that somewhat, below), and again, they're having a hard time attaching the bodies to acceptable identities.
Abdul Rauf, a doctor who sides with the revolutionary forces, said he examined some of the dead and thinks they were probably killed by Gadhafi loyalists last weekend [Oct 7-9], as NTC troops launched their all-out assault to finally capture Sirte.
[...]
Rauf said the bodies are hard to identify because they're now swollen. The ongoing hostilities have made it difficult for coroners or pathologists to attend to them. [... however ...] "I think that they were people which they held, and when our fighters reached there, like it's the last chance: Just kill them and run away. Just don't leave them to tell the story," Rauf said. "It's like that. You want to kill the story with them."
The First Survivor
But the diminishing Gaddafi regime isn't very good anymore at killing stories - not even fake ones. The CBC continued on to speak with an alleged convenient survivor who gave the "inside story"on how these deaths came to be.
Anis Farej, who was detained for nearly a month in the Sirte jail, said he believes the bodies are his fellow prisoners, though he could only recognize and name a few of them. One was Abdullah Ferjani, Farel said, a sheik from Sirte who was arrested because of his anti-Gadhafi stance.
Anis Faraj, 22, told The Sunday Telegraph: "They are not bothering to put them in prison any more. If they think you are against Gaddafi they kill you." Mr Faraj said described how suspected revolutionary sympathisers had been taken from their cells and shot dead last week - a fate which he only narrowly escaped himself.
[...]
Mr Faraj said he had been thrown into prison last month after Gaddafi loyalist volunteers found him shirking military service by hiding with family members in the nearby district of Abu Hadi. For three weeks, he and 47 other men [sic] were crammed into the small dungeon like cells inside Sirte police station. Last week, he said, as interim government forces advanced on the area, guards had come to the men and told them that Col Gaddafi's son Mutassim, who is said to be directing defence of the enclave, "wanted the disloyal rats from the prison".

"They lined us up, all 47 men outside with our back to four armed guards," he said. "They shot their weapons around our feet, and tied our hands with zip ties." As the prisoners were bundled into pickup trucks and led away, Mr Faraj was saved by a guard who recognised him as a colleague from Misrata airbase where he had previously served, before defecting.
"He took me to his house, gave me a Kalashnikov and told me to continue the hunt for the 'rats' with them," said Mr Faraj, who eventually escaped across the front line. "They are hunting down men inside their district, and anyone who does not support them is taken away. Soldiers I was with spoke of taking opposition members to the beachfront to kill them."
That's an unusual escape story, compelling enough in its way. And for the doubters, the same man was able to identify the dead from videos, like we've seen, as his fellow revolutionary cell-mates.
Doctors who first examined the bodies of Mr Faraj's fellow prisoners counted a total of 42 men dead, some of whom Mr Faraj identified from a video recording the discovery as his former cellmates. Their wrists were bound in the way he described. Lieutenant Col. Hassan Ali of the interim government's Gabra brigade, who found the bodies, said: "There are other corpses further in. We can see them through cracks in the wall but we cannot reach them as there are too many snipers."
More Visuals and a Partial Location
filmed the victims as well
, in the very low resolution image at right. I first thought it referred to the "Dollar neighborhood." But then I was alerted, by reader Petri Krohn, of
Twitter reports
from Rasmus Tantholdt, International Correspondent of TV2 Denmark. These spoke, on October 12, of "7 handcuffed bodies" and three more nearby "burned with tires around them." In
a video report
for Dutch channel Nyhederne, Tantholdt's crew gave different views in good resolution (see below) showing it's the same spot as seen in the Global Post photo above, piled next to a partly collapsed cinderblock wall.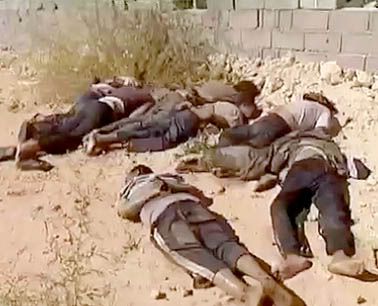 Between the different views, I think five or even six of these seven "revolutionary fighters" look more like the standard "African mercenary" than anything else. The Nyhederne video gives enough surrounding footage to feel out the scene. The missing sections of wall could be knocked out for defensive sniper positions or blown out by a rebel RPG from the south aiming for such. There's also some sort of cargo trailer nearby, leaned up on concrete rubble, possibly another defensive improvisation against invaders coming from the south.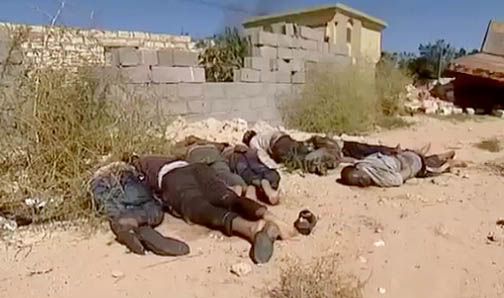 From the Nyhederne video
The details seen made it possible to start locating a spot in satellite imagery. The video shows a large, open dirt area enclosed by low walls
nearly
meeting at right angles at the northeast corner. On the other side of one is a high-walled compound with a curved corner, and large trees in the distance to the south. And near the other, partly collapsed wall where the victims were piled, is a small square building with nothing else around (visible at right).
Before I even set to considering where the sun is coming from, Petri Krohn found the location, sharing
a handy link
I didn't know you could do. It's on the western side of town, not much over a kilometer from city center, yet surrounded by small farms. That's Libya. By this finding, which I'm fairly confident in, the curved wall runs north-south and encloses a rather fancy, if not large, house with a well-planned yard and long, narrow garden of palm trees. It looks arguably royal, like a place someone suave like Muttassim would live. There's also a possible upscale residence at least as big, well-walled and landscaped, just on the south side of this enormous walled yard (200m square).
In the image below, the lower rightblow-up has the curved wall and the small square building indicated, as well as the victims' location (in red). We can see how it might be a convenient drop point for anyone in control of the area, a stupid place for Muttassim to have ordered executions carried out, and a fine spot to display the defenders on this compound after its capture.
I've scanned around a bit for a location for the CNN views of the other 17 or so bodies. I don't think it's at the same locale described above. The wall that 12 are piled next to doesn't seem to be around there, but then again, it looks fairly new, as does the earth around it. So the existing imagery, a few years old usually, may not show it.
But the four or five bodies they filmed in a field might be nearby, and locatable. If I'm reading the sun right in the image above, it's afternoon and the fighter's shadow points somewhere roughly northeast. We have another large field, a wall with decent-sized buildings on the other side running to the east. And the zoom-in below shows in the near distance, to the north, built-up city area. Between seems treed, absent any tall buildings, and perhaps dipping down. Palms are visible on the right. Note the odd building visible at the left-hand skyline - curved or unusually angled and shiny, it seems. One of the ring-shaped apartment blocks north of the area we're looking at?
Battle Lines
The scene is continuing to come together, visually and in terms of basic facts. See comments below for a preview of the updates coming. Most important for now is what the narrowed-down location of the seven means. The images below compare the compound Petri found with
a Wikipedia graphic
of rebel holdings in Sirte as of October 10, and
an image from the Guardian
, showing the front on various dates. I lined them all up and got this:
The compound is in the green square relative to the background map. It's within rebel-held territory on the 10th (pink). The faint white lightning-bolt line marks the western front on October 4, with that west of the line rebel-held. I suspect it's mistaken on the rebels controlling half of the fiercely resistant district two by then, since they apparently still didn't six days later. But they were apparently telling people that. The less built-up areas, like the one in question, make more sense to be under their control that early.
Either way, what this means is that the rebels are square in the picture, despite how they framed it. The bodies seem to be no more than two or maybe three days old. They were killed on-site, NTC forces and a survivor said, by Muttassim's men. They were killed by these people at this place as long as a week
after the rebels had taken it.
That's what they're telling us anyway, in parts and at different points, with apparently little attention to how their story lines up.
burned alive by the rebels
). The possibility here of necklacing, the cruel African-style punishment, suggests indirectly these victims too may have been black folk, with race erased by the flame.
Only the pale, bloated, apparently bearded victim by the wall clearly shakes up this mini-trend. The remainder of the 42 we apparently don't see, and again, one should wonder why.
Again as
at bab-al Aziziyah
, and
the hospital in Abu Salim
,
in Qawalish
, and probably
in Tawergha
, the "fleeing Gaddafi rats" show their penchant for killing primarily black-skinned rebels, who by all evidence make up a very small portion of their racist organizations. And again as usual, the Gaddafi clowns leave the proof of their racist cruelty
right at places they were "known" to be in control of
at the time, with no attempt at hiding their stupid, stupid work.