September 9, 2011
last edits Oct. 28
The following is from an e-mail (improved) I sent to someone at Amnesty International yesterday. I've been unable today to send it out to anyone else, but plan to soon. In the meantime, I will post it here on my bulletin board, with a request for anyone else concerned to help spread the word. We can be fairly sure who's responsible for the horror at Abu Salim trauma hospital at least. We can't be 100% sure, but the problem is, they're the ones with no checks on them at the moment, aside from weak pleas to "respect human rights." These are always issued to "both sides," and the side in question apparently ignores them. People on the ground seem to be paying a high price for that.
---
This is to alert you of some things I have found regarding the recent grim discovery of Abu Salim trauma hospital, Tripoli. The place was much reported-from on August 26, with its abandoned halls and perhaps hundreds of rotting bodies (reported as "dozens," 75, 100-150, and over 200). But I fear the circumstances there are little understood (the body count being so inexact is a clue).
Indeed, journalists tend to walk away perplexed, after apparently failing to noticing some of the most important clues. I have compiled my research on publicly available media here:
The Tripoli Massacres: Abu Salim Trauma "Hospital."
Below are the clearest clues from a couple of journalists who
did
notice them, and we owe them for that.
"Tripoli hospital turned into 'mass morgue'" Janis Mackey Frayer, South Asia Bureau Chief, CTV News. Sat. Aug. 27 2011
http://www.ctv.ca/CTVNews/Canada/20110826/libya-tripoli-abu-salim-hospital-gadhafi-110827/
It is unclear how the men, women and children died. The bodies we saw were those of Gadhafi loyalists who were wounded in battle. A poster of Moammar Gadhafi presided over a room slick with blood, water and maggots.

At least two men were shot in their beds. They were on the second floor covered with blankets. As the gurneys were wheeled away you could see where a bullet had passed through the pillow. The blood on the wall hinted at an execution. One of the bodies had a Libyan military card identifying him as a special forces member.

Nobody there claimed to know whether it was Gadhafi or rebel gunmen who executed them. I asked one doctor to give his opinion on how long the two men had been dead. He estimated two or three days, then shook his head and walked down the blood-streaked corridor.
Besides patients, staff may have been shot. This photo by Youssef Boudlal should be shown to a forensics expert, but I think it shows the residue of 3-6 gunshot executions in that stretch of hallway: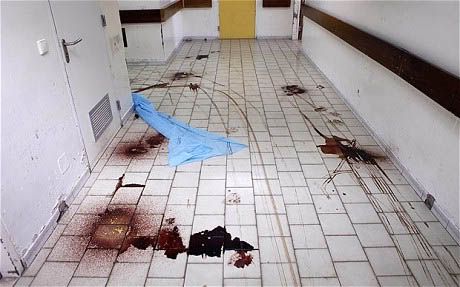 The rebel forces said the old staff simply "ran away," but I feel they were executed so the rebels could take it over as a sort of morgue. The makeup of the dead is another clue: all or nearly all of them are black-skinned men, according to the journalists there and the photographs. Another photo by Francois Mori shows one victims at least is headless, apparently decapitated in that very bed (right of center):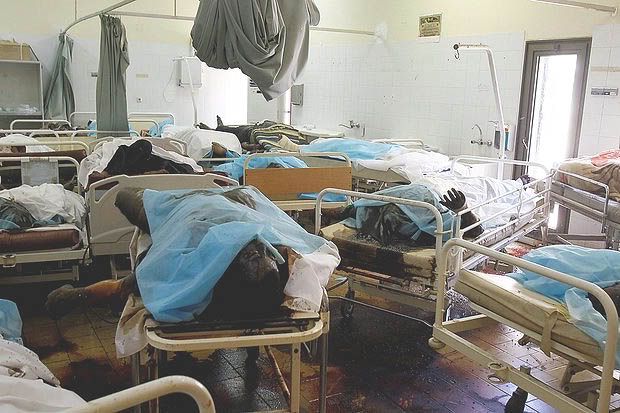 Certain elements within the rebel forces have been known for killing black men especially, and for cutting off heads. I just don't see the work of a fleeing evil regime here, killing their own with snipers or on-site executions, or chasing the doctors away so patients would die of neglect.
What exactly can and should be done about the possible abuses by the new government's forces, I don't know. For my part, I had to go past blogging. I hope you can help raise an alarm of concern over what this evidence strongly suggests the people of Tripoli are being subjected to in the absence of the former government's protection.
Here in summary is the situation at the hospital:
Said: Old staff ran away from gov't snipers just before FFs got there
Fact: Blood spatters like gun executions on the floor
Said: Patients in there injured by gov't snipers, died of neglect
Fact: Some patients shot in their bed (gov't loyalists/soldiers)
Fact: The dead are almost 100% black men
Fact: One black patient was beheaded in his hospital bed
Fact: The rebels now in charge are the ones missing massacre clues and saying the staff "ran away."
Fact: Everywhere they liberate, horrible things were happening just before -
not
just after - they got there.
Seriously - world leaders, readers, crusaders, anyone ... the math on this is not hard. People will be able to see this some day, and perhaps a larger holocaust this is the nose-above-the-water to. They will ask questions about why you remained silent and allowed it to continue. What will be your answer?
Note, October 28: I'd like to just bump this with the following comments from some of the "first-responders" among the media. BBC's Simpson had aptly described the hospital massacre as "One of the most terrible incidents of the revolution." And His colleague at al-Jazeera English, Andrew Simmons,
tweeted
following his tour there:
Abu Salim Hosp - Investigation needed re war crimes. And immediate action. Humanitarian emergency.
Two months later, no investigation of who dumped executed would-be refugees outside the hospital, shot Gaddafi loyalists in their beds, beheaded black men in their beds, and probably killed the whole staff, who, by the way, should have numbered perhaps 200 I hear.