December 4, 2011
last update Dec.26
<< The Tripoli Massacres
Among the grisly crimes discovered in Tripoli in late August, among those lesser mentioned are a string of executed bodies along the dry riverbed/canal just south of Gaddafi's central compound. The UK Guardian, for one,
reported August 28
:
Another 18 bodies were found rotting in a dry riverbed between Gargur and Gaddafi's shattered compound at Bab al-Aziziya – further evidence of apparent [Gaddafi] war crimes.
The BBC also mentioned these victims, and that some wore medical clothing, as they
mapped out the murder scenes on August 31
. It's not as precisely as I do (the massive
shed massacre
was down a different road, more due south, for one).
Human Rights Watch,
report from August 27: "Libya: Gaddafi Forces Suspected Of Executing Detainees"
Separately, on August 26, Human Rights Watch found 18 bodies rotting in small groups near the Internal Security building in a dry riverbed between Gargur and Bab al-Aziziya, Gaddafi's former compound. Witnesses told Human Rights Watch that Gaddafi forces had killed them at different times in the week prior to August 25, when Libyan rebels seized control of the area. It is unclear if any of those killed were armed at the time of their death, but Human Rights Watch observed two among the 18 bodies had their hands tied behind their backs and two were wearing the green scrubs of Libyan doctors and nurses. Witnesses told Human Rights Watch that several others were unarmed.
First do note what the rebels had likely been doing in the days before they took control-fighting and killing in the area to
establish
control.
Eight of these 18 bodies - or six of them plus two others - I have already analyzed without knowing it, in the post
Ghargour Black Trash
. Two men were killed down an alley, and six executed and piled behind an ornage trash bin nearby, amidst scattered rubbish. These are just next to what I called a canal, but on closer inspection, it's a dry river (or wadi, flowing in the rainy season), lined with concrete in spots. (summary of that post and graphics forthcoming)
Human Rights Watch was cited in the above reports, and has
a photograph
of the six behind the bin that I hadn't seen before, accompanying their report (see at right). These are described as "in the dry riverbed between Gargur and Bab al-Aziziya, Gaddafi's former compound." Another victim from the same area, it seems, is shown in
another HRW photo
. He at least was clearly a Black African man, shot in the head, on-site. As they put it,"The body of a dead man lies with his hands tied behind his back in the dry riverbed between Gargur and Bab al-Aziziya." More clear Gaddafi crimes?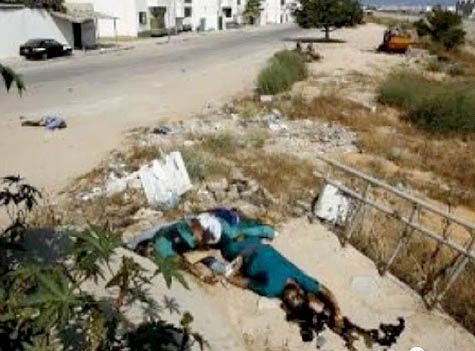 Two Youtube videos I've seen lately (links later) show the site of four more executed bodies, along the same river, somewhat near another orange trash bin. Two of these wear what could be surgical scrubs of slightly differing shades of blue-green. The better view is at left. It shows these two victims, unbound, but apparently shot in the head. They're both black males, laying on a concrete walkway with hand rails. Another apparent black man in light blue lays a ways off on the street's edge.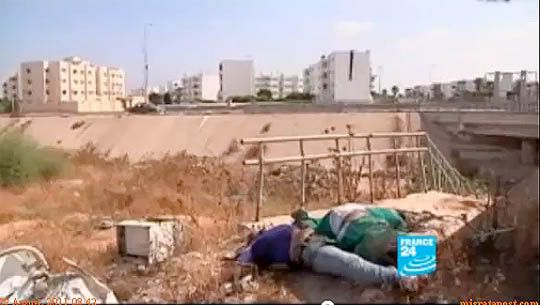 The fourth victim, in purple, is all but invisible there, while the first one is all but unseen from the following view, from France 24 (right). It's a colorful lot. This victim too seems darker-skinned, if not quite to the same degree. His head isn't visible.
Update Dec. 26:
A photo from The Atlantic
(below) shows the man in the blue shirt has an intact head and face. It could be his eyelids, but it could be his eyes themselves that look so wrong - possibly popped out. The weeds artfully obscure a clearer view. What looks possibly like his hand in the foreground is more likely the foot of the victim in blue who visibly lost so much blood there. A giant portrait of Gaddafi dominates a wall to the east. This might help confirm the location, but I don't think it's needed.
Update Aug 28 2012:
A video
Petri found a while back shows where some of the other bodies in the wadi are, and lets us see these bodies close up as they're all removed. The guy in dark blue/purple has been loaded on a truck, shown face-up at 6:30. Again, he looks like a dead Black man with puffed-out eyes.
Location:
easy
. A ways southeast of the other site. The actual stairs leading down to the underpass walkway aren't totally clear in the satellite imagery, and the video shows the segment of walkway blasted at an angle by some prior violence. The highway crossing, the opposite buildings, tree and shrubbery patterns, even the black car across the street, next to but not under the car port, all prove the fit.
This is it, relative to the eight bodies mentioned above,and the piles of executed, largely black men closer yet to Gaddafi's compound. These would have earlier been called "Gaddafi's African mercenaries," but now they're left in the open and called ordinary Libyans, their callous murder blamed on the crumbling regime. "Return to sender" seems to be the subliminal message beneath the transparent lie in all these cases.
That makes eight,plus the lone victim in his own photo, plus these four for a total 13 of the 18 we've apparently seen and can mostly place.
Update Dec. 26:
Human Rights Watch is clearly hearing about the same incident for
their August 27 dispatch
. Their bizarre information came from concerned locals who have Black Gaddafi mercenaries doing the killing of this race-indeterminate, rebel-supporting, out-of-town but non-violent, ambulance crew in the midst of the fight for Abu Salim.
Salah Saeed Kikli, 52, a medical laboratory engineer, told Human Rights Watch that he saw Gaddafi fighters in green military uniform kill two unarmed men, including one in medical scrubs, at a checkpoint by his home on August 24 around 11 a.m. after the fighters had previously approached him and threatened to kill him.






I was fixing my car. An African came to my corner [of the street] and asked if I was civilian or military. I said I live here. There was another [black man] behind who said, "if he is civilian, still kill him. No problem…" [After not being killed...] Five or ten minutes later… I saw them taking a doctor and another guy from an ambulance, and I saw them shoot [the two men]. The military guys stole the petrol from the ambulance… The ambulance said "February 17 Misrata" on it. [February 17 is a sign of support for the rebels.]…The men did not resist at all. They were medical people.

Another witness to the same incident, Juma' Al-Murayd, 31, told Human Rights Watch that two people with dark skin and in civilian clothes were driving the ambulance when they dumped three [black] bodies next to his house on the dry riverbed between Bab al-Aziziya and Gargur. Human Rights Watch inspected the three bodies with Kikli, across from Al-Murayd's house, two of whom were wearing the green medical scrubs that doctors and nurses wear in Libya. Kikli said that the third body, dressed in civilian clothes, was that of the driver.
The original driver, or the Afro-merc driving when the other black men were dumped? And when did the fourth body appear? This is confusing stuff. No wonder HRW gets so befuddled...