December 26, 2011
last edits Dec. 28
<< The Sirte Massacres
Another Massacre?
The following is not officially (per NTC sources) a massacre of any sort, and may not be one even in reality. But quite a few people, over 100 by some reports, were killed on October 24, four days after Muammar Gaddafi and 100 with him were killed, capping a brutal campaign of massive shelling and bombardment and
an effective life embargo
, massive arrests, and numerous cruel massacres yielding several hundred anonymous dead dumped in a mass grave, blamed on Gaddafi loyalists (see the link above for details).
This incident was blamed not on loyalists, just then becoming a shadow threat only, but on accident. Reports from commanders and locals say about 50 to more than 100 were killed, while lined up at a fuel depot, in an explosion sparked by a neighboring power station. Many bodies were of course left charred beyond recognition, but many others survived.
If an accident, this incident is a testament to the harsh realities imposed on the people of Sirte. The fuel embargo was meant to stop them living until they surrendered (along with de facto food, water, electricity, and medicine embargoes). With wartime damage everywhere in Sirte, when the electricity is switched back on, something could go wrong. Specifically, as
Euronews reported
, "there are claims that the facility was damaged by NATO bombs and blew up because of an electrical short circuit when power was restored."
Otherwise, there's the possibility I'll mention without marrying, that this was an engineered inferno to explain the many dead they had already parked there and burnt to anonymity. The survivors, as far as I know, could be just made up, to make it sound more realistic.
Should the Sirte massacres be expanded by 50-100? I can't yet say one way or the other, so I won't.
Sources of Information
Articles
Fuel Depot Blast in Libya's Sirte kills 100: Commander
"There was an enormous explosion and a huge fire. More than 100 people were killed and 50 others wounded" in Monday's blast, a National Transitional Council (NTC) commander, Leith Mohammed, told AFP.




He said the scene was "a heart wrenching spectacle with dozens of charred bodies."




"We are still unable to put out the fire," caused by a spark from a nearby electricity generator, said Mohammed.




The accidental explosion came as a crowd of people waited near the fuel tank to fill up their cars...An AFP correspondent said the tragedy took place near Sirte airport, some 30 kilometres (18 miles) south of the Mediterranean city, hometown and last bastion of Libya's slain veteran leader Kadhafi.




A radio station and two large fuel reservoirs stand nearby, said the correspondent, who saw at least 29 vehicles blackened by huge flames that shot into the sky, burnt shoes, melted plastic jerrycans and shreds of clothing.




"The explosion happened yesterday (Monday) at around noon," said Ali Faraj who helped evacuate the wounded. "It was very strong. I live 25 kilometres away and I heard it..Omran Ajelli, a doctor at Ibn Sina hospital in Sirte, said he treated 26 people, five of them "in critical state" with severe burns, and three bodies were brought in, with the other casualties apparently taken elsewhere."
The Telegraph
repeats most of that, some of it twice, and adds:
Some of the victims had returned to the town, the last bastion of resistance by Gaddafi loyalists, which fell on Thursday, to inspect the damage to their properties, the NTC commander added.
The Canadian
CBC reported
:
Dozens of people are dead after a blast tore through a fuel depot in the Libyan city of Sirte, local officials say.

The exact number of people killed in Monday's blast is not yet clear.

A local resident told Reuters that about 50 people were killed. The Telegraph, meanwhile, cites a National Transitional Council official, who put the figure at roughly 100.

Jalal al-Gallal, a spokesman for Libya's National Transitional Council, said Tuesday he did not have further details about the explosion. He said Ali Tarhouni, a cabinet minister, would provide details in a news conference later in the day.

The explosion in the coastal city was likely the result of an accident, reports said.
Photos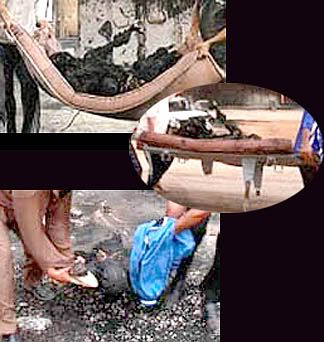 Photos by Youssef Boudlal, Reuters, exclusively, I think.
Locals gather and watch the fire
Locals gather: one man who doesn't want to be seen, one who looks almost happy at this fire
.
Residents try to carry a dead body that was found near the site of burning tankers on the outskirts of Sirte
Carrying a charred body
carrying the same body
At right, excerpts from all three images with bodies. They might all three show the same one, and they show no more than two. They're among the extremely charred. Reuters (see video below) counted fifteen cars and saw only "at least two bodies" removed.
Videos
Reuters Video
, Youtube
Reuters video with transcript
Euronews Youtube
http://www.youtube.com/watch?v=ecpkak9YolI
(later in the video)
Observations:
Cars "lined up in a cue" or simply parked all around? How far down any "line" would the fire spread? If there's a big path of fuel connecting them all, why?
This vehicle shown on the Euronews video is at a good distance from the epicenter. I cannot see a fireball from the depot reaching this far, but the path of blackened pavement around suggests the fire followed some line of spilled oil that people should have had a moment to leap out of. Perhaps they did, at this distance.
For what it's worth, we have a location. I found it
on Google maps
, but didn't think it was it, but petri says it is. I haven't verified that, but I think he's right. Anyway, here's the spot, within a spot, within a spot 10-11 miles the south of Sirte. It's at the end of a long dead-end road, a decent drive from Gardabya airport. It's defineitely an out-of-the-way spot for civilian motorists to fill up on... some type of fuel.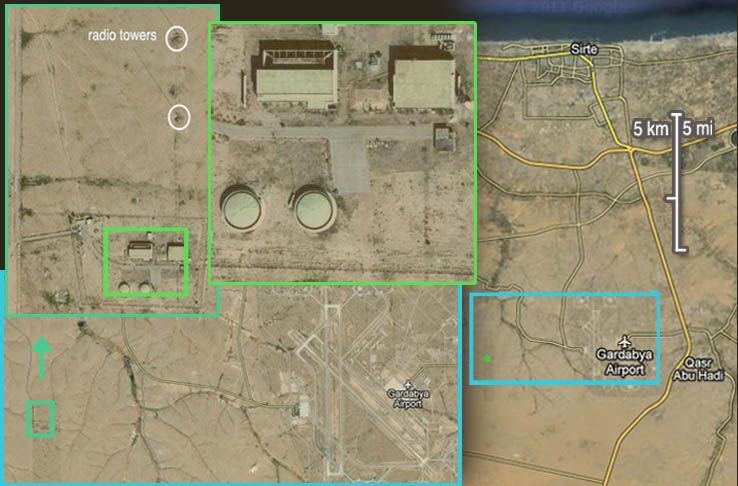 If as the rebel commander said "Some of the victims had returned to the town ... to inspect the damage to their properties," they likely drove out and back in, in cars that, like normal ones, run on gasoline/petrol. They would have gone where gas was more available than in tightly-squeezed Sirte (anywhere else in Libya), and must've filled the tank at least enough to return, and maybe fill some gas cans too. So why, on returning, would they go fill their tanks in Sirte? And why at this presumably damaged or drained depot, of
fuel we're not even sure is gasoline
, ten miles south of town when most would be returning from the east or west coastal roads?
From a comment, Petri adds these technical thoughts, suggesting the fuel here was diesel, making the rebel commanders' story unlikely in two important ways, one that most cars do not run on it and had no reason to cue up for it:
The compound in the desert, west of Sirte airport is a radio transmitter, operating most likely in the long wave band. The Wikipedia article states Libya has a long wave transmitter, but no Libyan transmitter is included in the list of longwave broadcasting transmitters.

There are two building in the inner fenced area. The one on the eastern side is the radio transmitter. It is connected by an aerial cable to two guyed steel masts standing some 150 meters apart, due north of the transmitter. The shadows indicate the masts may be over 200 meters high. Long wave transmission uses high power; this transmitter in Luxembourg transmits at 2 megawatts.

The building to the west must be an emergency power station, most likely with diesel generators. The fuel in the tanks would be diesel oil, also known as light heating oil.

The story still does not quite add up. If this was gasoline (UK: petrol) the high number of victims would be easy to explain. Diesel oil is is however very difficult to ignite, and even less likely to "explode." Even if one was able to ignite one tank, how would the fire spread to the other tank?