December 21, 2011
القذافي يقتل جنوده اذا رفضوا قتل اهلهم [Gaddafi soldiers killed
if they refuse to kill their parents
]
http://www.youtube.com/watch?v=BFpvZmX-lAQ
Uploaded by gettherat on Jul 14, 2011
Desc: "Gaddafi kill his own soldiers when they refuse to kill their own people when they approached Benghazi in March"
The video is gory enough, in the still image chosen, that I didn't embed it. All the victims are in Libyan army fatigues. Most of them are light-skinned Arabs. One man shown in that was clearly executed, if not bound. Probably injured before, he was shot in the back of the head right there, blowing his brains and head-blood quite visibly out his half-openedskull and across his upper right arm and the ground.
Others lay more-or-less piled along a narrow walkway with a low outer wall and a bullet-scarred inner wall.
This greatly reminds me of a scene posted by propagandist Quatchi Canada, called "
Misurata, Libya: Fighters Take On Gaddafi's Forces in A School, April 17, 2011
."
"In the video one person says that half of the killed Gaddafi's men were African mercenaries," QC adds in typical fashion. It shows what feels like a staged battle at a school they were sure was empty. There are dead loyalists shown, all looking like they were shot in only this one similar location. The walls behind them are riddled with bullet holes and splaters of blood, suggesting all these captives,perhaps injured before, were lined up and executed against.
Looting the pockets of one of these
heroes for Libyan family values
I don't think this is the same scene, but similar. Here among those who allegedly refused to off mom and pop, we see the effects of heavy explosions, broken concrete and metal suggesting NATO bomb damage in advance of the cleanup crew's work finishing off the slaughter.
The image at left is of a young man rifling through the jacket pockets of one of the dead. Just before this, he's seen stomping on the man's body (0:22), and after this he digs through the man's pants pockets. Take that, you coward who wouldn't kill your parents!
There's the brainless man mentioned above, and then like in the Misrata video some others piled up in a walkway. A young-faced guy atright seems to have died somewhat peacefully. Next to him, laid across the top of the low wall, a wooden plank with a possible nail sticking out of it. There's possible blood on its edge. Gulp...
Nearby to the left of this spot are two apparent black-skinned victims who seem to have died more violently. One has what looks most like his head at a strange angle, perhaps not attached. It could well be an angle issue, but his shoulders seem too near the wall, marked there with a spout of blood. It very much looks like a throat-slitting or even a full beaheading, with the head left behind. The video may have zoomed in on that before the cut we see at this point, leaving the image above the best glimpse we can get.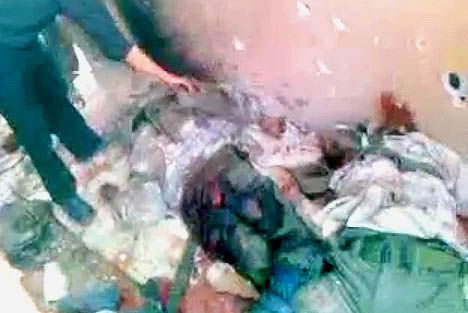 The other victim is face-down, the seat of his pants are strangely torn up revealing bloodied flesh beneath, the whole area soaked with blood. Recall the plank above and consider the style of Sheikh
Issa bin Zayed Al Nahyan [Wikipedia]
:
[T]he video, taken at some time in 2005, shows Issa beating another man, an Afghan grain merchant called Mohammed Shah Poor, with a wooden plank with protruding nails, firing an automatic weapon into the sand around him and forcing a cattle prod into his anus before turning it on. Prior to the abuse, the video allegedly shows a man in a UAE police uniform tying the victim's arms and legs; at a later point, Issa urges the cameraman to move in closer with the words, "Get closer. Get closer. Get closer. Let his suffering show." The victim also appeared to have been run over by a Mercedes SUV, have lighter fluid poured on his genitals and set alight, and had salt poured on his wounds.
He was "spanked" on the buttocks with this nail, and had the salt poured there. The United Arab Emirates, which this psychopath helped run as the family business, had been a major financial and moral backer of the Libyan Islamist,
racist as hell
, "freedom fighters," who've also been caught in Sirte apparently
burning their captives, perhaps with tire "necklaces," after running over them with their trucks
.
But this is depressing, and maybe we should fall back on the explanation of "gettherat." To endure such tortures by the villainous Gaddafi loyalists, these onetime loyalists must have really loved their parents. Their sacrifice and the final elimination of the mad dictator by the global conglomerate of those who resisted his orders proves that Libya has a bright future ahead, swelling with humanity and noble aspirations.