February 4, 2012
last edits May 17, 2012
<< Khamis Brigade Shed Massacre
<< Shed Massacre Witness List
Original content, Feb. 4
Mohammed Bashir, aged 52. For fun, I'll add the notes I just made about him elsewhere. Take note that he is as dark-skinned as the escapees get, among the majority we get to see. He might well have a bit of black African blood in him, but not the gallons shed by
the other, unlucky, escapees
who look almost like "Gaddafi's African mercenaries." Mr.Bashir
spoke to the Daily Mirror
, with a handy picture (at left - cropped off, to his left, is Ibrahim Omar Zadan).
Bashir's account is strange in a few ways. He describes the shed wrong - a "container," stifling hot, men died from the heat, thin metal walls the soldiers fired through, banging on the walls for water. These walls are lined with cinderblocks, make no banging noise, wouldn't allow bullets, and shielded the inside from the sun's heat. And there's decent ventilation all over the leaky place.
Further, Bashir says he was still hiding in the shed, just minutes after the shooting on the evening of the 23rd, when the fire was started.
…something happened, either his gun was jammed or he ran out of ammunition. He walked away to get another gun and I ran to the other side of the container and hid behind an empty gas canister.



That

's when they poured petrol in and set it alight. They were trying to hide evidence but people were still alive. I could hear them scream."
And smoke was still wafting off the shallow pile of about 50 bodies only, five days after the fire was first set. The Mirror was (almost) all alone reporting as fact that people were burned alive there, by virtue of accepting one "eyewitness" story without checking against any others.
Those screaming people being burned alive in Bashir's tale apparently weren't able to get out the door. So why didn't they run through the "hole in the wall?" Mohammed did.
"... I could hear them scream. My friends and I ran through a hole in the wall and tried to escape across the compound."
Only an idiot character in a not-thought-out work of fiction would run across the compound after "running" out
the only hole he could mean
. You need to see that explanation if you haven't. Out that hole means out of the compound, more or less.
Mr. Bashir is not a reliable witness - he might not have been there on the 23rd at all. He's friends with fellow escapee, the quiet, bearded young Ibrahim Omar Zadan. They vouch for each others' stories of escape, unharmed, from certain death. Despite giving no details I know of to contradict Bashir with, Mr. Zadan is not reliable now. Zadan in turn has been seen [VZH] hugging other "fellow survivors" - the possibly related Moktar Mahmoud Zadam/Zedan, Bashir al-Siddeq/Sedik, etc.
Update, April 2: Mohammed Bashir is Bashir Mohammed
At least two contributors and I agree now that this same physical witness also spoke under another name, giving a different account. One of those seen hugging Zadan (visual ID) is the guy who always looked like Mohammed and apparently is. The name could almost be an honest mix-up - Mohammed Bashir vs. Bashir Mohammed Al-Sedik/Siddeq/Germani. The CBC's video is stretched horizontally a bit, and it seems I didn't correct quite enough here. Here's the imagery, best comparison bottom, center:
Just by visuals and the names, it's a no-brainer really, in a pool this small. Both also specify they escaped via the hole in the wall. I didn't match them earlier because of a less rigorous visual comparison, wanting a big list with lots of entries, and the fact that
they give different accounts (stories)
. Mohammed cited the firethat couldn't have happened, but gave the correct massacre date of "Tuesday" (the 23rd), while Bashir put it on the day before that. Mohammed also specified he only arrived at the hangar "last week," just a few days prior to the massacre, while Bashir claimed to CBC he'd been there exactly 95 days! (see below, this is interesting)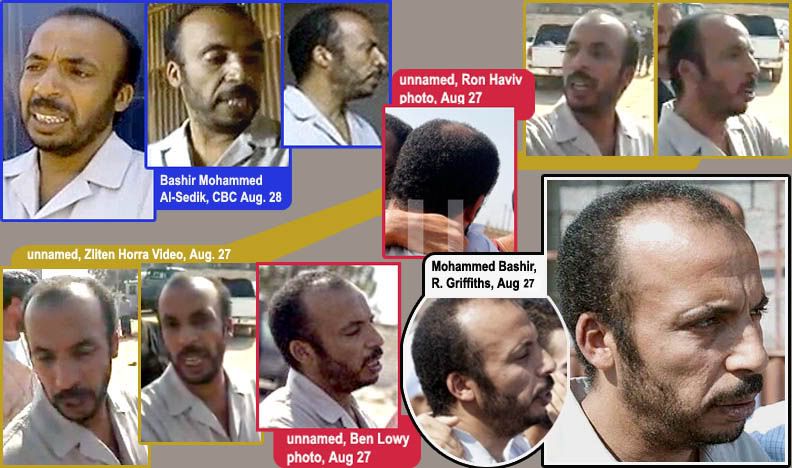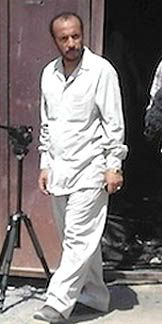 Note the appearance dates: Unnamed on the 27th in two photos comforting a distraught man who looks possibly related, and in an Arabic language video (truly I don't know if he's unnamed there). He's also on record that day as Mohammed Bashir, with Griffiths' photos carrying the date of the 27th, and showing sunlight suggesting early afternoon. It can be surmised he was in that character that day.

The 28th, it seems, is when he spoke to the CBC's Susan Ormiston, again in the early afternoon (this is partly from visual clues set beside what we've

halfway figured out

from other exterior images of the shed). Another photo I have but have been unable to track down the information on also shows this guy on the 28th (cropped on him, at left). The sunlight here suggests a time shortly after Ormiston walked in to speak with Bashir, so he's in that character here.

Therefore, "Mohammed" is "Omar"

The above connection clicked, for me, only after compressing Mr. Al-Sedik into another entry, Physicians for Human Rights Witness dubbed with the pseudonym Omar in

their December report

(essential reading for scholars of these things). This isn't a name he gave to deceive, but one they selected for him to protect him from, presumably, the phantom loyalists who failed so badly at killing him the first time.

Omar details:

From Az Zawiya, a car-dealer who drives a Mecedes Benz, away in Dubai on business as the protests started. Arrested May 20, held at Yarmouk 95 days.

May 20 to the accepted massacre date Aug 23, both days inclusive, is 96 days

. Consistently, he cites a massacre on "August 22nd." He smokes cigarettes, which the loyalists stole. "They accused him of giving 225,000 Libya Dinars ($180,000 USD) to the revolutionary forces and of transporting anti-Qaddafi forces to Tunisia." He was jailed with his nephew, who was apparently released soon after. Two of his cars were stolen and brought there to taunt him. He says guard Mustafa tried to set them all free (after turning down a fat bribe from Omar to do just that)

Bashir al-Siddeq (ph.) Details to CBC:

held there for exactly 95 days, he said, "accused of helping the rebels." The massacre happened "Monday night," the 22nd . He has things in his shirt pockets like packs of cigarettes. Weeps openly recalling the incident. [CBC]

"Bachir Mohammed Sedik" details to

Le Matin

(French, translated)

Held 95 days, somehow the massacre date comes out as "suddenly, the door opened,

Friday, Aug. 26

, then grenades were thrown..." He escaped, and "then, hidden behind a wall, he heard the screams, shots, cries for help, before

seeing the fire lit

."

"Bachir Mohammed

Germani

" details to someone,

re-published in Spanish

(translated):
We had been locked up here by the forces of Kadhafi," says Bachir Mohammed Germani. Stopped here three months for helping protesters to flee to Tunisia, the man miraculously escaped the massacre. "Last Tuesday, before retreating, the soldiers of Gaddafi opened the hangar doors. They fired machine guns at the crowd before throwing grenades inside. I was not injured, and got away with ten other people..."
Change of date... again? Here he cites the same usual date as Mohammed did. The details line up quite well, notably both being held exactly 95 days after being accused of helping people flee to Tunisia. It's hard to imagine two people in this relatively small pool of witnesses would share these traits, and quite reasonable to presume they are one and the same person.
To Le Matin, it sounds like, he specified the fire lit that day like Mohammed did, but only seen from a distance. To CBC, he apparently sounded like Mohammed on that - Susan Ormiston explained from someone she talked to that the grenades tossed in were what started the men on fire.
Otherwise, Omar was clearly an echo of the Bashir character, as opposed to the Mohammed character, except where those blur together. But he was also a different character with a different story. He's being quite clear between the accounts that he's the same guy the CBC and others talked to. He's clarified by saying Tuesday,
and
the 22nd,
and
giving his arrest date plus exact number of days there, that he was nearly killed on the wrong day. It's triple confirmed by him. (PHR simply ignored his date info, by the way, printing it but otherwise specifying the 23rd, as if that was unanimous).
In all versions, he was not injured. Like so many others, protected somehow on all sides from the automatic gunfire and bursting grenades. Physicians for Human Rights made a point of examining any injuries. But they gave only a psychological examination of Omar, focusing on his frequent sobbing when recalling the incident.
But Omar Has A Different Escape Story
But the end of the story differs greatly between Omar and Bashir, forcing separate entries as two distinct fake characters, as opposed to the usual one.
The CBC heard from Bashir that "when they went to re-load their guns, he crawled over bodies to
a hole in the wall,
and in the chaos, escaped." [CBC] He sounds arguably like Mohammed here, except in not clearly mentioning fire, in the snippets we're shown. But as noted, the idea of people being burned to death carried through.
PHR heard that Omar "hid behind some tires and farm equipment. When there was a pause in the shooting,
detainees rushed the door
and ran in all directions. Some were shot dead while others, like Omar, managed to escape safely by scaling the wall of the compound." The difference is not hard to spot.
Luckily, this conformed with the only other PHR witness who saw and took part in the escape. "Mohammad" (also from Zawiya, also a pseudonym) agreed with Omar quite a bit. Both specify that a heroic guard named Mustafa tried to set them free, unlocked the doors, and told them to wait 30 minutes. Both specify they were discovered before that time was up, and agree on the massacre that followed, generally.
Both of them said the detainees rushed the doors, and Mohammad gave great detail. As PHR related: "At one point one of the soldiers' weapons jammed, and one of the detainees picked up a metal object and threw it at the soldier while he ran out of the warehouse." But then the gun un-jammed and he was martyred, but not in vain - Mohammad saw another prisoner "grab a fire extinguisher and, while running past the soldier, create a cloud of smoke so he could safely escape." He was followed by others who used the smoke screen and scattered. Mohammad was in no rush, and wanted to see the others out. He was one of the last two to leave, he told PHR. He and his unidentified companion ran "toward the back compound wall where the trucks with the shells" were parked and, like Omar, climbed up to the top of a wall, and then were home free.
So these two witnesses, while still disagreeing on the date, now agree on this dramatic manner of escape right out the main door. This happened without even waiting for the soldiers to leave like many others say, going to reload and finish killing the dead prisoners who couldn't run, apparently leaving the door unlocked for more than 50 prisoners to run out of unharmed. On this strong point of agreement,
Omar and Mohammad contradict everyone else, including Omar himself
when he was both Mohammed and when he was Bashir. The rest all agree on about five other ways out (besides many who don't specify or don't remember). Of the dozens of accounts available, none but this
team
of two that spoke to PHR says prisoners rushed the doors while guards were there and fought past them.
Therefore...
After I explained this all, briefly, to a friend, he asked an apt question. Apparently doubting my characterization, he said something like: "Really? What the hell, how does he think he'd get away with that?" I just chuckled, said something like "he's got a lot of help."
It's funny in a black-humor way that of all the witnesses we can recognize, it was Bashir/Mohammed/Omar that was (apparently) selected by
Dr. al-Farjani, our other transparent faker
, to sit in on the meeting he held with UN Secretary-General Ban Ki Moon on November 2 (see
the video
-he's at the far left in the video still).
And the witch-hunt against Gaddafi loyalists NAMED by fakers like this continues, the massacrers NAMED by their attempted victims like this, being detained, disappearing, tortured to death in the ongoing purge Free Libya has decided to require. Truth optional. Better yet, not allowed. Main thing is, the takeover is rolling ahead splendidly.
Update May 2:
Our subject also spoke to Al Jazeera English and Bashir Al-Germani/Jamani (phoenetic). That was August 28, not aired until their fancy docu in December (
see here
-he's at 39:18 or so). More recently, apparently in early March, he was called to speak with BBC Arabic reporter and fellow Yarmouk shed prisoner Feras Kilani, for a documentary on "Libya's torture farms." This I'm waiting to be able to see, but all the available previews anyway are discussed
here
. More to come.
Anywhere in the above mentioned accounts, did "Bashir al-Sadeq" mention his brother, a sheikh, who was locked up there with him, and shot dead by guard Ibrahim Tajouri? No? Well, he must've forgot until March, but he's telling Kilani about that now. And guess what, another Az Zawiyah escapee, Hussein Al-Lafi, corroborates him on the little detail of this one particular guard who stood out as the machine gunner who singlehandedly killed dozens with nearly four clips of ammo. Getting "witnesses"in Zawiyah to agree on specific things: wow, impressive.
Update May 17:
That was a mix-up. Hussein Al-Lafi said Mohammed Allafi was his brother, after Bashir named him. Sheikh means respected and elder (actually Bashir's same age, 52). Sorted out at the above link, and there's a video now for our subject and more. It's great:
Further, I finally looked up name meanings, always relevant when looking at fakers.
Bashir/Bashar:
Bringer of glad tidings or happy news: http://www.islamic-dictionary.com/index.php?word=bashar
Mohammed: of course reference to the prophet, not sure what special meaning aside from Muslim
Sadeq/Sadiq:
truthful, real
http://www.islamic-dictionary.com/index.php?word=sadiq
Jamani/Germani: Nothing came up.
So his name says to the rebels who approved his performances "good news! I'm here to tell your truth as an honest Muslim man who's keeping it real!" Perfect.