January 6, 2012
last edits April 8
Libya's racist, irascible rebels have always despised Gaddafi's support for, unity with, and employment of Black Africans from Chad, Niger, and so on. Less known is their extreme disapproval of his fraternizing with and working with Slavic people from Russia, Ukraine, and other places including, especially, vilified Serbia.
A video I just ran across about Colonel Gaddafi's Serbian cook, now back home and recalling the decent man he knew. He could speak some Serbian, and "liked Yugoslavs."
http://www.youtube.com/watch?v=4dRhoo_IJ08
Yugoslavs? Just like Jamahiriya, Yugoslavia is a word we're supposed to have wiped off the map. Those murdering Serb thugs, allegedly, their country torn to pieces, for real. As with Libya, it was done largely by NATO, with local Islamist affiliates who like chopping off heads...
But the rebels know there's no point hiring foreigners for anything except killing rebels/protesters. Even at the beginning, in late February, such rumors against both blacks and Serbs were taken widely as probably true. As
the Balkan Update blog/site passes on
, Serbian snipers were reported by a tabloid to be taking part in the mass-slaughter of unarmed protesters that
still hasn't been proven
to be done by anyone, and Serbian pilots were helping carry out the fighter jet attacks on same that
all evidence suggests never happened
.
These are the perfect kind of things for a demonized minority might keep paying for throughout the war. And in time the fighting got more fierce with foreign airpower, firepower, advisers, elite units, and so on brought to bear against the Libyan government. As Tripoli lost more fighters, the likelihood of real foreign fighters, from Cameroon or Croatia, would only grow. So as with later claims of African mercenaries, I do not presume the innocence of the accused. But neither will I just accept rebel characterizations.
Road Work?
Petri Krohn started me off with
a comment
, apparently conflating two separate incidents, which was handy.
A group of 22 Ukrainian construction workers was held at the airport in August. I understand they were all killed.

An American (someone who was first in the press in March) interrogates these "Gaddafi sniper" and does not want to believe the story they are building a road. "Don't you follow the news? Don't you know there is a war going on?" Satellite images however show major progress on the 3rd Ring Road between August 14th and August 20th, around here.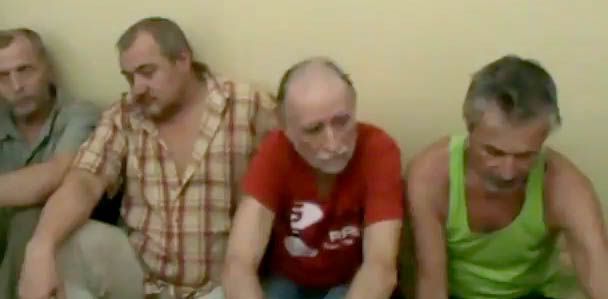 Petri's link was to a different video, actually, that helps make the case. The Ukrainian part is accurate:
Gaddafi's Ukrainian Snipers Caught in Abu-Salim Neighbourhood (Tripoli, Libya), Aug. 25, 2011
Or so says the poster, Quatchi Canada, who's not reliable. All the speaking here is in Arabic and it's notclear if these older men even say they're doing road work. The captives are silent, dejected. They seem to sense they'll just be slaughtered, and only hope it will be swift. Mercenary scum, but with a senior discount.
The English, the road work claims, and the airport are from another video I found,
Serbian men accused of being mercenaries answer questions at the Tripoli Airport, August 22, 2011
[By: Salam Tekbali] Several men accused of being mercenaries answer questions posed in English and identify themselves as Serbians. They claim to have traveled to Libya to work on a road construction project. The video was recorded on August 22nd in the Tripoli Airport.
Salam Tekbali is a Libyan-American lawyer with a JD from Barry University and B.A. in Political Science from the University of Arizona.
"Do you know that Libya's been at war six months?" Kill and die is all anyone's supposed to be doing?
The Frozen Sniper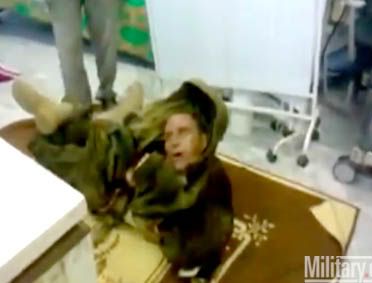 Then there is the slavic sniper, in
a video
mentioned by Petri (
here
), frozen into a cube, legs twisted, folded up to his head, a gasp of horror frozen on his face. He does look like a soldier-type, from the boots to the hair, not a Libyan uniform it seems, and a bit light-skinned. I could buy this being a foreign fighter, hopefully killed before being stuffed into a tiny freezer for some reason, but as Felix noted (right below Petri), it was at least before rigor mortis set in. That's some flexibility
More Abuse of Slavic White Niggers in Liberated Libya
Below, in comments, for now.
Serb Victims at Qaer Ben Ghashir?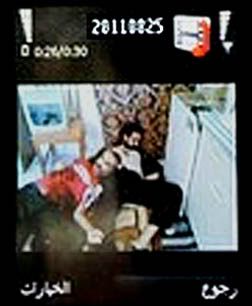 See this fascinating post.
50-100 prisoners were held here, we heard, ordinary Libyans - doctors, engineers, yearning freedom - held in a Khamis brigade prison at Qasr Ben Ghashir, next to Tripoli airport. On August 21, 22, and/or 24, 5/6 of these prisoners was shot dead, or shot, and the rest of the prisoners let themselves out of the cells and the five guards ran away. A Brazilian company had been running construction of the third ring road from the same site until an unknown date. Serbs were caught there, at the airport saying they worked on the road, as mentioned above (fluent English was a job requirement). That was August 22. At left are 2 or 3 of the found bodies filmed at "a former Yugoslavian machine factory complex" in the Qasr Ben Ghashir area, taken on August 25 (
source photo
). They're apparently supposed to be some of the Libyans killed by the fleeing guards, and then ...left for 1-4 days to rot and be found by locals?