April 7, 2012
last edits May 13
The following is an advanced but not final draft of sub-section 1.4, part of the introduction for the report
A Question Mark Over Yarmouk
.
Partial
sources list
to check the links.
A previous post on this subject
, with comments and a few new facts (May 13) that aren't in this cut - harder to read, but better for research purposes.
---
1.4: Another Khamis Prison Massacre

1.4.1: "Two Military Camps"
Initial reports of the Khamis Brigade shed massacre were lumped together and perhaps confused with another incident linked closely with it in time and space. Amnesty International reported early on August 26 about "evidence that forces loyal to Colonel Mu'ammar al-Gaddafi have killed numerous detainees being held at two military camps in Tripoli on 23 and 24 August." [AI] The Washington Times reported at the same time "troops loyal to longtime Libyan leader Col. Moammar Gadhafi massacred more than 180 prisoners at two locations south of Tripoli this week, according to eyewitnesses and a survivor." [AKS]
The CIWCL does not have a precise location for the second prison in the nearby Qasr Ben Ghashir area. Google maps does have a "Qaser Ben Ghashir" which seems to be the airport. There's also a town, Bin Ghashir, next to it. The whole area is about 8-9 kilometers from Yarmouk, south on al Hadhbah road. [GM3] It's said to be the abandoned grounds of a Brazilian construction company that had been building a new Ring Road. [AKS]
The site was allegedly used as a prison, some witnesses claiming to have been held at Yarmouk for some time, then transferred south to the other. Ashish Kumar Sen reported for the Times that "Mohammed, a rebel spokesman in Tripoli who only gave his first name, said a close friend of his was among those who died after being tortured by the regime's loyalists at one of the detention sites." [AKS]
The orders to massacre detainees reportedly came down to both camps at roughly the same time, as rebel forces advanced towards them. More than 100 were reportedly killed at Yarmouk, and only about five at its nearby neighbor. However, bodies found at and near the sites, and presumed to be related, have continued turning up.
1.4.2: The Witnesses
Besides the five or so killed at the Brazilian warehouse prison, a large number of other prisoners escaped their confinement alive and uninjured. The number is variously given or implied as anywhere between 50 [PHR] and 70 [AI]. Of this huge pool of escapees, there are exactly two clearly named witnesses on record, and only at most about five total on the public record. By the four accounts on record, each of the escapees seems to have survived a different massacre from the others.
The first reports from Amnesty and the Washington Times came on August 26, mentioning both massacres together. Sen cited Mahmoud Okok, a 29-year-old engineer, as the witness who had survived to tell what happened. He was arrested in May on suspicion of giving bombing coordinates. "Early on Wednesday morning [the 24th], guards dragged six men, including two doctors, from solitary confinement and executed them with their Kalashnikovs, according to accounts." [AKS] Possibly the same person and at least one other, but unnamed, spoke to Amnesty, as they cited "survivors."
Robert F. Worth wrote for the New York Times in September of Jamal al Ragai, 31, a maker uniforms for the Libyan army, until he joined the rebellion in March. He started with importing weapons and forming a group of fighters in the capitol. He was arrested in mid-June on a weapons purchase, he says, sent right to Yarmouk (relating some of the horrors listed in article 1.3.4), and then transferred to the Brazilian compound. He escaped from there, and went on to command, as of September 21, "a militia of about 70 men, many of them veterans of bloody street battles in Misrata and other towns." [RWN]
A similar-sounding witness, presumably the same man, was "Lieutenant Colonel Jamal Rabbani, an army officer" (by something other than his uniform, one presumes). He recalled being jammed with up to 30 others in a police van at Yarmouk, and at other times "they made us crawl around the yard on all fours every morning and afternoon and bark like dogs as they beat us with batons, clubs and rifles." [AL]
Another onetime Yarmouk prisoner shipped south is Ali, a pseudonym for one of those interviewed by Physicians for Human Rights. A laborer from Az Zawiya, he helped cook food for
the "protesters" who had taken over the city in February
. He says he was arrested in mid-April, about a month after the government re-took the city. [PHR p.32] He was transferred from the shed to Qasr Ben Ghashir in early August, and beaten daily "throughout Ramadan usually after the evening call to prayer" in what he called "the worst 21 days of my life." [PHR p.34]
Finally, the UNHRC spoke with an unnamed prisoner who "was transferred from the agricultural warehouse to the second detention centre at the beginning of August 2011." [UH] This is possibly Ali, or someone else transferred with him at that time. PHR says 21 others were sent in the same batch.
1.4.3: Three Confirmed Massacre Dates
The date variation is an obvious problem. First it was the day after the shed massacre, August 24th as reported by Okok (and confirmed by AI), mentioned above.
Another date was entered by Ragai/Rabbani in Worth's Sept. 25 article: "early on the morning of Aug. 21." [RWN] The same date was cited by "Ali." "Early on the morning of 21 August." [PHR] Both cite this as when the six prisoners were taken out of their cells.
Later all three would be a little bit wrong on the date. The UNHRC's report passes on a middle date of August 22, and a bit later in the day that the prisoners were taken out.
On 22 August 2011, in the morning, a detainee interviewed by the Commission heard Sergeant [030] talking on his mobile phone and saying that there were a large number of detainees. One of the guards recalled how [046] called [030] around 0700hrs, informing him that the thuwar had reached Salahadeen. [030] told them to execute the doctors and the "officers" and lock the others inside the warehouse.
At around 10-11 am, one of the guards, a soldier from the 32nd (Khamis) Brigade, [040] came to the warehouse and took six detainees outside. After less than an hour the witness heard the sound of shooting. [UH p.71]
Settling on the 22nd is exactly as if someone averaged the previous dates. Someone decided the truth was between these and told the UNHRC that, which they accepted and passed on as fact, even though that date was cited by none of the three previous witnesses.
As this report will show (in sub-section 3.3), there is also confusion at the northern site of the shed massacre, over the date of the killing, as well as the date of the rebel conquest. At Qasr Ben Ghashir, there was no conquest, just a quiet and surreal escape of nearly everyone without any kind of fight.
1.4.4: What Kind of Escape From What Kind of Cells?
Over time, the nature of the prison cells changed. By the first reports, the prisoners at the Brazilian compound were in solitary jail cells. Amnesty's witnesses knew five detainees were killed because of the five bodies and because they "heard guards opening five of the cells." [AI]
Contradicting them, Ragai said "the guards opened
the door
of the cell next to Ragai's and led out six prisoners." [RWN] Six to a cell is certainly not solitary. Ali told PHR the gunshots caused a "panic" in the cells, and that "we all cowered against each other." He also wasn't in solitary confinement. [PHR p.34]
However many were in each, they apparently broke out of these cells on their own, "[the] detainees panicked when they realized that the guards were planning to execute them all. They managed to break out of the prison," Sen reported for the Times. [AKS] Amnesty related how "detainees panicked and broke out of their cells fearing they were about to be executed." [AI]
They may not have all broken out, with perhaps a few doing so and then helping others, maybe after finding the keys. They appear to have allegedly frightened the guards off with their numbers. All sources agree that the guards, who numbered five if any specific number, simply fled the scene without firing a single further shot during the break-out, however long it took.
The panic Ali cites was more passive, cowering within the cells (3 by 4 meters, he says), expectantly, "and then nothing. The guards had run away." They remained in their cells, however, until "Ali and the other detainees slowly emerged" nearly an hour later. How they simply came out of their cells is still unexplained.
The UNHRC in March has six removals, then gunshots followed by "the sound of heavy bombardment in the area," a new feature that might help explain the guards' flight. "A few minutes later, having not heard any movements from the guards, they opened the door and freed themselves." [UH p.71] Even lack of panic, a lack of guards, and distant booms combined do not explain how jail cells are opened from the inside.
The only narrative that attempts to explain this is that spun by Ragai/Rabbani, the rebel leader, who claims he led the escape. He knew they had to get out of there, even before the six shootings, or they'd all be murdered. He tried to get a guard to let them all go, but failed. He was let out to use the bathroom, but was then put back, he says, in a different cell.
Minutes later, the men heard gunshots. The six men were being executed. But at the same time, Ragai realized that the guard had left him in a cell that could be opened from the inside. He got out, and began releasing all the remaining men, who fled the compound. The guards did not even try to stop them; instead, they piled into cars and began fleeing themselves. [RWN]
One man alone stepping out his cell frightened them off, staring them down as he somehow unlocked door after door, after being put in a type of jail cell that shouldn't even exist. That seems to be his story, and it carries with it at least as many logic problems. as the other inadequate and contradictory accounts.
1.4.5: Who Exactly was Killed?
There's been less confusion, but still some, over the death toll and the victim identities. Six clearly prevails over Amnesty's five, while that being confirmed within the few people speaking to the same source is curious.
The professions of the dead show a greater consistency. Doctors were among the dead, all witnesses seem to agree. The UNHRC said doctors and someone referred to as "officers" were to be killed first, per the order from on high. [UH] Mahmoud Okok, cited above, said two of his friends, both engineers like him, were among the six who were executed. Two others were medical doctors, two unspecified. [AKS]
The UNHRC found six detainees, "including three medical doctors," were shot. Only three of the six died immediately, with three gravely wounded. The witness then scrambled for a vehicle to take them to hospital, with "another doctor" passing away before finally "the remaining two were evacuated to the Al-Afia Medical Centre in Qasr Ben Gushair." [UH] The final confirmed death toll here is four. What happened at the hospital isn't spelled out.
Ali told PHR he "found five detainees shot and killed and one other gasping for breath." Six fatalities were presumed PHR says the brigade "murdered six detainees." [PHR p.34]
Two or three doctors, two engineers, possibly "officers": these are people of impressive professions. That Gaddafi's thugs targeted people like these (as well as judges and lawyers, at Yarmouk) helps illustrate an important rebel propaganda point that Gaddafi hated Libya and wanted to destroy its institutions.
The only specific name given for a victim was through Amnesty International. Their report of five shootings included three men from Zlitan and two doctors, one of whom, they reported, "is believed to be Ali al-Darrat, from Misratah, who was taken prisoner near the eastern frontline in July and had not been heard from since." [AI]
A now-obscure article run August 26 on several Canadian news sites cited the death of a onetime Ottawa resident, Abdulhamid Darrat, of no named city. Last anyone heard, he was doing computer work for the government, but disappeared in May. His body had been found in the Khamis shed with the other prisoners, presumably burnt, and somehow identified. This alleged fact was reported by the 26th, the same day the rebels claim to have first taken the Yarmouk base. [OCD]
However, as the report said, Darrat's daughter "said Usama Okok, a family friend who worked with Darrat and was also taken captive in May, told them a different story." By this, her father was beaten, tortured, and killed just days after the arrest. [OCD]
Amnesty's description mentioning another Darrat might have drawn on Mahmoud Okok, who did speak with the media at that time. With two Darrats dead between the two prisons (Ali the doctor and Abdulhamid the computer guy) and two Okoks (Usama the computer guy and Mahmoud the engineer) telling the stories of how, this portion has gotten too confusing to sort out in full.
1.4.6: Left Behind at the Serbian Factory?
Another curious twist to this story comes from an obscure reference attached to a set of photographs by Jeroen Oerlemans, taken at "a former Yugoslavian machine factory complex" in "Qasr bin Gashaier" Tripoli, on August 27. He was told the abandoned plant, apparently Serbian-run and connected to the Brazilian company's Ring Road project, was used as a prison that Khamis Gaddafi frequently visited, and it seems to be the one referred to by the witnesses. [FO1]
There were Serbs working there, apparently, at the time of rebel conquest. A Youtube video shows "Serbian men accused of being mercenaries," specifically snipers, being questioned in clear English, at Tripoli airport, August 22. This, as established, is next to Qasr Ben Ghashir, and according to the video description, the five men shown "claim to have traveled to Libya to work on a road construction project." [
YT9
] An online job description by the Libyan Brazilian Construction and Development Company, running the road project, specified "Fluent/advance in English" was required to take part in the lucrative project. [
OW
] It's not clear what happened to the men later.
A local man in traditional robes showed Oerlmans the "small prison cells," given as 3 by 3 meters, that were crammed with up to eight people at a time. "According to a survivor […] many of them were tortured," the text description with the photos reads. Unfinished cells, made of cinderblock are shown [
FO1
], as well as plastered finished ones. [
FO2
] It doesn't necessarily look like, but it does sound like, the place Ragai and the others walked out of. Oerlmans reported, again on the 27th, "100 people were freed from their cells at this complex about a week ago."
Perhaps the strangest part is the confirmation that was found of the six executions. As Oerlmans passed on, "at the scene at least 4 bodies" described as executed "were found." [FO1] If this refers to those killed before the escape, it would be unusual for rebel or survivor sources to use the words "bodies" instead of "prisoners," and "found" instead of "witnessed being executed by retreating loyalists."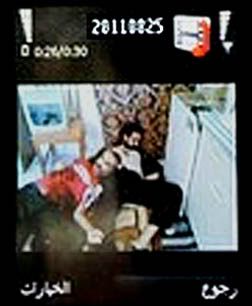 In fact, a "neighbour of the complex" showed a photo on his mobile phone, held aloft in the same room it was taken in (clearly someone's furnished living space). [
FO3
] The two or perhaps three bodies shown therein were removed by the 27th, leaving a pool of blood. The victims are quite light skinned, possibly Libyan, more likely Serbian (see left, cropped and enhanced). The photo was taken on August 25 (and possibly at 2:45 am) by the screen on his phone – one to four days after the reported jailbreak. [FO3]
These "at least four bodies" sound less like the story told than like the physical evidence that story attempted to explain. But it's difficult to visualize 50, 70, or 100 prisoners leaving their 4/5/6 slain fellows behind to later be "found." The UNHRC was told of a rush to locate vehicles to get the three wounded survivors to the hospital, and two reportedly made it there alive. Someone should have been arranging for the dead to be removed as well, and started towards reunion with family and a proper burial. Instead, locals were taking photos of them starting to rot days later.
1.4.7: Reflections Back on the Yarmouk Massacre
The compared accounts show little cohesion on anything except who died and who killed them. There's little overall agreement on the how it happened. This is not how real memories usually operate, and therefore the accounts are questionable. At the very least, it's fair to say that the picture of what happened there is not as clear as any one witness, or group of witnesses, has tried to make it sound.
There will be those inclined to believe all the version are somehow true, with the vagaries of human memory explaining the conflicting details. From such a viewpoint, the example of Qasr Ben Ghashir could be used to argue that the case under study from a few kilometers north and all of its conflicts present nothing unusual.
The patterns laid out in this smaller study do reflect in the nearby massacre this report will delve into over the following sections. The CIWCL invite all readers to consider, across the witness accounts and the gaps of logic and agreement, just what it is that underlies this larger cluster of broken memories. They claim to reflect what's supposed to be "the most clear-cut war crime" of the whole Libyan Civil War, but they do so like a shattered mirror, a pile of shards chaotically reflecting bits of everything