April 1, 2012
(incomplete, last edits April 4)
<< Khamis Brigade Shed Massacre
<< Report: A Question Mark Over Yarmouk
The rest of the entries, fuller formatting, more images, etc. forthcoming.
Sources
- to check what [HL] means and what the source says
(Alleged) Massacre Escapees, First-Hand (28)
Top line (if known): name, age, profession, hometown, time of detention (at Yarmouk if not specified).
1 – Mabrouk/Muftar Abdullah
, 45, teacher, Zlitan. Held about 6-8 days.
Mabrouk Abdullah, 45, was shot in his side. [HL] [KL] An unnamed survivor who was "shot in his side" showed the healed wound on video, Aug 28. [TV] Visibly the same man shows off different marks on his back, and is named as Muftar Abdullah Aslitni, 45, a teacher. Aslitni could be a misunderstanding of his city of origin, making him a Zlitani. [JR] Mabrouk Abdallah spoke to Le Figaro [LF] "Abdullah," arrested in Zlitan, was "shot and wounded in his side." [AP] Moftar Abdallah from the town of Zlitan. [CH] Facebook list of 40, entry #1. [FB1]
Manner of escape:
"[Abdullah] fled the hanger. He hid outside when soldiers returned and fired on other survivors. When they left, he escaped." [AP]
Injuries:
Covered. The gunshot is from the massacre, he says, but it's only been three days and its totally healed. The lesser injuries on his back aren't explained, but considering the patterns below, likely from his detention in Zlitan.
2 – Abdel Salaam Ashour
, 42, teacher, Zlitan
Manner of escape/Injuiries:
"Some of us dived to the floor, and some of us ran. They shot my leg. We were all screaming." [NYP] [JL] Facebook list #24 Abdul Salam Mohammed Ashour [FB1]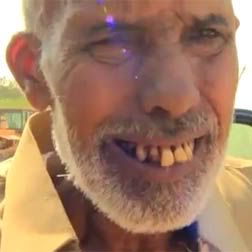 Fathallah weeping [OG]
3 - Fathallah Abdullah al Ashter
, 70, Zlitan, held less than a week.
Fathallah Abdullah [OG] Fathallah Abdullah Al Ashter, 70 [JR] Arrested with his three sons in Zlitan in mid-August. Filmed weeping over his three lost sons – two for sure dead (Ibrahim and Abdul Hakim), and one, Ali, possibly alive but missing. [OG] Facebook list, entry #5. [FB1].
Manner of escape:
"When another prisoner kicked open the warehouse door Fathallah ran for cover and managed to hide under a truck." [OG]
Injuries:
none mentioned.
4 - Tahir Ahmed El Bahbah
, 16/17 (Zlitan?), held four days
Arrested August 18 ten o'clock at night, with three cousins (Ali Mohamed el Bahbah, Abdulaziz Faraj el-Bahbah, Abdullah Abdul Razak el-Bahbah). They were transferred to Yarmouk on the 19th, saw an attempted escapee killed on the 20th. El-Bahbah says they were set free by a guard named Abdul Razak Baroni, prior to the massacre.
Manner of Escape:
he mentions jumping, walls, and houses (translation was confusing).
Injuries:
"wounded in my shoulder by bullet and shrapnel..." [FB3] Facebook list #28 [FB1]
5 - Abdulrahim Ibrahim Bashir
, 25, Gadames, Held three months
Bashir counted 153 names read out during roll call the day of the execution, and was the only witness to soldiers shooting down through the roof. Death toll, app. 133 ("he estimated that 20 escaped").
Manner of escape:
"I ran out the door and jumped over the wall. I was not wounded, hamdullah. They just shot and killed us." Hid in a house with escapees Abdulsalam and Hussein, brothers from Zliten, Hussein was wounded and later died in Bashir's arms, but his body was left to rot in that house.
Injuries:
none. [HR]
6 – Mohammed Bashir
, 52, held less than a week
Mohammed
Bashir,
Rowan Griffiths photo [MF]
The CIWCL considers it possible this is the same man also listed as #21 Bashir al-Sidek and thus also #18, Omar. However, it's possible they just look similar and share similar names and some account details. Spoke to UK Daily Mirror [MF] and seen amongst survivors and family meeting Ban Ki Moon in November [VBM] "We were put in the metal building last week after being transferred from other prisons." During the massacre, which he gives as Tuesday (the 23rd) "he hid behind an empty gas canister" to avoid a second round of shooting, but "that's when they poured petrol in and set it alight. They were trying to hide evidence but people were still alive. I could hear them scream."
Manner of escape:
"My friends and I ran through a hole in the wall and tried to escape across the compound."
Injuries: none.
[MF]
7 - Aamir Benowen
, 26, Tripoli, held three months.
Injuries:
Seen badly injured, tortured, at Tripoli Medical Center by Global Post, Tracey Shelton – broken ribs, massive bruising, multiple stab wounds, a "sliced open" neck, spoke through a respirator. This was from an attack in the shed four days before the massacre, which no one confirms. He was presumed dead, left unconscious and unaided by anyone, yet witnessed the massacre and survived.
Manner of escape:
unexplained, despite rather requiring an explanation. [GPS]
#8 Said Falba, From "What
Happened at Yarmouk" [FGM]
8 – Said Mohammed Falba
, Computer professional, held
four months.
This name in Arabic, a photo, and a partial account were found at a Facebook page, but the CIWCL did not save the photo, full content, or the link and have been unable to relocate any of it. Therein, Mr. Falba said he worked for Sun Microsystems, apparently in Tripoli, arrested with others from the company on suspicion of feeding NATO coordinates, and sent to Yarmouk. One direct translated quote: "Said Mahmoud Falba a survivor of the Holocaust, which [happened at] Yarmouk camp, 32nd brigade ... the story of the Holocaust from the hell of prison escape..." [?anyone help prior to publication?] The same face, unnamed, is seen in
What Happened at Yarmouk
, giving details. He says the prisoners broke out on their own but the guards, in an effective ambush, immediately started shooting, sweeping them back inside, where they re-locked the doors and kept killing them.
Manner of escape:
not explained. [FGM]
Injuries:
He walks with a cane, possibly related to the massacre. It's not explained, if so.
9 - Amr Dau Algala (al-Gala)
, Tripoli, 34, police officer, held at least 5 days
Apparently Munir El Goula's Brother (see below). A former police officer, tasked with decoding messages for the government, he refused and started organizing resistance. Arrested with brothers, taken to Abu Salim prison at least two days, and the shed for at least 3 days more. He doesn't specift how many brothers were with him and how many escaped, only mentioning one, Abdullah, who he fears died. Cited death toll of 60. Suggests fire during the massacre.
Manner of escape:
"We were all shouting and we ran out. We climbed over that wall and we ran through the houses."
Injuries:
He showed marks where his wrists were bound with wire. [KS] Nothing else mentioned, but Mounir el-Goula's brother walked stiffly, as if injured, when they were filmed August 25. [LH]
10 – Mansour Tarar Gazi
, 30 (Zlitan?)
A Tarrar Gazi, 30, escaped with Moustapha el-Etri. [JT] A "Taha" escaped with Mustafa. Atiri, and both were taken in by Ahmed al-Farjani. [RWN] Facebook list of 40, Mansour Tarrar (Taha) Gazi [FB1]
Manner of Escape:
He imitated Mustafa El-Hitri. [JT] Nothing further.
11 - Munir Al-Goula (and brother),
Tripoli, Mansoura district, held three days
Interviewed Aug. 25. Arrested August 20 along with three brothers, he managed to escape with one of them (shown on video but silent and unnamed, apparently Amr Dau Algala above), and two remained missing. Only one, Abdullah, merited mention as presumed dead. Munir cites a death toll of "20 soldiers and more than a hundred prisoners."
Manner of escape:
"He says somehow he escaped."
Injuries:
none mentioned. [LH]
graphic, left to right: Munir el-Goula [LH], Amr Dau Algala [KS], Munir's brother [LH]
12 - Abdulatti Musbah Haleem
, 43, cement buyer, Zlitan, held a few days
Interviewed August 25, he was arrested "last week.," transferred to Yarmouk shortly. Cited 200 prisoners total, only18 surviving. [DT] "The guards told us that it was all over and we were going to go home that day." One of the guards "said he would unlock the door and all we had to do was undo the latch and then we could escape," but "the first of us went out and were met with a hail of bullets…" [DT]
Manner of escape:
"After the firing stopped he and about 30 others ran out through a hole they had made in the hangar wall. "Some of us did not make it because they started shooting again."
Injuries:
Burns and shackle marks visible, from "captivity in Zliten." Stated injuries (not shown): "hit by bullets and shrapnel but managed to run behind a stack of tires which offered some protection." [DT]
13 - Ali Hamouda
A survivor recognized by Fathallah Abdullah al-Ashter, confirms some soldiers taken out and killed first. "Outside the warehouse [Fathallah] greeted another survivor, Ali Hamouda, with a sombre handshake. Ali was uninjured but told us his cousin was among the dead." [OG]
Manner of Escape:
Unspecified, but would probably have confirmed Fathallah if given the chance.
Injuries:
None.
14 - Mustafa Abdullah El-Hitri
, 26/27, lawyer, held one day
Unnamed to Sky News [SN2] Mustafa Abdullah El Hitri, 26 [AL] Mustafa Abdullah Atiri, 27 [RWN] Moustapha el-Etri, 27 [JT] El-Hitri in photos [SM3]. Arrested Aug. 19, moved to shed just before the massacre. [JD] Witnessed Khamis Gaddafi giving the massacre order. [AL] [RWN]
Manner of escape:
He was "encouraged to make a run for it by a guard named as Abdul Razak, who opened the barn doors while the execution detail went to reload their weapons" [AL] He escaped with "Taha" [RWN] or was followed by Gazi Tarar [JT]. "After running from the warehouse, they leapt over a low wall at the far end of the prison, then sprinted between empty houses and farms. They could hear the whine of bullets slicing into the fields around them." Both were taken in by a local family, then dumped in a nearby town, where loyalists threatened to kill them, until local Ahmed al-Farjani saved them and took them in. [RWN]
Injuries:
walked with a limp a week after [RWN] but not four days after [SN2] nor likely when leaping over walls and dodging bullets.
15 – Hussein al-Lafi
, 40 Az Zawiya, held nearly two months
A father of five, al-Lafi was arrested with three brothers on 29 June, frequently beaten. During the massacre, "I couldn't see anything from the smoke. People were screaming and there were many more rounds of fire." "his three brothers were killed while attempting to escape," Amnesty International reported early on Aug. 26, after speaking with him. "When the shooting finally stopped, I got up and started looking for my brothers." He remained there in peace long enough to discover Jamal, 44, dead. Osama [aged 31], was "shot in the heart and had other wounds on his leg," and passed away. Mohamed, 52, was bleeding from his thigh, and died.
Manner of escape:
Others had been lingering with him. After confirming his three brothers were dead, "I then escaped with three more people through the back of the hangar." [AI]
Injuries:
None mentioned.
16 – Abdelbasset Said Maoma/Amauma
, 49, Zlitan
Back in Zlitan on Sept. 2 "Abul [sic] Basit Saad Maoma, 49" showed Seamus Murphy scars from captivity there, before his transfer to Yarmouk, "where he survived the massacre of up to 150 men." [SM 2] Facebook list #8: Abdelbasset Said Amauma [FB1]
Injuries:
Again, from Zlitan but not from the massacre.
17 - Ahmed Mohammed
, 25
"Ahmed Mohammed,25, also said he survived the massacre and told a similar story [to Mabrouk Abdullah's]. Neither knew how many had been killed nor how and when the bodies had been burned." [AP] Nothing further.
18 - "Mohammad" (pseudonym)
, Az Zawiya, held two months.
Interviewed by Physicians for Human Rights 9-11 September 2011. [PHR p.23]. Arrested June 15, badly beaten by two Tawerghans with "poor Arabic," transferred to Yarmouk the 18th. Spent two weeks in prison trucks there, the rest in the shed. On the 23rd, guard Mustafa warned them to flee, and said he would unlock the door for them. The prisoners chanted Allahu Akbar loud enough two guards came over and found the doors unlocked. One of them yelled "who opened the coffin?" while the other stepped in "and reportedly fired his nine-millimeter pistol" at two Misrata captives, killing one. They stepped back out and started firing their Kalashnikovs and lobbing grenades in cycles.
Manner of escape:
PHR reports "At one point one of the soldiers' weapons jammed, and one of the detainees picked up a metal object and threw it at the soldier while he ran out of the warehouse." The soldier got his gun working and the shot the man down, but another prisoner "grab[bed] a fire extinguisher and, while running past the soldier, create a cloud of smoke so he could safely escape," along with others who used the soke screen and scattered. Mohammad was one of the last two to leave. He and his companion ran "toward the back compound wall where the trucks with the shells" were parked and climbed over."
Injuries:
Mohammad's injuries were extensively studied by PHR. He suffered various injuries from tight wrist-binging, stomping, beating, and flogging. Much or all of this was from initial detention, none from the massacre itself. [PHR p.26]
19 – "Omar" (pseudonym),
Az Zawiya, car-dealer, held 95 days
Shared details with #22 Bashir el-Sedik, suggesting the same man: held 95 days, cites a massacre on the 22nd instead of 23rd, smokes cigarettes (which soldiers stole), accused of helping people flee to Tunisia, plus funding the rebel cause with his car business. He drove a Mercedes-Benz. [PHR] "Omar" spoke to Physicians for Human Rights on September 9. "According to Omar, he was the longest-serving detainee at the Agricultural Compound," jailed with his nephew, who was apparently released soon after. Two of his cars were stolen and brought there to taunt him. He cites a 22 August massacre, after guard Mustafa tried to set them all free (turning down a fat bribe).[PHR]
Manner of escape:
"…he hid behind some tires and farm equipment. When there was a pause in the shooting, detainees rushed the door and ran in all directions. Some were shot dead while others, like Omar, managed to escape safely by scaling the wall of the compound." [PHR]
Injuries:
None mentioned by PHR – they offered only a psychological assessment focusing on his frequent sobbing.
Mounir Massoud Own and
Arwa Damon, CNN video
20 - Muneer Masoud Own
, 33, manual laborer, held less than a month.
Arrested with his younger brother in early August, location unspecified (Tripoli?). Lost track of his brother in the escape – he's presumed dead. Own spoke to CNN's Arwa Damon late on the 28th. [CNN1][CNN2] [CNN3]
Manner of escape:
"Mounir made a run for it. "I ran away. I jumped over that wall (pointing southwest). But I don't remember anything else.""
Injuries:
none mentioned. [CNN3]
21 - Akram Mohamed Saleh
, held "about two months."
He told Amnesty International: "I was in shock when the grenades exploded. There was so much confusion around me, smoke all around."
Injuries:
During the escape, he sustained a gunshot wound to his left leg, as well as injuries to his head from exploding grenades. Saleh and 19 other detainees managed to escape, and at least four of them sought medical treatment at a Tripoli hospital." [AI] No further citations or details. The hospital is apparently Tripoli Medical Center, where Dr. Salem al-Farjani was working. (see sub-section 2.5)
22 - Hisham Al Taher Al-Sari
, Zlitan, held five days.
Arrested August 18, held at Yarmouk until "Check-out 23/8/2011"… the rest is confusing. (Arabic, auto-translated) [FB2] Facebook list of 40, entry #4 [FB1]
23 – Bashir Mohammed al-Sedik
, held 95 days.
Bashir al-Sedik, CBC video, the hole
in the wall visible behind him [CBC]
Bashir al-Siddeq (phoenetic) [CBC] Bachir Mohammed Sedik [LM] Mohammed Bashir Germani [AG] Apparently seen in ZlitenHorra video [VZH]. Clues matching #18 Omar: held there for 95 days, he said, "accused of helping the rebels." The massacre happened "Monday night," the 22nd He has things in his shirt pockets like packs of cigarettes. Shown breaking down in tears on camera. [CBC] "Arrested three months ago for helping demonstrators to flee to Tunisia." [AG]
Manner of escape:
"when [the soldiers] went to re-load their guns, he crawled over bodies to a hole in the wall, and in the chaos, escaped." [CBC] See inset – that's the hole behind him. "Then, hidden behind a wall, he heard the screams, shots, cries for help, before seeing the fire lit." [LM]
Injuries:
"I was not hurt" [AG]
Mr. Senussi, #24[CTV]
24 - Abed Rizaq Ghazim Senussi
, Gadames
Named in full, from "Grames," presumably Gadames. "35 people escaped as the guards were reloading their weapons, according to a survivor, Abed Rizaq Ghazim Senussi from the city of Grames, he being one of them." [DBS] Named and shown on video (see right) [CTV], shown, matching CTV, and specified as preferring to remain anonymous. He was shown pointing to the victims outside the shed on mattresses, apparently explaining them. [HV/HB] No further details.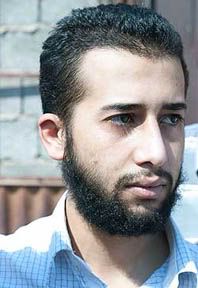 I.O. Zadan, Rowan
Griffiths photo [MF]
25 – Ibrahim Omar Zadan
(Zlitan?)
A young man who knows Mohammed Bashir – he "spotted another survivor, Ibrahim Zadan, and the pair embraced in tears." A photo by Rowan Griffiths shows both men, with meta-info clarifying which is which, and adding "Omar." [MF] Facebook list #38 [FB1] Nothing further. He seems to be the shy and quiet type.
26 - Moktar Mahmoud Zedan
, 22/23, Zlitan, arrested June 17
#26 M. M. Zedan, from
ZlitenHorra video [VZH]
La-Croix.com: Moktar Mahmoud Zedan [LC] Translated, from a video description in Arabic: Mukhtar Mahmoud Zadam [VZH] Same name, account on Facebook: born 1988, Zliten [FB5] Facebook list #40 also the same. [FB1] The video is in Arabic, but the description "tells how he survived a horrific massacre at the Khamis batallion camp in Tripoli and the sequence of events and the names of the criminals who have killed and burned 53 and the name of the officer who issued a warrant of murder and believed that the number of victims of the massacre reached 150 martyrs." [VZH] He was "arrested on Friday, 6/17/2011 … by some of the volunteers in the city of Zliten, with some of his cousins for being a family Zadam, which was attended by some of her children in the events of June 9" [FB5]
Manner of escape:
he "owes his survival to the mercy of a guard," unnamed. "He let me go while the soldiers, short of ammunition, went to reload," he said. The young man ran to a farm several miles away." [LC]
Injuries:
none mentioned.
27 – Unnamed
, Zlitan
Youtube video, professional quality, from an Arab news channel apparently, is said to show "a young man from Zliten [who] tells the story of his suffering and death after surviving an attempt execution…" [YTZ] It was found linked from Yarmouk holocaust pages, so apparently connected, and the face isn't immediately recognizable as anyone else. The CIWCL cannot tell what he is saying or if he is even named in the video.
28 – Unnamed
, held nearly three months
The unnamed host of the video What Happened at Yarmouk was an escapee, specifying a detention from June 1 to August 23. [FGM] He said thousands were killed there over the months, gave many descriptions of torture and deprivations and the prison trucks, all with an unnerving permanent grin.
Manner of escape:
"I was one of the people who crawled out through this opening," pointing, from outside, that was created by the grenade blasts. "We went out through this opening, went to the wall and jumped down." [FGM 3:56]
Injuries:
none mentioned.
(Alleged) Escapees, Second-Hand Accounts (7)
* = now deceased
1 - Rajab Adhedia
(Zlitan?)
A survivor of Yarmouk, apparently from Zlitan, who is said to have sworn to R.M. Jabr's status as escaped, but died anyway. Jabr's son on Facebook: "[O]ne of the survivors, a Rajab Adhedia where he stated that he found my father lying in front of one house on 26 \ 8 \ 2011." [FB6] This must have been on returning to the scene, or possibly after two-plus days hiding nearby. Facebook list of 40, #3.[FB1] No further details.
2/3 - Abdulaziz Faraj El Bahbah, Abdul Razak Abdullah El Bahbah
(Zlitan?)
Cousins of Tahir El Bahbah, spoken of by him as arrested with him June 18 and sent to Yarmouk the next day. Arrested Third cousin, Ali Mohamed el Bahbah, apparently died. These other two are listed on the Facebook list of 40, as entries #26 and #30. [FB1]
*4 Ramadan Mahmoud Jabr
, 67/68, Zlitan, held four days
Born 1943, arrested at home on August 19, the same day rebels forcefully conquered most of the city. His son, nearly arrested too but a better runner, looked for Ramadan, and soon heard from returning survivors of Yarmouk he had been there. One Rajab Adhedia said the elder Jabr had survived the massacre on the 23rd and escaped somehow, but was left alone bleeding until the 26th, found in front of a house. He died on August 27, of injuries and diabetes-related illness. [FB6]
5/*6 - Abdulsalam and Hussain
, last name unknown, Zlitan
Brothers from Zlitan, fled with A. I. Bashir and hid in an empty house. Hussein ied of injuries, his body left in the house to rot. [AL] This could be the explanation for the apparently black-skinned man found brutally killed in an empty house next to the massacre shed. [ABC1]
* 7 - The Man on the Stairs (name unknown)
One of the very few known black prisoners, no one knows who he is. But the rebels say he was shot in the back running across the yard, climbed the south wall, and died bleedin on the stairs on the other side. [CBC] None of that explains the apparent gouging-out of his eyeballs. (see article 3.2.4)
Possible Escapees (31)
(Those simply called "a survivor," giving clues of being one, etc. - primarily from the Facebook list, most likely all from Zlitan)
1 -Mukhtar H'dyah Muftar Abussnah
Facebook list, entry #12 [FB1]
2 - Mohammad Jubran Ahbich
Entry #37 [FB1]
3 - Hamza Salem Akdarh
[FB1 #32]
4 - Abdelsalam 'ebdalhmyd 'ebdalslam Almbq'e
[FB1 #34]
5 - Milad Ibrahim Khalifa Alshahuba
[FB1 #25]
6 - Abdel Salam M'Hamed Andishe
[FB1 #16]
7 - Mahmoud Mohamed Andishe
[FB1 #22]
8 – Taha (Tarrar) Abdul Salam Andishe
[FB1 #18]
9 - Farouk Mohamed Andishe
[FB1 #20]
10 - Ahmed Muftar Arbash
[FB1 #15]
11 - Ela(the?) Fathallah Al-Ashter
[FB1 #9] distinct from #5, #11
12 - Hakim Fathallah Al-Ashter
[FB#11]
13 - Joseph Dehom
[FB1 #33]
14 - Ahmed Aahmoudh 'Ela
[FB1 #19]
15 - Ousama el Gardim
, Zlitan
Photo, Zlitan, September 2: "Ousama el Gardim was tortured for several days before being transferred to Tripoli, where he survived the massacre of up to 150 men, allegedly committed by loyalist forces." [SM1]
16 - Ahmed Mohamed Hadid
[FB1 #17]
17 - Saleh Muftar Hadid
[FB1 #7]
18 - Isa Hanafi
[FB1 #35]
19 - Mahmoud Hanash
[FB1 #31]
20 - Mostafa Hashemi
[FB1 #29]
21 - Nur al-Din al-Hashemi
[FB1 #27]
22 - Khaled Khalef Khebir, Souq al-Juma Tripoli
"They [Mr. Kebir and his brother Abdulkhalim] disappeared five months ago and had been transferred from one place to another," another man explained. [EN] Otherwise, it sounds like a man whose brother only was held there, where he returned to see if he could be identified.
23 - Mohammed Zhirmohamd Bin Masoud
[FB1 #6]
24 - Abdulsalam Mohammed Khalil Muftar
[FB1 #39]
25 - Abu Bakr Mohammed Nofal
[FB1 #21]
26 - Osama Hussein Salem
[FB#14] (a judge?)
27 - Mohammed Ahmedullah Al Sari
[FB1 #2]
28 - Sabri Tabbal
It's unclear if he's an escapee or just a onetime prisoner. He speaks in Youtube video, one of the survivors of "the Yarmouk holocaust camp," making "an appeal for families of martyrs." [YT8] He's seen visiting the site in a video, speaking of his detention there. [FGM]
29 - Ibrahim Abdullah Zadam
[FB1 #36] distinct from #38 Ibrahim Omar Zadam
30 - Salem Abdelsalam Ibn Zahyh
[FB1 #10]
31 - Unnamed
From [VZH] video where the others are named [seen at 4:28]
Local Witnesses (12)
1 - Salem Abdul
2 - Abdul Basit (family name not given), 42
3 - Ali Boukhatwa
4 – Ahmed al-Farjani
5- Abdelmenem Faraj Labani
6 - Nouri Massoud
7 - Khaled Oub
8 - Abdulatif Rafaii, 42
9- Dr. Salem Rajab
10 - Ahmed Tayel (ph)
11 - Ahmed Zaydan, 32
12 - Unnamed
Alleged Executioners (3+)
1 - Ibrahim Sideq Khalifa
2 - Laskhar (pseudonym)
3 - Brigadier [028]
Others?
Shed Prisoners at Other Times (10)
1 - Abdul Hadi Abusheiwa/ Abu Shahayna
, judge
2 - "Ali" (pseudonym), day laborer, Az Zawiya
3 - Moayed Burani / Moiayad Abu Ghraim, 28
4 - Abdullah Salim Al-Dweeb, 50
5/6/7 - Feras Kilani/Kelani, Goktay Koraltan, Chris Cobb-Smith, BBC News team
8 - Jamal Rabbani/al-Ragai, Tajoura, Tripoli, Lieutenant Colonel/rebel commander
9 – Imam Sayyid Moussa al-Sadr
10 - Abu Bakr Tabib