March 4, 2012
incomplete
last edits March 18
The timeline of journalists visually present at the shed massacre site is important enough to work this out.
Most news sources seemed to get there on the 27th. One photographer alone - Daniel Berehulak, Getty Images, has a set of pictures from the site dated August 26. Plenty of others were slow and got there on the 28th, and a few stragglers looking for a good-follow-up came through the end of the month and into September.
One of the earliest reports, as far as we know the first video one, was Sky News or, I had thought perhaps the Telegraph. As I'd earlier found:
Sky News: posted 10:29 pm August 27, filmed mid-day, with shadows short, light slightly from the southeast. [
video
] Telegraph Video, posted 9:13 pm, suggests an earlier filming yet, with the shed's southwest face still barely in shadow. [
video and article
] Video analysis of sunlight direction give a solar azimuth of about 113 degrees for the Telegraph's video, and 145-155 for Sky's. Using the rough coordinates 32.46.33N, 13.12.50E, the date, and the magic contained within
NOAA's solar calculator
, the Telegraph filmed at about 9am, and Sky at around 11am. Both had almost exactly a twelve-hour delay getting the videos up, and they became by and large the next day's news.
However, the Telegraph video might have been added later, filmed on the 28th. Petri
noted
:
The Telegraph video, filmed early in the morning, shows the blue prison transport van parked in front of the shed (1:24). It is seen in the exact same spot in the AFP video with Dr. Salem al-Farjani after 6 pm on Saturday, August 27th. The van is not present when Dr. al-Farjani is interviewed by Sky News around 11 am. This necessarily puts the Telegraph scene to the morning of Sunday, August 28th.
Indeed, the lot is empty of its hulking blue presence early on the 27th. This crucial aspect of the prison system, if it was used there as alleged, was moved, then brought baack, presumably by the rebels. (Unless they found where the loyalists had stashed it and brought it back).
Alternately, the truck was planted, around mid-day on the 27th, in the midst of a media feeding frenzy. F***in' slick.
Perhaps easier than the vehicles, which require a good view to get the layout and direction, I'll start by focusing on the front of the building, especially around the door. A few main things Petri, mostly, has mentioned, - when are they present
- red plastic item, apparently a gas can to my eye, right corner of the doorway, under the ladder
- the ladder, one end black (not burnt, as I had thought).
- red lettering saying,in Arabic, "satan (top line, bottom line unsure)"
- The crate with a burnt body wrapped in a blanket.
(that will help establish some internal shots, perhaps - body #7 is seen in some views missing from its spot, but for a bit of forearm).
So: Daniel Berehulak, August 26, possibly, 27 or later likely, afternoon.
Photo 2
. Gas can there, perhaps ladder (seen from inside, so can't tell)
Aug. 27:
Seamus Murphy, Aug 27, app. 10:00 am.
photo 1
-
2
-
3
Ladder only. Gas can not visible, when it should be, no writing on the door. No crated body. This may be the interesting shot once again. See below.
Sky News, Aug. 27, around 11:00 am
Video 1: ladder, gas can, no writing
Video 2, with interior shots: Ladder, gas can, no writing, apparently no crated body. Right before entering, the guide walks through where it would later be. In the short span after Murphy's view, that red thing has been replaced there.
One clue between these on the Graffiti: We can't be sure how much of this is, or is supposed to be, written by the brigade soldiers. The UNHRC at least found it interesting one of the soldiers had spray-painted his name there, proving he'd been there. The 32s around are said to prove the 32nd Brigade ran it, since they're known to Graffiti places (
like this
), I guess, where they commit crimes against humanity.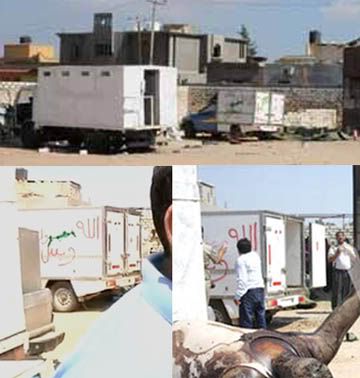 Okay, rebels can spray paint too. But the green lettering is especially likely to be by loyalists, since green is their color and hated by the rebels. Here at left is an image of the refrigerated trucks parked on the compound's west end. The smaller one is quite marked.
Beneath, left, the truck as Sky News first interviewed Dr. Salem al Farjani (as Salim Rajip). At right, the same spot just before that, in the same Seamus Murphy photo mentioned above. A glimpse of one of the brutalized bodies hauled off just before Sky arrived. Remember Arabs write from right to left.
France 24, late afternoon, Aug. 27:
The sun is getting very low, perhaps 7pm. link coming ... at 0:31 is visible the same as above, with added the red lettering on the west door. This isn't a great view, but it's verifiable, written sometime on the 27th, clearly not by its original inhabitants.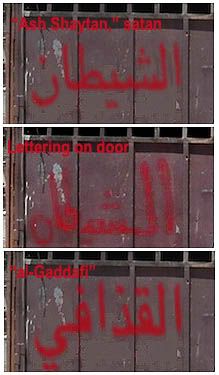 Contributor Felix is better than me with Arabic. I had gotten confused thinking this was supposed to say Muammar," but found it looked way more like the "Gaddafi" half of his name. Felix is right that it looks way more like
Ash-Shaytan
, or Satan. This is demonstrated at right, in the middle from a photo by... actually not sure who, red enhanced for clarity.
The Arabic samples above and below are per Google translate, faked in on a blanked-out door. I meant to just crop off the Gaddafi part proving I was wrong, but oh well, it's uploaded now. They lengthened the pause after the second vertical (reading right-to-left), so the three dotscome late. Then the hump before the last two verticals is late, with faintly visible dots beneath. The final hook is more a loop, but setright. I can't imagine many other Arabic words are such a fit, or so appropriate to the heinous crime, the evidence of which was charred inside.
Global Post's video was also apprently shot late afternoon on the 27th, what some would call early evening, but still before sunset. 6:30, 7:00. The lettering is clearly there from the close-up of two grief-stricken men at 0:20. As Felix confirms, the AFP video, again with Dr. al Farjani, also has the lettering shown near the beginning.
Aug. 28
Sergei Ponomarev photo, August 28, morning (9:30 am?)
at Al-Akhbar, halfway down the page
Gas can, ladder, and crated body all present now.
A Louafi Larbi photo of the 28th (
high-res, bizarre caption
) shows graffiti patterns on the adjoining (guard-house?), and the "mercenary" looking mattress victims nearby. Time of day, I added two hours to GMT, some sources say only one. It gives me solar noon (sun 180, due south) at 1:08 pm, like said
here
(1:09) and I think it lines up with what's usually reported aslocaltime: sunset on Aug. 23 was 7:44 pm, which lines up well in most accounts. By rights, real noon should be more like 12:09 on the clock, but whatever... Anyone want to double-check me?
NOAA solar calculator
. Mess with it five minutes and you'll get it.
On that scale, the angle of light, from the guardhouse edge shadow in the back, is between 106 and 120 degrees, translating almost exactly to 10:00-11:00. More precise is in the middle, maybe a bit under. 110-113, so about 10:20-10:35 am. If the other time zone reading is right, 9:20-9:35. If her other photos from Larbi's visit show the door situation, or anything else interesting for the timeline of clues, it'll be noted here or in comments, eventually.
Saad Basir photo, undated, apparently the 28th?
With his Warscapes article
,
direct image link
Writing, gas can, ladder, and crated body present
RT Arabic video, undated, morning, about 8:30 am?
All four present. Same footage, whoever shot it first, in high def. from Hungarian TV, showing all but the body box. see left
The Telegraph as linked above: 9am, crated body, ladder, gas can, all there. Lettering: unclear. There seems to be red there but too indistinct, perhaps partly scrubbed off. Could it be just the low light and low resolution? Possibly...
BBC Aug. 28, morning - 9am? Red plastic is there, crated body, and the same sort of indistinct red lettering. Possibly again resolution and low lighting.
CNN Aug 28, late afternoon
ladder and gas can there. (1:21, 2:02), crated body there but shoved aside a little bit. Covered area between the shed and the small building is torn up. Door seen only briefly, 2:58, from a distance. No lettering pops out.