Amid the Cinders, a Skeleton Crew of Potent Clues
January 11, 2012
(incomplete, last edits March 18)
<< The Tripoli Massacres
<< The Khamis Brigade Shed Massacre
The main attraction of the media-hyped shed massacre behind the Yarmouk military base is the holocaust-evoking image of dozens of charred skeletal bodies sprawled across the floor of the rickety building. I'm late to start careful scrutiny of the scene inside this room. That's how I tend to work-from the outside in. Burnt bodies lack many of the clues (especiallyskin color) that I usuallylook for. But they're not devoid of clues, singly or collectively. Not by a long shot
I decided
a separate post
was needed to collect a tedious list of all imagery sources. It might be handy to open that in a new tab, as images are cited.
March 18:
Total re-vamp coming, new numbers, less graphics. Total count of consistently identifiable bodies from available imagery: 38. There are certainly more than this - 40-50 remains my rough estimate.
The Graphic:
Ribs or eyes usually means laid face-up, otherwise face-down or on the side. North (NNE) is up, south (SSW) is down, so body #15 for example is "pointing" south, face-down. Unclear areas (mostly in corners) of more than a body, less than a body, perhaps one missed in confusing views, get letters. "a" is a partial rib cage. "b" is a large pile of debris that's largely non-human seeming (burnt junk) but surely with at least two bodies mixed in-some ribs are faintly visible. Area d is not really unclear, but just in case, it's got a name. Tissue "f" looks kind of like a slumped or heaped body, there in some shots, only its smoke stains remaining in others.
Don't take the missing and present body parts too literally. Some spots, heads, arms, legs, aren't always clear. I don't want to say a head isn't there unless I'm sure (and I'm not, in any of these cases). I don't want to say feet are there unless I'm sure, because the norm is they're not. Hands and arms past the elbows are almost as frequently gone.
My previous notion of then bodies #15/16 being layered to obscure the one's beheading ... not founded, I decided. That's now the singular body 17. Old #14
with the metal thing embedded
is now #16. #11 here I missed previously: visible in Sky News footage, it's apparently not there in later footage - perhaps the body removed and put in the shipping crate outside?
I'll start other notes as they occur to me.
#1: Less burnt than most, hardly any bones are visible. The skin on his head is gone, showing bare skull, apparently the top and back visible - where we should see the skull's face. That the head may not be oriented right suggests it may not be attached. Further, the victim's outstretched left arm suggests the same resistance shown by a beheaded victim at Abu Salim trauma hospital a couple miles north in the same couple days. (new graphic forthcoming).
#14:
Dragged in head-first by the elbows, frozen that way. There's a bullet hole in the left side of his forehead. (see
VSN
, 1:04) This looks more like individual execution than the described shed massacre.
#17: Previously taken as two bodies (15 and 16) piled together, one beheaded, I now think it's just one body.
#34:
Here's another body of interest, a gory one. I think victim #34 along the north wall was killed - with guns and grenades on-site, right there. Or at least, his body was so attacked right there. This is a detail of
a Shawn Baldwin photo
, SB8 as listed here. (See also
BL11
)
Feel free to shoot me down, but this does not look like anyone hit by random grenades lobbed from the doors while trying to escape. Nor someone dragged out and back in by soldiers, nor simply planted therefrom elsewhere by anyone. Medium size will do.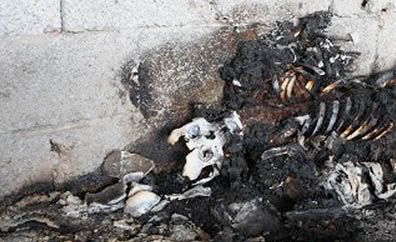 I suspect the head part was done first. Already laying in this position, pinned down, bound, or dead, a powerful gun was fired through the roof of his mouth. His skull might have been more intact, but fractured, before the fire loosened it like this. Maybe it all came off at once. His blood and brains were slapped against the wall, leaving perhaps that little "tongue" at lower left... Then I see his torso torn open by a grenade, possibly stuffed into a wound. The tissue of whole left torso was thus slapped against the wall as we see here, and blood sprayed upward onto the wall.
Perhaps the order of those operations was different. And a bit of that is apparently from the smoke. This one's less burnt than usual. Sorry.
That's one case of grenade-expanded ribs I can suddenly see. Otherwise, I was inclined to call the burst ribs an effect of fire, curling the bodies backwards. I see plenty of that in the other bodies, including 34, and no good reason (yet) to expect any other besides this one was so attacked.
Some others I've suspected of possible on-site execution are #37 and 38, also along the back wall. Smaller black stains mar the walls behind their heads and shoulders, like a shadow. These could be smoke stains, but require an odd "teapot effect" (which seems possible - up to a point). They don't have the usual vertical wafting quality other smoke stains do (consider the wall next to body 26). Blood stains charred black? Cinderized brain stains of from a post-burning gunshot execution?