January 3, 2012
last edits Jan 5
<< The Tripoli Massacres
<< The Khamis Brigade Shed Massacre
This post will seek to sort out a narrower slice of
the shed massacre witness list
, one tight little knot among many worthy of untangling on its own.
Leap One: Dr. Salim is Dr. Salem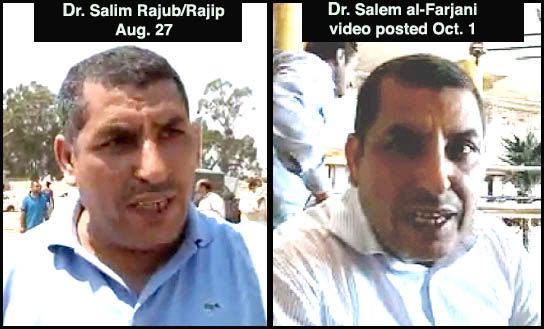 First, I recently made a crucial discovery about one alleged witness of the massacre
by
government forces at the shed behind the Yarmouk base south of Tripoli, when it was really probably a massacre
of
government forces. Dr. Salim Rajub/Rajip (who spoke widely to the media)
is actually Dr. Salem al Farjani
of Tripoli Medical Center, cleverly revealing his first name and "Dr." title while obscuring his identity otherwise. He gets the nick-name "See-through Salem."
Al Farjani was at the time travelling to mass grave and massacre sites to investigate what he always "found" to be loyalist crimes, and would soon, by late November, be appointed to keep doing that for the new Libyan government. And here he is recounting under a thin pseudonym some of the same "facts" he'll be "finding" later and helping to make official about the single most prominent and poignant among them. (See, in fact, his acknowledgment from Physicians for Human Rights, for one, in understanding
this massacre they devoted a whole fancy report to
).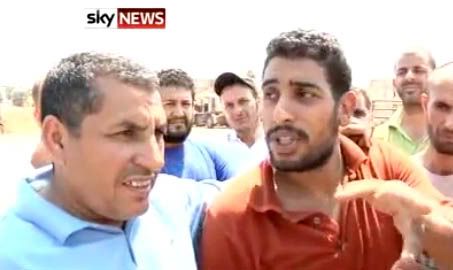 Among the shed massacre "witnesses," Dr. Rajub was already in his own unique space, being the
only witness who brought forth another witness
, an alleged escapee who remained unnamed.
Speaking to Sky News correspondent Stuart Ramsay
for
the second time
on Saturday August 27 (apparently the witness wasn't quite ready before the
the first broadcast
), Dr. Salim walked up with his left arm around the man's shoulder, and then translated for him, from Arabic to English.
The edit makes the man's story
seem
amazingly vague, with nothing about his captivity, the massacre's start, or just how he escaped. It only starts with Salim saying "7 -- 10 to 11" people "tried to escape," then which ways people ran upon fleeing the shed, and how some of them were wounded then executed on the way. He closed strangely with "this place was for executing the people who are exactly refusing to kill the other people, the civilian people."
Leap Two: Atiri is El Hitri
Also on the 27th (four days after the massacre), New York Times writer Robert F. Worth spoke with a man of interest (among several other strange people) who was named but not shown, Mustafa Abdullah Atiri, a 26-year old lawyer. By his account as well as approximate name, age, and profession, I decided he's clearly the same as Mustafa Abdullah el Hitri, who was mentioned in the Autralian on the 29th. No photographs were provided of either man to make a visual link. Only a different, believable, transliteration of family name and a different age (forgot he was was 27 now instead of 26?) stand in the way of concluding this leap is quite valid, and he wasn't even trying to give a different identity.
The Australian ran
an article from Anthony Loyd
, from the Times (of London?). His escaped witness el Hitri had some background on his brief detention at the shed (four days only), the beatings, torture, and emasculating humiliation they were subjected to there. He told of being locked in one of the prison trucks in the compound yard, only taken into the shed on the 23rd, to be killed with the others, one presumes. During that brief walk, Atiri happened to see Khamis Gaddafi right there, giving orders of some kind, generally believed to be the orders to kill them all (basis of possible War Crimes trials for Khamis...).
El Hitri is the only witness to notice the Leader's son, or to recall the man who saved his life later, the heroic guard "Abdul Razak." During the massacre, Razak became "sickened by the killing," and made the decision to open the locked doors while the killers went to re-load. He told anyone still alive to make a run for it, and they did.
Most prisoners forgot that part, however, and said a fellow prisoner kicked the doors open, or the doors were just left open, or the guards never left and were fought past, or the locked doors were circumvented in favor of a "hole in the wall".
With his family name transliterated perhaps better as Atiri, he met Robert Worth of the New York Times on Aug. 27, and spoke with him again three days later ("a week after his escape"), prior to Worth's
epic Sept. 21 article
, entitled "surreal ..." something, I forget. In greater detail he cited the rebel psycho-babble of ridiculous neglect, abuse, and torture. He elaborates on his sighting of Khamis, and his massacre details are about the same, down to Abdul Razaq and the opening to life he offered to so little recognition. Worth relates how:
Atiri escaped ... along with about 15 other men. Atiri told me that after running from the warehouse, they leapt over a low wall at the far end of the prison, then sprinted between empty houses and farms. They could hear the whine of bullets slicing into the fields around them, and shouts from the guards at the prison. Some of them — after days with little food and water — stopped to drink from a faucet outside a farmhouse and were gunned down. Atiri kept on running.
It was dark by then, but the soldiers fired flares into the sky, illuminating the kill zone. Finally, Atiri and another prisoner named Taha banged on the door of a farmhouse and found a family willing to hide them for the night.
His ordeal was not over. The next morning, Atiri woke up in the barn after a fitful rest, and he and Taha were told they could not stay. There were still Qaddafi soldiers in the area. The family gave them new clothes and some money, and the eldest son drove the two escapees to a neighboring town and dropped them off. They tried to blend in, without success...
A group of local men quickly surrounded them. One put a gun to Atiri's head and began shouting: "You rat, you rat! Where do you come from?"
That story, and it's a gripping one, will resume below.
Leap 3 - El Hitri/Atiri is the Unnamed Escapee
Hitri/Atiri matters here because while not shown, he was described by Worth in a very helpful way, for which I must thank him. "I first met Atiri four days later [the 27th]. He was standing in the yard of the prison he had escaped from, a big man in
a sweaty orange polo shirt
with enormous, haunted eyes."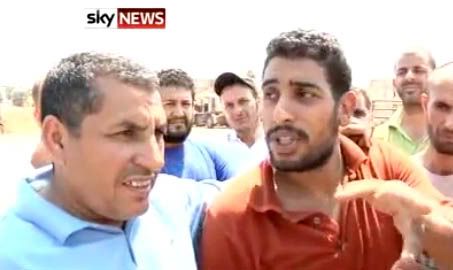 Look again at the unnamed man posing with "Dr.Rajub" on the 27th. We see an orange polo shirt, sweaty-looking, large eye that are arguably "haunted" (tired, dark). I don't think I'd say he's a "big man," however; he's barely taller than Dr. Salem (who is
shorther than UN Secretary General Ban Ki Moon
), but looks well-nourished enough. It was smart to claim only four day's captivity with the standard scraps of food and drops of water allowed by the cruel guards.
Further, language issues should be considered. Neither Loyd nor Worth mentions a translator (not that they would have). Did Atiri speak to them in English or Arabic? Was the unnamed man truly incapable of English, or perhaps not confident
telling elaborate lies
in it just yet? No firm answers should be expected to the questions, and we'll have to leave it unclear, and working neither for nor against making a link.
If we take this for a moment as all the same man, his more detailed story to Loyd came two days after his first performance, and to Worth apparently the following day, when he "walked then with a limp, a week after the massacre." For what it's worth, the Sky video (again:
"Mass Killing" Evidence Found in Libya
) shows him walking up at 2:27. He shows no limp here, or a very faint one if so. My guess is his injury was suddenly more pronounced and pathetic three days later. Crippled for life, likely.
Yeah, I think it's all the same guy. For confirmation just after saying that, near the top in a Google search I could have done at any time prior to now but hadn't, please see:
Seamus Murphy VII photo, August 27
:
Mustafa Abdullah El Hitri, a survivor of a massacre allegedly committed by Qaddafi loyalists, is seen within the Salahuddin district of Tripoli. One of the worst single atrocities documented so far during Libya's revolution...
...everything we've been told about it is a lie.
[side-note: Another image of Atiri, and another. Anybody out there in Libya happen to know this guy by his face? Is this his real name? Where was he really on the 23rd of August?
DO NOT leave a comment or make a sound on the Internet if so.
Gather easy proof as carefully as possible and try to leave that messed up place for a while. Get to Algeria maybe and then safely and irreversibly publish it. Hopefully sanity will be slapped back into Libya by itself before too long. ]
We had a look in Mr. Murphy's VII photo library for any glimpses of Dr, Farjani, but no identifiable views appeared.
This image
could
possibly
show his arm raised behind the foreground character, as he helps prepare Atiri for Ramasy's coming visit. Other photos suggest Murphy was there shooting at around 9:30 to 10:30 am, when Sky Seems to have filmed about 11:00 (all by rough reading of sunlight "azimuth").
Leap 4 - Mr. Al Farjani is Dr. Al Farjani
So we have a possible match with the unnamed man Dr. Salem coached to Sky News the same day Mr. Worth first met him. Since Dr. Farjani was there the same day, it's worth wondering if Worth also talked to the man's apparent coach. Not publicly anyway, or by that name. But he did speak with one "Ahmed al Farjani." He comes up at the end of Mr. Atiri's journey, along with "Taha," to some nearby town or neighborhood, where they quickly met unfriendly locals.
At that point, a man named Ahmed al Farjani pushed through the crowd and began arguing heatedly with the gunman. He told the gathered crowd that Khamis Qaddafi's soldiers had left town, and no one would be harmed for harboring the two escapees. He then led Atiri and Taha to his own house and locked the door.
In fact, Farjani, a 42-year-old construction worker, had no idea whether the soldiers were gone or not, he told me later.
Is it sheer coincidence that
a man with Dr. Salem al Farjani's last name
saved Atiri/el Hitri on the 24th, while Dr. Salem - posing as a different Dr. Salim - ushered this same escapee (protectively) to the media three days later? It's possible, but so far the other parallels have not been coincidental, and my money is comfortably on the deceit getting deeper yet. This seems to be a clever code for Dr. Farjani, to
give us his full name, just split-up across two fake witnesses
, hovering around the same survivor of a fake massacre.
Why would he do that? That's for a psychiatrist to say, maybe.
The given age of this manual laborer is consistent with Dr. Salem's, if the latter's birthday is between Aug. 27 and Nov. 30. But he does have the different personal name, profession, and different implied address from both Dr. Salims (right next to the base itself for the fake guy, and somewhere probably north of there in Tripoli itself for the NTC guy). There is of course no photo here of Ahmed to settle the issue.
If All Four, Then...
Like el Hitri, a "Salim" spoke to the Times' Anthony Loyd, as published by the Australian. For the record, he sounded quite "in charge"of the facts there, just like if Dr. al Farjani the massacre investigator had arrived. Because he had.
"There are about 65 bodies in all either in the barn or yard," said Dr Salem, a local resident. "But we know for a fact that there were more than 150 prisoners in the barn when the firing started and that only about ten escaped. What has been done with the other bodies?"
In fact, over 150 dead bodies were allegedly removed on the 28th, but how many escaped? Somehow, Loyd picked up a range of "between seven and ten men [who] survived the massacre." To Sky News, the doctor gave both of these - one the old number, the other replacing it? "Seven -- ten to eleven people." The Original Misrata MilitaryCouncil version,
announced at dawn on the 24th
, said "no more than 10" survived a massacre that was clearly this one. Later it was over ten, with Atiri himself soon saying 15, others saying 20, two dozen, about 30 and even
35 total survivors
have been cited by some members of the burgeoning club (of
at least 21, and probably 23 members I have located
).
Putting this all together, the doctor and the escapee
spoke together
to at least three newsmen - Stuart Ramsay/Sky (as Salim Rajip and unnamed), Loyd/Times (as Salem and M.A. el Hitri) and Worth/Times (as Ahmed al Farjani and M. A. Atiri). They both contributed to the specific drive topoliticize the non-event and get the Gaddafi family not just blamed but prosecuted. Ramsay said in conversation with the Sky News anchor (from
the earlier report
):
Anchor: And they were begging to get this investigated interationally.
Ramsay: Absolutely. The ICC was the first thing that the gentleman ["Salim"] who was talking to me in with fantastic English said please please get this investigated. The ICC is going to have a huge amount of work to do here, perhaps involving both sides of course not just, there's accusations of both the rebels and the Gaddafi forces, but they have a lot of work to do because some terrible things have happened here as we know.

Anchor: But no doubt this was Gaddafi's forces"
Ramsay: No doubt at all, according to the locals ["Salim"], because they [he, said he] went to see what the screams were coming out of this farm building...
And Atiri alone testified to Khamis' personal presence and implied order, a central plank of
the ICC's stated interest
in pursuing him over this massacre. That's some teamwork, and Dr. Farjani the NTC's chief of body-snatching propaganda made a wise choice taking this prolific escapee under his chicken wing. And he needs the protection and the publicity, to make sure his (version of the) story doesn't disappear due to "sleeper cells." As Worth related,
[Atiri] seemed terrified that the prison overseers would find him. "The brigades are still roaming around, and I still fear they will kill me," he told me. "They have sleeper cells. I saw a list of names, before I was arrested, of people who have been given money and weapons to destabilize the country, like Iraq."
Names! From this liar! "Arrest this and this loyalist!" No, no, no... if anything causes that kind of thing, it'll be the same thing as in Iraq. A lie-based demonization and total exclusion of a seriously wronged and vengeful minority large enough to launch a sustained insurgency. I'm certain it exists in Libya, and all signs suggest excellent weapons sales are in store for years to come. I don't support an insurgency, because they don't have enough non-exhausted, no-dead people (remaining) and they still have too many enemies outside. The only answer, I think, will be mental, moral, and global - and eventually legal. It probably will not even approximate true and total justice forwhat'shappened, but it will help more than just Libya. Let's figure out what.