22 Black Men, Found Near the Yarmouk Base
December 11, 2011
last edits Jan. 8
<< The Tripoli Massacres
<< The Khamis Brigade Shed Massacre
Bodies Found on a Dirt Road
I was started on this by a not-so-new video which I haven't seen yet. Peet73 tipped me off to this amateur, sideways-filmed video of several bodies found in late August in Tripoli/al-Furjan, apparently executed and scattered along a small stretch of road. At least many of them are
not
bound (now), but they were clearly taken there and killed. They appear to be exclusively black men.
http://www.youtube.com/watch?v=BBLGYUz6QiA
جثت أمام معسكر 32 خلة الفرجان 27-8-2011 [auto-translate: "Knelt in front of Camp 32 trait Furjan"]
Uploaded by 17022011libya on Aug 29, 2011
I'm pretty sure this is the one I downloaded, original sideways format, encoded UTC Aug 28 16:12:16. There are other versions that fix the rotation (like
this
). The light angle seems about right for thattime of day, so I'm considering this the time of filming. 4pm on August 28.
The Yarmouk base and its attached shed massacre was in a neighborhood called by some Khalet al-Ferjan (Furjan), among other names. By virtue of the base, some call it the Yarmouk neighborhood, as I will here, to emphasize the connection to the shed massacre I suspect but can't prove. The Yarmouk military base was a headquarters of the 32nd battallion, Khamis Katiba (see
here
for precise location). As Peet73 confirms in a comment below, it's all the same district.
Though they've been around for the same time, these victims don't seem to be mentioned, usually, among the earlier reports from the base discussing bodies in and around the massacre shed. The one exception that I've run across is from
CNN, August 29
:
Rebels advancing on Tripoli discovered the bodies charred beyond recognition in a warehouse next to the military base. In addition, a resident who lives nearby told CNN that at least 22 bodies were found in a ditch near the base, but it was not clear whether those remains were connected to the killings at the warehouse.

CNN cannot independently verify the claims.
I saw twelve on first count, but now I see at least 13, probably 14, and perhaps as many as 16 bodies are there, depending on what's under certain things (a blanket, a plastic sheet, etc.). I trust the count of 22 in this "ditch" or dirt road, so the others must be off-frame somewhere, or perhaps already hauled off for burial. I was helped by the camera pans from two different positions, which I compiled into two single panoramic images. One view is here split into two, and the other fits into one image, with an odd section - a head area - enhanced. No verdict what that shows. Another upsetting body, left of center, top image, seems to both naked and smaller than average, again dark skinned.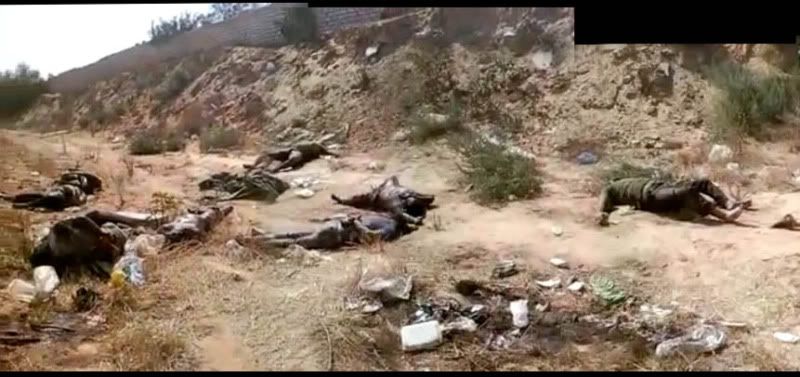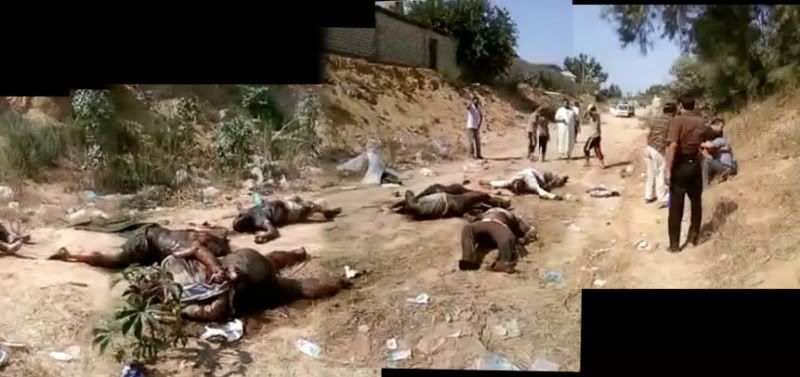 In at least a few cases, blood-soaked dirt around the heads indicate on-site execution of living captives, by gunshot. They aren't bound, but might have been until just before killing. Only a close-up exam of their wrists could say.
Locale: A Mosque!
It took a little while and some outside thoughts before I found
a firm location
for the bodies in the "ditch" - a dry river-bed, forever dead, turned into a less-traveled road. It's further from the base than I expected, but reasonable for lazy rebel body-stashers. It's situated clear across the base from the shed, across the highway, down one road and another to the left, 500 meters east of the eagle gate. It's a semi-remote area, like
the Qawalish tree farm
, or the nearby
water basin
, where bodies the rebels
don't
take the media to get discovered anyways. It's clearly not logical to claim these 22 black men escaped from the shed and ran that far before being found and executed by Gaddafi's wicked shock troops.
An optional graphic
shows why I decided this is the spot - eight details besides the road and wall that line up. The clearest clue is the mosque inside the wall. The door lines up with a building attached to the wall, and there's a glimpse of the minaret's lower portion (middle of the images), between the door and the overhanging tree. The cameraposition is from under or just southwest of the big tree (marked orange there). Another graphic I'll share here shows where the 13 bodies I can see were on that road, and the area relative to the base.
Being behind a mosque could be a clue or a coincidence. The rebels have used mosques as bases for their militant activities in the past, and it's possible they took captives there, killed them inside the yard or outbuilding attached to the wall, then just dragged them out the door into the road. It's probably a bit more likely they just drove them over from the base, down this nearby road, and off the first left after that, somewhere semi-remote yet not too far.
A Swap-Out?
The given number of victims here is noteworthy in being pretty close to the number of alleged witnesses who escaped. I've found
video or text accounts
directly from at least 15 and perhaps 19 survivors (four possibles speak in Arabic), and Amnesty International "were still investigating the case but had only managed to locate
23 survivors
." [
source
] If the witnesses had said there were about 175 victims to start with (as only Mounir Own did), it would have made more sense. Instead, most cite 153 or something close to start with, with 20-30 escaping, about 20 surviving to speak, and "more than 150" bodies removed anyway.
Was the original plan to dump these 22 elsewhere to make room for their survivors? The 100% race exchange rate is notewoerthy if so - apparently 100% black corpses traded in for 100% living Arab miracles, ripe to inspire the new nation with their tale of escape.
Updates, January 5, 2012:
New York Times
, Robert F. Worth visited the Yarmouk base and shed massacre scene on August 27 and reported back, in small part:
Two blocks away, the badly decomposed bodies of at least 15 other men were found rotting in a wooded gully. One of the men had his hands tied behind his back with plastic flex cuffs, and a rebel commando said seven other bodies had already been carted away.
15 + 7 = 22. That's pretty good confirmation. Two blocks, depending what makes a block, but this is confirmation of the proximity and likely connection
Richard Spencer, Telegraph, Aug. 28
:
Over the last months, right up until last week, people from across Libya have disappeared into their clutches.

Other, lesser units might release their prisoners as they faced defeat, but not the 32 Brigade, the nation's most feared militia, loyal to Khamis Gaddafi.

Some 18 were taken a couple of hundred yards down a dried river bed opposite the Brigade's grey-walled Headquarters on the southern outskirts of Tripoli.

There, on Saturday night [the 27th], The Daily Telegraph found their decomposing corpses. Several still had their hands tied behind their backs.

Blackened by the summer heat [sic], and maggot-infested, a team of silent volunteers rolled them into yellow plastic body-bags with as much dignity as they could muster. Alerted by Tripoli's grapevine, relatives showed up, somehow able to recognise the missing.
One the bolded: No, it's pigmentation. The sun set the color into living ancestors of the victims, long, long ago. By this, four bodies werealready removed, or their count was just less than thorough. One of theseblack men was identified as the brother of a man who I would guess was not black.
Mohammed Aweidat owned a nearby water bottling factory, his brother, Nasser, said, holding out his hands in puzzlement and shock over the body. He disappeared just last Wednesday when he drove from across Tripoli at the request of a hospital which was running low on supplies [Perhaps Abu Salim, suffering an even worse shortage of non-executed people].

This act of generosity turned out to be a fatal error.
"I have been looking for him for three days," Mr Aweidat, a doctor, said. "I asked everywhere. I found him here." The family believe he was killed for his car, perhaps as a means of escape.
There is also
another video
, from August 26 by its description. It's in lower resolution but more expansive, continuing down that dirt track, apparently filming more bodies than the 13 seen before. It also pans in more on the blood and gore along the way, although the imagery isn't clear enough to add very much. The non-raw status of this video (
Media Info
says encoded Sept. 5, two days before its posting) makes me hope there's an original around with better resolution and a raw record time.
قتلى بالوادي بخلة الفرجان طرابلس
[Google translated:Death valley Bkhalh Furjan Tripoli]
Uploaded by khaledshaibi on Sep 7, 2011
Description: قتلى بالوادي بخلة الفرجان طرابلس يوم 26 رمضان 1432هجري الموالفق 26 اغسطس 2011ميلادي
[Death valley Bkhalh Furjan Tripoli on 26 Ramadan 1432 AH Almulfug August 26, 2011 AD]
I haven't done any real analysis yet, or even a body count (more like 22 or 15?). It stays panned in tight, so it's hard to follow. Around 1:55 is a scene I can't decipher. Another black man, unseen before, camo shirt, has something wrong with his head and it's hard to say just what, even though it fills the screen. It's pretty well burnt, perhaps in two pieces...
Manaar.com (Google translated from Arabic)
Local residents said that the areas surrounding the camp Thurs were known as places of execution and murder.

They added, "we are told that human remains were found in different places and removed from there to bury it."

When we visited the place referred to by locals behind a mosque there, we saw the burn marks on the soft ground where the bodies were set on fire.
Then I found a couple of useful photos by Ron Haviv/VII Images.
The dump zone empty of bodies, blackened burn marks only remaining
. As shown here, this is a valuable view, clarifying what the video shows, regarding the surroundings anyway. The remaining 15 bodies were burnt, to some extent anyway, before removal. The rebels were by all account fully in charge of this area at the time. Were they then lumped in with the charred bodies from the shed when they were removed on the 28th?
"Description: A ravine where corpses were dumped during heavy fighting between rebel fighters and forces loyal to Col. Muammar el-Qaddafi is seen in Tripoli, Libya, Aug. 28, 2011."
"Description: Charred ground marks an area where bodies had been dumped at the site of an alleged massacre in Tripoli, Libya, Aug. 28, 2011. At least 55 men were summarily shot and then burned by loyalist forces in a warehouse near the Khamis Brigade compound."