January 4, 2012
I've been a little slow to analyze the vehicular situation around the massacre site, from earth movers to pickups, prison trucks, and more. I'll start with some images I was just alerted to, revealing three corpses removed from the scene early on August 27, apparently just before Sky News first reported. These were taken by Seamus Murphy/VII. These are bodies I've never seen or blogged on before but will. Warning-the one body is especially messed up in the face, most visible in the first image.
http://viiphoto.wg.picturemaxx.com/id/00109399
http://viiphoto.wg.picturemaxx.com/id/00109401
http://viiphoto.wg.picturemaxx.com/id/00109403
The trucks they show parked on the compound's west side are visible in the Sky News footage, right behind "Dr. Salim" for his first interview. He and Stuart Ramsay are standing about where the loaded truck had been parked and that char-faced, blood-soaked body had been moved around byrebel fighters just an hour or so earlier. To the left, foreground, is the same tall white truck with windows, a (or the?) prison truck,with its back platform, from which the bodies seem to have been taken before being put on the other truck.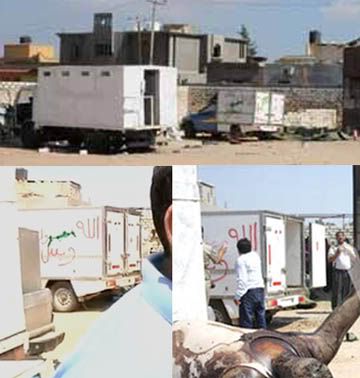 The Murphy photo, crop at right above, shows the red graffiti saying, I guess,"Khamis Brigade," "Death Squad," etc., proving who ran the place and its trucks. It's already there but for the green, which it really seems the man is just starting on, recalling Arabs write right-to-left. Or perhaps he's erasing (left-to-right) something else before a later-yet painting over. An amazing photo, really.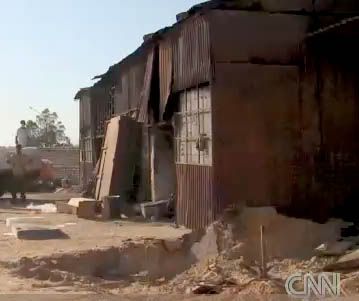 The top image there is from a photo in the recent Physicians for Human Rights report on the massacre. That photo was taken, apparently, on the 28th or later. The area of the "mattress victims" looks dug-up, as it did not on the 27th or 28th, aside from CNN's Arwa Damon's late report from almost sunset on the 28th. The area dug-up then, at right, had previously been covered partly in a gray gravel unlike the surrounding dirt. It doesn't seem to dug deep enough to be a grave. It's a mystery.
In the later Sky interview, "Dr.Salim" is backed by a
different
truck, or rather two of them; dump trucks with driver's side doors open. They've been active lately, might be again soon. The one's load we can see is indistinct monochrome, made of numerous large objects -boulders, concrete rubble, garbage bags, body bags, all possibly consistent. Rubble fits the bill best, however, in my opinion.
Below I compared that with a consistent dump truck seen later in the day by Human Rights Watch (
full photo
, also showing the prison truck). I'm not clear if this is the same truck, or if they've moved (I think still put, driver's door still open, with the one in front off-frame here). Its load is much more colorful-seeming here. Clothing colored objects - brown/orange, black, white, red, a bit of hospital blue, in roughly human sizes. The cloth hanging over the side, stained black, seems to have a red tint when lightened and enhanced. Is that just the sun's reddening light here near sunset, or is that blood?