March 7, 2012
To tease out any comments people might have, I'll highlight this in its own post. This might be our smoking gun, or smoking RPG fragment... the mysterious metal parts sported byvictim #16 (re-numbered-was #14)
It's possibly just some debris benetah him his skeleton fell down amidst. But it really looks quite intimate with his upper left body, as if it had been forced to make space for the thing back when he was alive. Note the broken, off-angle left arm and shoulder. It's a semi-circular metal band with some additional elements attached, seeming stuck in the skeleton at its distrupted shoulder. Orange in hue, oxidized, (iron?). Possibly the remains of some kind of rocket or artillery? A piece of machinery or a complex tool jammed into his heart?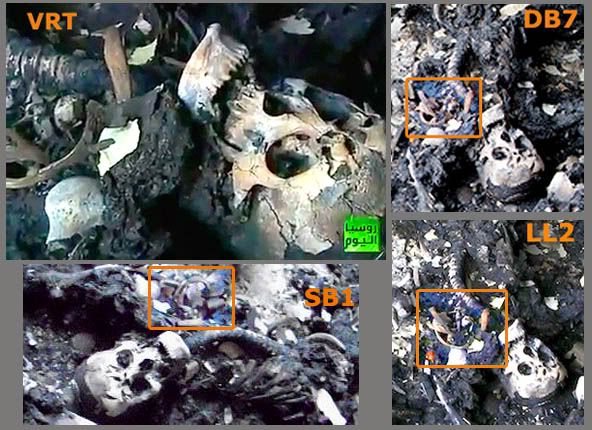 (picture refs, see
charred victims imagery
)
Or is it from one of the grenades the guards used? Maybe it blew up part of the door, curled it up, and blew it into this poor suspected disloyalist.
It's going in the shed massacre report, so
how
should it be put?