May 10
After the city of al Baida was liberated from Gaddafi's hated grip, Matthias Gebauer, a writer for German paper
Der Spiegel,
spoke with one protester
in his hospital bed. Named Said, he had been badly injured at the very start of a battle for the local airport, of February 18. The city had been in turmoil since Wednesday the 15th, with police stations torched and reports of massacres of civilians off the bat. Somehow the whole city was quickly overwhelmed, with some security forces defecting to the rebels, others fleeing, or being killed or captured, or
captured then killed
.
Said explained how on the fourth day of this, February 18th, rumors spread of reinforcements - about 400 foreign African mercenaries being flown in to mow them down. With the city apparently under control enough, hundreds of citizens rushed to the airport to meet the Chadians, he said.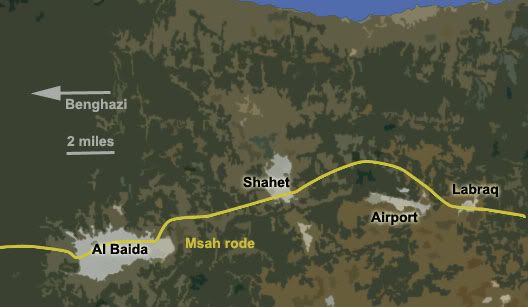 By the map at the left, we can see they didn't likely walk, but it wasn't far either - about ten miles down Msah rode - to al-Baida or Labraq airport. The Spiegel report and other sources confirm plenty of physical evidence of a fierce fight there, one that reportedly ran for at least two days.
But for the moment, our focus is on Said, who only saw the first part of it. He was shot in the legs on the first wave and went own as they tried to storm the place. One leg was perhaps beyond saving, it was reported, but even of his feet, he used his phone to stay mentally involved in the airport battle.
Over and over, he called acquaintances for news of the fight, which could easily be heard in the city five kilometers away. Said learned that the mercenaries continued firing on the demonstrators from the terminal building, even using heavy weaponry against the poorly armed insurgents.
It's a bit further than five kilometers. That's some heavy weaponry to thud like that. It could be.
The main thing about Said is this friend of his, Farj, aged 23, who had just died in a Tripoli hospital. As if witnessing it all first-hand, Gebauer says "when Said learns of his friend's death, he becomes enraged. "This regime killed my friend," he yells. "They murdered him in the hospital."" That's quite a bit of news to happen to pass on right when the reporter is there.
We learn that the demise of Farj was passed on via his father, who learned by phone from a relative with contacts in Tripoli. It was convincing enough for him. "He was still young," he said. "But he died for the right cause. He is a martyr for freedom."
As for how the two pals wound up injured or dead and so far apart, the report explains:
On Friday one week ago, the two were taking part in a protest in Bayda with 23 other friends when they heard a disturbing rumor making the rounds. A giant Ilyushin transport plane had landed at the airport carrying 400 African mercenaries [actually Libyans from Sabah]. The demonstrators knew immediately [Twitter rumors] what the mercenaries' mission was [...] crush the protests, if necessary by firing indiscriminately into the masses. Said and Farj rushed to the airport.
It's hard to believe, but in the short drive to the airport, no one thought to go back and get the few guns some of them were bound to have, and so they arrived for the fight "armed only with wooden clubs and steel rods." Not a good start, and "the mercenaries opened fire with their machine guns," an obvious escalation relative to wood and metal implements.
This is where Said went down, and from the ground he saw Farj captured: "They shot him in the leg and dragged him into the terminal," he said. "Since then," Gebauer was told, and repeated. "Farj and the rest of Said's friends have been missing." "Said assumes that they were taken to Tripoli by airplane," based on no sign afterwards, and apparently one plane escaping (?) with wounded protesters (but leaving behind a couple hundred "mercenaries" to be captured). It is thus interpolated that "Said was the only one of his [25] friends who survived the battle for the airport," by managing to not be dragged off to Tripoli like the other 24. Gebauer continues:
The phone call from Tripoli finally provided Said with certainty about the fate of his friend Farj. But he is consumed by a new suspicion. Doctors from clinics in the capital have called rebels in Bayda with disturbing news. Units of Gadhafi loyalists, Said said the doctors reported, are gathering up injured Gadhafi opponents so that they are unable to report on the regime's brutality. Said is certain that one of those units killed his friend.
"You don't die from a bullet in the leg," he says. "After all, I'm not dead."
That's quite some detective work. "Said said the doctor reported" that units were storming hospitals for wounded protesters they had put there after bringing them to Tripoli to be killed. This had the benefit of adding some witnesses in the hospital staff, who could tip off sleuths like Farj's friend and his dad.
Any single part of this story is possible enough, but taken as a whole, Said's account clearly has some issues. He's not unique that way among our news sources in the rebel camp. They just don't often get scrutinized enough.