Masterlist created May 27, 2012
Last edits Sept. 20, 2012
(new wiki link Nov. 18)
The original article "Behind the Scenes of the Al-Baida Massacre" has been moved
here
.
"Al-Baida" wasn't necessarily the location, for one thing, which remains unsettled.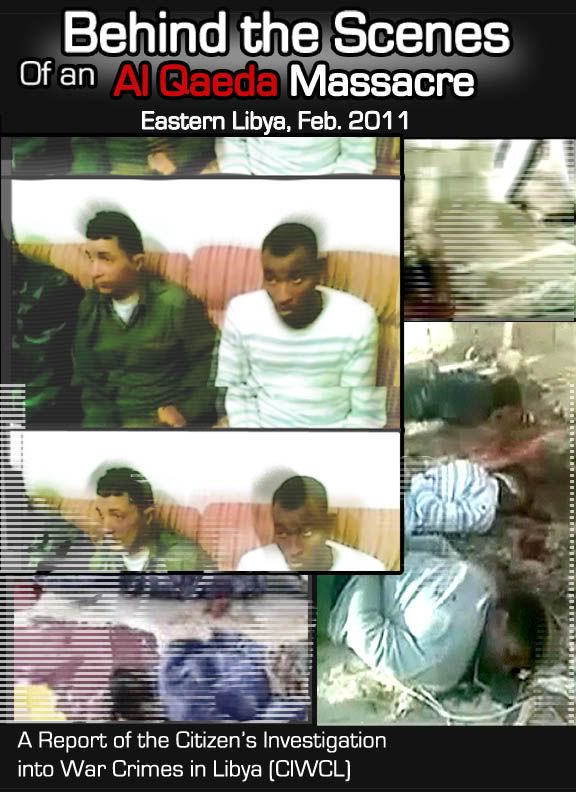 The Sub-posts:
Original article
, first published March 30, 2011, as Behind the Scenes of the Al-Baida Massacre - one of the first articles plugged in as this site was started a month later.
Further Behind the Scenes
- quick updates from April 30 - a transcript, some other things.
Al Baida Massacre III: Three Killings in February
.
From October, the Al-Hassadi Al-Qaeda link and a location-Maktub-come into focus.
Report: Behind the Scenes of an Al Qaeda Massacre
(pretty slick cover at left, report forthcoming, no estimated due date).
Update Sept.20:
Still no report or even effort towards one. Sorry. There should be a more cogent summary of the stuff at the links above, but I'm swamped. However, since this post is getting plenty of views lately, let's take a look at some Al Qaeda / Islamo-nihilist atrocities happening in Syria more recently.
In Douma, near Damascus, the same kind of matching work between rebel captives and murky massacre victims yields fruit more brilliantly than it did here (luckier with abundance of clear visuals). Sixteen regime victims were found, throats slit, rebels said, around Aug. 17, 2012. Only six were clearly shown, and all match with six out of 16 known FSA captives. Those were last seen alive in a video shot by a rebel death squad from the neighboring town (Harasta). (the six seen dead marked here)
See
here
for the fuller explanation, mostly citing existing work but with a few additions from our own.
See also
the expanded Syria page at the CIWCL site
for more things relevant things done well.