November 3, 2011
last edits Nov. 10
<< The Sirte Massacres
The Report: October 24
When Human Rights Watch reported on October 24 on
the Mahari Hotel massacre
, they also mentioned other recent finds in Sirte:
At a separate site in Sirte, Human Rights Watch saw the badly decomposed bodies of 10 people who had apparently also been executed. The bodies had been dumped in a water reservoir in District 2 of the city. The identity of the victims was unknown, and it was not possible to establish whether Gaddafi forces or anti-Gaddafi fighters were responsible. From the state of decomposition of the bodies, it appears they were killed prior to October 12.

Medical officials in Sirte told Human Rights Watch that pro-Gaddafi forces had carried out executions in the city. They said that medical teams and anti-Gaddafi fighters found at least 23 bodies, their hands bound, between October 15 and October 20.
The report on the Mahari hotel victims
, lodged by HRW's emergencies director, Peter Bouckaert, inserted a dynamic all but missing so far in this war: something nearing blame for a more-obvious than usual rebel mass killing. This time it was of 53 people, many of them identified as known Gaddafi loyalists, so it would be hard to deny.
However, the fact that col. Gaddafi himself had just been killed four days before the report, shifting the notions of who's in power and who needs to have human rights issues to exert pressure with, may or may not be a coincidence. It certainly hasn't caused a complete turn-around, or there wouldn't be so much ambiguity over who killed the further 23.
These further discoveries mentioned on the side are all from between October 15 and 20, straddling the line of Gaddafi's murder, and after the big batches of executed people reported on the 12th, and the one of those
reported again slightly altered
on the 14th. Again what's been found is victims of loyalist crimes, the TNC forces say.
As for dumping bodies in this way, it's been done before once that I know of, and that was by the rebel forces. Back in July in the Nafusah Mountains, just outside Qawalish, NYT writer C.J. Chivers found five loyalist soldiers, one of them beheaded,
dumped in a water basin
, as he called it. The rebels he asked about it were pretty sure Gaddafi's people had done it, but Chivers, and everyone else, remained unconvinced.
The Video: November 1
The place Chivers made his discovery was a kind of covered well used to irrigate surrounding crops. This time, the container of water seems to be a different type, much larger, open, and much less clean. That's according to a video reader Peet73 tipped me off to, that is probably of this same scene. It was just uploaded on the 1st, by user Libyansons, with a given record date of October 25th.
جثت ملقاه في مياه الصرف الصحي | سرت [Bodies dumped in the sewage | Sirte]
http://www.youtube.com/watch?v=2UbKcNpGaDE
[Arabic description, Google translate direct:
Find seven bodies
dumped in the sewage water in Sirte 25/10/2011. This Aljtaat been shot by mercenaries and slaves Misurata NATO and the Middle. It was throw it in the septic tank to hide their crime]
Only three bodies are shown in Libyansons' video, although it seems by the title seven were found, or need to be found to make all ten bodies in this pool. Or it's a coincidence and these are 3/7 other bodies in another water basin. I kind of doubt that last, but it's possible. The bodies are floating near each other on the top of a rather large, open pool of green, stagnant water. They're all apparently adult males, wearing civilian clothes, floating face-down in a drift corner with assorted debris.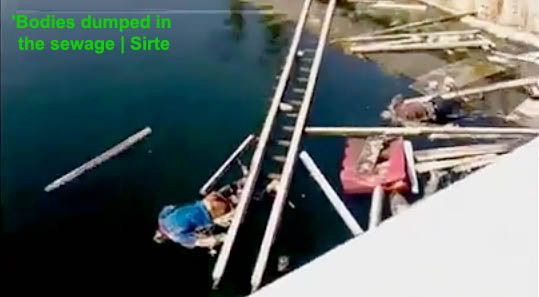 Bodies 1 and 2 (as I've numbered them) visible here, left-to-right.
The feet of body three are visible between them.
Although not apparently bound, at least not hands-behind-the-back, it would seem they were executed (see below). They also seem badly decomposed, like the ones Bouckaert saw, but not uniformly. They display a strange mix of flesh types, from intact to gone, with a dissipating state between - pale, waterlogged tissue sloughing off of their bodies in chunks and strands.
Now for a closer look at each of the three. It's a little late for the warning, but these images are gruesome.
Body 1
He's wearing a light blue short-sleeved shirt, with a red stripe along the top - an indistinct, asymmetrical... blood-stain? Another bad sign is
his missing head
right above that, just a lump of soggy neck tissue, it looks like, remains.
Further, the victim's lower arms (at least the right one) seem to be missing, or at least submerged. Also severed? Nah... I can credit an arm falling off entirely from whatever caused the dissipation of tissue we see here. Besides microbes, if any fish live in this water, even small nibbling ones, they could finally chew through the last tendon, or just leave the forearm skeletonized so that it sinks beneath for lack of floating fat. But for a head to do the same requires severing the spinal cord, and I can't see any normal fish doing that in such short order. I think this man was decapitated before being tossed in here.
Was he bound before? Unlikely. I presume his arms have been in the water this whole time to fall apart like that. If they were behind his back, out in the air and sun, they'd still be as intact as his behind.
Body 2
His skin tone does seem to be lighter than that of body one, and it's possible his flesh is more intact. His left arm (presuming face-down) is intact to the visible hand, with the right arm perhaps gone below the elbow, or just submerged. His left foot may be visible, with no shoe. Being barefoot is also consistent with the kind of Islamist executions plaguing Libya since February.
Body 3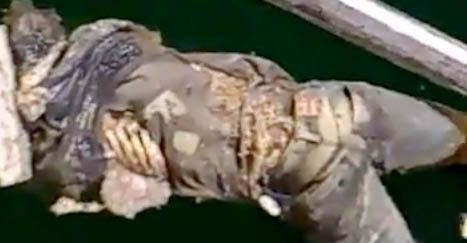 This victim seems to still have a head, although it looks strange and set at an angle, up against some floating debris. In fact, even with enhancements, as shown at left, I can't decide for sure what's up with his head.
The upper body here is roughly skeletonized, which I find surprising. All ribs beneath the torn shirt are visible, whereas the other two bodies still have most flesh intact. That below the waterline is just now falling apart, and that above is not even close. One wonders how many days before the others this one was killed, and whether they were all dumped here at the same time.
His arms are again not tied behind his back. They're apparently beneath the surface or even gone. His lower body is clad in tight jeans, and seems intact,down to the visible left foot. It's again not shod, but apparently still covered in flesh, and so reveals that his skin tone, weeks after death and soaking anyway, is rather pale.
On the Missing Heads and Rot Disparity
It's the beheadings in this case, not bound hands, that makes the floating victims appear executed. And that clue, unlike the other, is widely-associated with Islamist executions, of the type some rebel fighters have engaged in repreatedly in the past. One wonders why Mr. Bouckaert failed to mention this, only saying vaguely they "had apparently also been executed." I agree, I just believe in explaining how I came to decide certain things.
And further, if I were going to say something like "from the state of decomposition of the bodies, it appears they were killed prior to October 12," I'd want to have consistent evidence. That would suggest it was "Gaddafi thugs"who hacked the heads of these people and tossed them into the drink before rebels took that area (which I presume is understood to have happened on the 12th). Only the one skeletonized body I can see makes me think more than two weeks has passed since his death. The other two look considerably fresher. I'd wonder from that if an old body, or a few, were added to allow that impression to be made, and I'd refuse to take the opportunity. I'd go with how long the freshest looking ones seem to have been there.
More coming, on anything else that comes up with these or the additional 13 lumped with them...
Location
Thanks to reader Peet 73, we have a likely location. It's more Hay al-Dollar really than District Two, but close enough. Note that the site of this pool is only about 200 meters north of the spot where reader Petri Krohn has identified as the site of the 10 bodies
burnt, run over, and burnt again
. From the angle of sunlight, I'd say the video under scrutiny here was filmed around mid-day at the pool's northeast corner.
As for the significance of this location, recall Bouckeart's assessment of the age of the bodies: "
it appears they were killed prior to October 12."
This is the date the rebels claimed control of this general area and first allowed the media in, to see the bodies just south of this spot but not these.
under their control
by the 10th of October at the latest
, and perhaps even earlier than the 4th.
Lining up
a Wikipedia graphic
of rebel holdings in Sirte as of October 10 (pink), and
from the UK Guardian
the western front on October 4 (white zig-zag line), with the area in question in a green square, we see it's solidly in their zone.