By Caustic Logic
August 11, 2012
<< Abu Salim Hospital Massacre {Masterlist}
The following is a sub-section of the report "A Violation of Medical Neutrality: The Negelected Massacre at Abu Salim Trauma Hospital." The report is nearing completion on schedule to mark the approximate anniversary of the hospital massacre - same day this kid allegedly had a bullet removed from his chest there.
---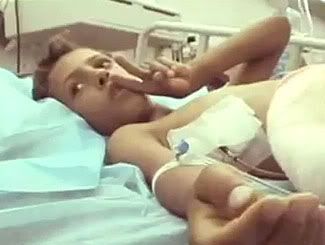 The alleged sniper-shot boy is given as Mohammed (family name perhaps Al-Zadma), aged 10, although he looks a bit older. The Al Jazeera English crew didn't get his name as they filmed him looking a little weak on the 25th. "A boy, a bullet removed from his chest, is now recovering." He was sure to be filmed flashing the rebel victory sign and pumping his fist, while looking at someone off-camera expectantly. [AJE]
An AFP video report from the following day, as he was being evacuated, names him as Mohammed and shows his mother. [FP2] A Euronews report offers the most details, all questionable. "As the rebels swept in last Sunday [Aug. 21], 10-year-old Mohammad went on to the streets to watch history being made," presumably without parental consent, and was "injured in the chaos." [E1] A report from AFP's Marc Bastian said the boy was shot, apparently by a sniper, "in the back," while he was just "outside Moamer Kadhafi's compound in the Libyan capital." This information came from his father, who obviously must not have seen it happen. He told Bastian "my son was wounded outside Bab al-Aziziya, but we didn't know where he had been taken." [FP4]
Euronews reported after the shooting, he was "taken to a local hospital where his parents eventually found him by chance,"
five days later
, and just moments before their news appearances. Rabii Saaid, "The doctor who treated him" said: "we were trying to transfer him, and suddenly the family arrived to look for him. They saw him in the ambulance and they were very, very shocked." [E1] The reunion outside the hospital was purely by chance, a complete surprise, and thus presumably not stage-managed for the media. It did carry a conveniently positive message considering the grave aftermath of the rebel-initiated violence of the past week; "The discovery brought a ray of joy into an area that has seen fierce fighting," Euronews noted. [E1]
The boy's mother Aisha Al-Zadma said, on the sixth and last day he was missing, that they had all "
spent four days
searching for him." They wouldn't have been able to check this most local hospital, considering the fighting, but it's not specified where else they had frantically checked. "We've eaten nothing" in those days, Aisha said. His father added: "I didn't know he was here. They told me that there were bodies here and maybe my son was among them. I came to look, and it was only today that I found him. That's five days I've been looking for him." [E1]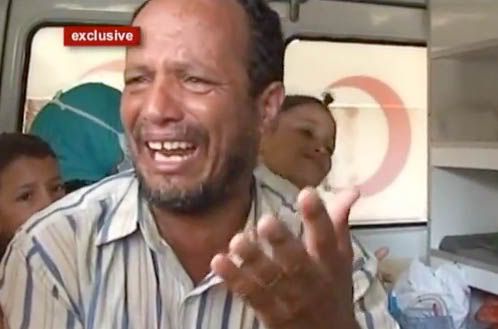 The Euronews video shows Mohammed's unnamed father clearly overcome to an unnerving degree. It looks like relief, sudden joy, and perplexity all mingled, and still shaped by days of sorrow and worry. It's all directed far more at the cameras than at his son who lays three feet away, once again just waiting. [E1] This scene was witnessed by Channel 4's Alex Thomson as well. Perhaps not knowing the back-story, he decided "in one ambulance a man, almost incoherent with fear, just kept saying: "Al Hamdillulah" – thank God. Three young children sat near him almost beatifically calm in their shock." [AT4] One of these children was of course Mohammed, and his little sister can be seen briefly, in the Euronews video, smiling at the strangeness of this family trip (visible in the still above, along with a younger brother, it seems). [E1] Mohammed doesn't speak or show any emotion in the available videos at all, "in too much pain to talk," one of them explained.
All this together merits a flashback to Misrata, about four months before the events in Tripoli.
"The Sniped tykes of Misrata
," an early investigation by the author, exposed transparent rebel propaganda based on fake x-ray images. [STM] These were said to prove at least two children, a 4-year-old girl and 5-year-old boy, were both shot in the chest by government snipers. The boy's film was shown by Human Rights Watch, alongside the victim, his bandaged wound, and his mother. Then a copy of it was quickly spotted in a video - presented as an image from the girl's chest. The "removed bullet" was shown in a vial, alongside the film and a sleeping girl. [STM] Below, the two images compared – left, the girl's film, skewed to proportion, and right, the boy's.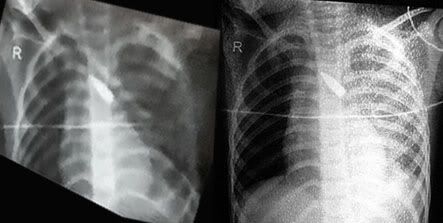 Both images are the same but for the shoulder marking on the right and, here, the different backgrounds behind the translucent films. This clearly can't be an accurate image for both of them, and further, the image itself is quite questionable. There is no deformation to the bullet (center, obscured by the spine), and stranger yet, there is no bending or breaking of a single rib. We see a short path to stopping, after no visible resistance, just shy of the heart. Before that, it was apparently fired upward, at an odd, steep angle – perhaps a rare case of street-level snipers shooting rooftop children. Or alternately, the bullet was laid on a kid's sternum at a stupid angle as the x-ray projector was passed over them, or image editing software and a film printer were used. But clearly, the firing of a bullet had nothing to do with these images or, presumably, with those two children from rebel-held Misrata. [STM]
Tripolitanian Mohammed allegedly suffered the same fate, a sniper bullet lodged in the chest, just as the Misratan rebels entered the capitol. They also brought their public relations tricks. Sniper-shot kids and nice endings injecting "rays of joy" are both helpful. His X-ray film wasn't shown, but it's entirely possible the CIWCL already has two copies of the one someone might have considered showing.
The best view for assessing Mohammed's injuries is an AFP video that shows him shirtless, carried onto a gurney. His back is seen obliquely, and his chest from all sides, all revealing no mark anywhere aside from the bandaged area on his mid-right side, a drainage tube attached. [FP2] This is arguably "the back," by now apparently the entry wound and the point of surgical extraction (suggesting the bullet didn't lodge itself in very far). There being no exit wound is consistent with the bullet needing to be removed, as it reportedly was, with surgery performed at Abu Salim hospital on or after the 21st, just about the same time most of the staff was reportedly fleeing.
Mohammed was thus apparently there the whole time, and like the others, has nothing to say, or even gesture, suggesting there was a mass-killing in that time. By seeing no such thing, he's another witness for the questionable rebel version of what happened at the trauma hospital. Considering this and the problems laid out above, it's clearly worth wondering if he was ever shot at all, and whether he was truly there for days waiting for rescue. Perhaps he and his story were simply placed there on the 25th, prior to Simmons' guided tour.
After, he was taken to
Tripoli Medical Center
, a roost for Dr. Salem Al-Farjani and his fake witness operation. If there was anything shady about Mohammed, or Abdullah, or the car buyer, Dr. Al-Farjani was the guy, apparently, who would understand and wink. If little Mohammed's turn for the cameras was a stage managed propaganda stunt, as it almost seems, it would be a sick task to lay on a child. As AFP's Marc Bastian noted, after laying for however long among the rotting dead, with such ominous mystery hovering over them, Mohammed "is likely to suffer nightmares about his time in the hospital for years to come." [FP4]
Sources: forthcoming