May 27/28, 2012
Adam Larson/Caustic Logic
last updated July 4
(new wiki link finally added, Nov.18)
July 4 "Houla" Massacre investigation progress:
A Discussion thread:
Houla Massacre, Syria: What If?
An appeal and two starter articles
at the CIWCL site
the appeal and the forum create
the research wiki
(still accepting members willing to dig in a bit and help)
That enables
a featrued article at SyriaNews.cc
, July 3.
The last was actually finished and published today, the 4th, but didn't want to make a point. But here I do.
Happy Independence Day, USA.
Long ago you stood up as a nation and said "we have a right to exist as a nation and reject foreign management." Some nations don't get to be so lucky, even today. From the last link (prior to a possible edit of a few typos, which I'll just fix here, sory):
Do please realize now that if little Al Al-Sayed is a fake, coached witness as he now seems, that suggests the opposite of what he says is more likely true. That means the people the West is increasingly arming and supporting are the ones who actually left a reported 49 children and 59 adults dead in Houla. It would mean the weapons people want more of sent were responsible for attacking the protecting army stations, and getting these monsters in close enough to slash throats, hammer heads, rape, mutilate, burn, and otherwise make of men, women, and children extreme examples sent out on Youtube.
Besides propaganda fuel against the regime, this horror show might also have been designed to send a different signal within Syria, where people actually know more of what's going on and have thought about it more deeply. Some evidence suggests the killings terrorized loyalist, Alawite, and other non-Sunni or non-rebel families into fleeing for their lives and limbs. That's in lieu of joining or surrendering to the side that, increasingly, has a good chance of winning and hunting them down anyway.

After Houla and at least one copycat massacre, among an ever-increasing string of barbaric terrorist acts, it's more urgent than ever that the world help Syria overcome the menace. Monsters are inscribing their bleak world vision on the flesh of the nation's families, and the government's defenses grow weaker by the week. But sadly, the brain-damaged "world community" is further than ever from helping at all, and is in fact pushing to escalate the horror until it manages to overcome all defenses and satiate itself at its own leisure.

And doubtless we'll have plenty of witnesses along the way to deliver a version that upsets us less than the truth would.
Original article, initial thoughts, updated to June 2, below:
---
I don't keep up on the news, and Syria, while related, is off-topic here. But I just caught a CNN report on the protests against a supposed Syrian government atrocity, late on Friday (May 25), in the small town of Houla (or rather the Houla area, with the worst in Taldou). The readers hardly should need a re-cap of this amazing slaughter - as in with blades - of over 100 people, half of them young children. Some number of Syrian protesters believe the Rebel claims of Assad forces authorship, and are protesting and, they say, being killed nowfor that. There's condemnation from self-righteous Western outsiders of the Syrian forces, its demonized regime, even
the UN monitors
who've been monitoring the gov't forces and still failed to prevent this massacre against civilians (meaning BY non-civilians, gov't forces)...
Who runs the morgue where all the bodies are laid out? Where was the rebel video of this to shock the world freely filmed? Is it it an area under rebel/terrorist gang control? Let's see.
Houla, Google Maps
- about ten miles northwest of Homs.
Map, April 10
- it's between Homs and Rastan, partially controlled and totally controlled and hotly contested by the false-flagging Bosnian-Libyan style terrorists there. Suspicions bolstered.
The big question CNN and the corporate media salivating after Iran's oil will not want to ask:
Who stands to benefit from a sudden slaughter-provoked panic in this rebel-held area? The government struggling to regain control of a country it has to live in, or the outsiders (who feel free to mangle and walk away as they've done in Libya) and the insurgents they support? Who would hack to death fifty children?
Who stands to benefit from the responsibility to Panic (R2P) doctrine, when Syria's (and Libya's) enemies tend to control the process?
Islamists
hack people up. Islamist provocateurs might do it in public, en masse, on children, if they want to upset people in a direction they find useful for destroying a nation. Libyans are involved here, since the NTC/NATO rebels took over Libya's plentiful ports, their exports include people much like the ones who almost surely caused
the slaughter at Abu Salim hospital
, perhaps 200 or more people shot in their hospital beds, throats slit, heads chopped off, government loyalists, local black people who were trying to flee, a few women and children included... this time they're in someone else's contry, perhaps more free to mangle and walk away like NATO does.
What this incident really needs now is an investigation.
Heck, the hospital thing still hasn't gotten one, and this won't either. What it's supposed to get is panic, moral certainty, and strong action to overthrow the government and turn the whole country over to the armed militias of whoever, just like happened in Libya. It'll probably get something along those lines.
No bombing this time? Fine. It won't be so quick and decisive. Rather than 7-8 months bombing and then the years-long purges and skirmishes, it'll be
a grinding three-year war, costing at least half a million lives
. Followed by the purges and insurgency and bleed-over. Sound good? No. "The Arab Spring" is long over. Welcome to next year, with Syria still resisting. Time to acknowledge a few things.
Advice to Syrians
The Libyan loyalists (a large and ignored percentage of the population, if not an ignored majority) were up against even more pressure by far, per capita, than the you guys are now. But if they had stood together stronger at Tripoli, or earlier, they could have stopped – or greatly slowed - even that onslaught. Some of them fought valiantly but too little too late, and they were slaughtered. Too many others caved in to fatalism, defected, fled, or surrendered. Now those who supported or served the former government are demonized and hunted down, imprisoned for rebel crimes against their colleagues, blamed on them, and often tortured to death well before any of the promised "fair trials."
The world cannot sit by and watch – or help - this happen again. Nonetheless, it might. All citizens who support the government of Syria, or at least oppose the terrorists trying to destroy it,
make an ever more united front.
Bigger protests, armed militias – armed civilians fighting the armed civilians-boy wouldn't that confuse the corporate media? Brainwashed civilians they'd say, so not civilians-government machines. Well, fuck them. Arrest the rats, confiscate their weapons. Get decisive. Isolate their strongholds, smash their border crossings and supply lines. Support and protect the locals in their effort to end the disorder and get on with a reasoned approach to settling the real grievances they have against the government.
If the forces of "Free Syria" and chaos are allowed to win, as some very powerful people are trying to make happen, eventually, it could be over for you. Government soldiers, police, ministers and workers and prominent civilian supporters and volunteer defenders will pay. They'll be the ones hacked up in ditches, languishing in prisons rape rooms, toenails pulled out, boiled alive, who knows?
If you are to be killed for daring to oppose them, do it head-on, in battle, now or quite soon.
This is war, or at least a huge police operation that's threatening to become one, so no doubt people will continue to die during the clean-up. The Syrian loyalists must remain sane and humane, killing as few as possible, detaining or abusing as few as possible, all the while documenting everything, showing the world the truth (even if it ignores you by and large). They need to know they're losing, and start giving up and scattering.
Don't ignore the propagandists – answer them calmly and efficiently. But don't waste much breath or time trying to argue with them.
Advice to The World:
Russia: they could use more some help on all fronts. Responsibility to Protect a state from anarchy and years of bloodshed and revenge and torture? Check.
Iran: fuck the propagandists. Send technical support for border control. Keep this all between the Syrians to sort out or, if that fails, make sure both sides are bolstered by armed outsiders, the legitimate government with more. You could be a force for peace, preventing the grinding war from taking root. Not that you'll get the recognition you deserve from CNN and the like...
UN: Can you do your job this time, unlike with Libya? The inspectors do seem to be making some sense. Who do they feel has been trying to blow up the monitors in rebel-held territory?
F-UK-USA/Israel/Rebel Libya/Saudis/Others: Fuck the fuck off. I wish I could flat out say "you will lose here," but that's not clear yet. I hope it does soon get that way. Above named parties - make it so.
Update May 29:
From one of the great comments below,
Houla one month ago
, on the regime's last child-killing foray against civilians there. They selected a Syrian military officer and his entire family. For refusing to kill civilians, we presume? Here's a young boy of a loyalist family caught in the crossfire. Not in the sense of being hit by accident. No, someone decided to put bullets in each and every one of these brains they hated. And they keep coming back for more, especially now the child-killing is working in their favor.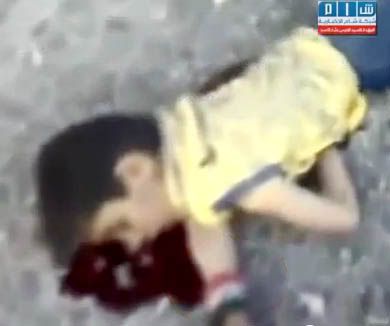 June 2: A lot of typos and such above, little time. New info is coming out. Some links
Details on the Syrian investigation
(called a "Blatant Lie" by Susan "Viagra" Rice)
A list of the victims
, Google translated Lots of stupid shit about punishing the regime, broad acceptance the regime did the shelling, because they have such weapons for sure and the terrorists only might have them.
BBC has satellite images
from the day after the massacre showing caterpillar tracks in the "suspected artillery position," suggesting tank-tread artillery was driven there the day before.
"All the images were taken on the morning of Saturday 26 May, within hours of the massacre ending."
So... why are
the same tracks there
on
Google Maps' earlier, greener imagery
from February 22 or earlier (not there in Aug 20 2010, there by Feb. 22, per Google Earth, and thanks Petri for looking that up). This might be a tree farm, a small one, with lots of little dirt roads for accessing the trees, to plant, water, and eventually harvest them. I don't see any reason to think it's a place where artillery's been driving at random amongst the trees for at least three months now.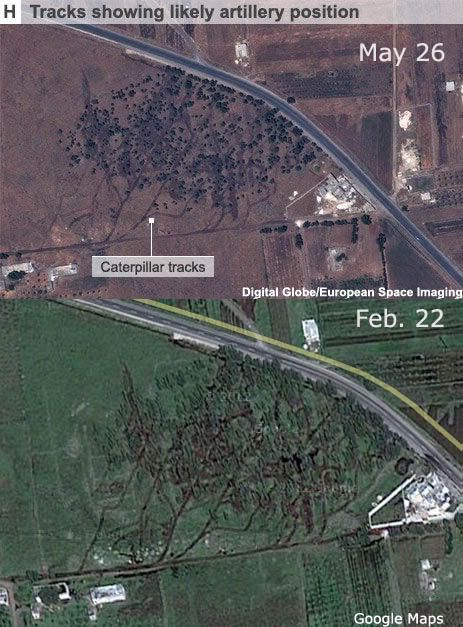 Why do we suppose the BBC called them "telltale tracks," giving credence to private "military analyst" Forbes McKenzie? McKenzie "believes [these] are the caterpillar tracks left by a mobile artillery battery that fired on the civilian houses" and told the BBC "This would be standard Soviet bloc tactics, firing from woods and then withdrawing." Is this guy an idiot or a liar trying to "justify" war? I don't think he's an idiot.