September 21, 2011
In my quest for the elusive video proof of innocent protesters shot by government forces in Libya (link forthcoming), I've found a rare near-match I'll consider close enough to look at in detail. There are two ways this video from the uprising's first hours has been read by others in the past. I don't quite believe either version, but only one of them is outright wrong and deceptive.
1) The Standard Version
First, how most English-speaking people have seen it, via al Jazeera English:
Protesters clash with police in Benghazi, Libya
http://www.youtube.com/watch?v=q9Bw45P2zGs
Uploaded by AlJazeeraEnglish on Feb 16, 2011
The first few seconds here show the scene in question - unarmed demonstrators, teenagers mostly, it seems (one holds a basketball) go behind a wall. We don't see what's on the other side. Shots are fired and they come running back out. The reporter here says "a number of injured are carried from the scene." One injured is seen carried out. It looks pretty clearly like the government firing on demonstrators. It's said this happened "outside a police station" in Benghazi on Tuesday February 15, in the initial response to the arrest of "activist"
(provocateur and liar, I hear) Fathi Terbil
. Terbil was released the same day, but violent protests started and continued heedless, only escalating daily from there into full-on civil war.
And that was all because of obvious, evil, unprovoked state violence like what we can see (in our mind's eyes) here.
2) The Other Version:
Proof of aljazeera lies against Libya
http://www.youtube.com/watch?v=mpbjSPHOdZQ
Uploaded by Gaddafi4evr on Jul 25, 2011
(and earlier by Libya17f,
not
a rebel outfit - original link if itstill exists and I can find it)
This video starts with a clip cut about the same way as the above, but with different narration in Arabic (al Jazeera original, I presume, from the title). It says (per the subtitles in English):
At least six dead in confrontations against Libyan security and demonstrators in white, east of the country. The security men used live bullets in addition to securing a sniper against the crowd, which demonstrated peacefully.
First, I suspect a mix-up. No one was killed in Benghazi Feb. 15. Many of those shown wear white, but why mention that? The audio says it like "baida," or "al Baida," the city in the east whose name means 'the white' (short for 'the white Monastery'). This audio refers to clashes in al Baida on the 16th, but the video is Benghazi on the 15th. Huh! I corrected a Libyan!
Moving on from there, this video also has the original uncut video (or at least cut differently than this one), and it adds serious ambiguity to the situation. For one thing, the video says,
the protesters chant al Fateh
(for Gaddafi's revolution). I can't tell for sure, but it sounds about right, per the audio.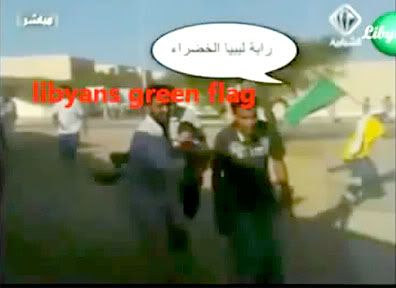 And at least one of them is carrying a mid-sized
all-green Libyan flag
, first seen from a distance. These are the people who charge behind a wall and then run from those apparent gunshots. We then see another, or the same, green flag zipping by quite visibly. It's carried by an exuberant black-skinned youth running by the camera in the chaos, just as the injured protester is about to be carried past and around the corner.
Al Jazeera's edit somehow missed that.
This video doesn't specify who the unseen gunmen were, but by implication they seem to be anti-government, maybe Nescafe-drugged, al Qaeda terrorists. I'm not so sure that version is true either, and not even sure anyone was shot here. This video is confusing and hard to get a clear reading on. Let's get specific.
The Scene / Protester Groupings
The long version (video 2) starts with a still pro-government protest in the distance, with the flag and chanting noted. They're roughly on the right side of the screen, across street from the walled compound.
There's another group to the left, across the street. Those furthest stand in a line across the gate into the compound, and others apparently allied with them (kids mostly) mill about between them and the camera, just outside the walls. It stands to reason but we can't be sure that those on this side are with the anti-Gaddafi crowd, allied with other protesters inside the walls.
At 1:10 the pro side runs towards the gateway, causing some of the kids nearer the camera to start, as in a flinch. The lines meet in an unclear nature and overall, people start pouring inside the walls at about 1:18. Shots begin at 1:24, and the shooting and running continue for the rest of the video. The one green flag we see clearly runs through the presumably anti area, and the camera doesn't avoid it, but again, it's not fully clear they're all on the same side. It's perhaps just not as hostile as it would get in a few days. Civility might still hold sway enough the different sides could still run past each other without fear of beheading.
The possibilities here are complex. We seem to have two sides, both peaceful, meeting off-camera. Then shots are fired, perhaps in the air to break it all up, a couple bullets ricocheted off low clouds, I don't know. The injured could be from one side or the other, this just isn't clear.
Video Edits
Video 2, the long version, is not uncut. There is an edit at about 1:00 just after one of those Libyan-looking pickup trucks (white with a red squiggle) leaves. It resumes as the pro-green crowd surges in. The first view of the green flag and the "al Fateh" chanting both occur before this one edit.
Video 1 apparently started with this copy and is just surgically altered from there. It starts
only
with the surge that obscures the green flag among them, and also misses the clearer chanting. It then continuous through the shooting and first of the fleeing until another cut to skip the green flag again. It only resumes after the injured guy is carried past and the camera's following him close-up. From this there's no sign of affiliation at all, just people, and apparently someone shooting them - clear enough for most.
Incongruous Violence / My Best Guess
First, everything else I see shows February 15, while marking the first violent protests, relativelty peaceful with few or no gunshot injuries and no deaths. It's quite early for even the boldest of would-be insurgents to be shooting at people in the open - least of all at a police station! Plus, if terrorist protesters were shooting loyal, peaceful Libyans at about hour one of violent protests or even before, I'd think the government would have noted it. As far as I can see, they haven't, and no one cites firing anywhere that day- no fatalities.
Goheda
cites the first deaths in Benghazi (six) as happening on the evening of the 16th as protesters raided and burned police stations. Wikipedia's "First Battle of Benghazi" (there was no second one) has the first deaths only on the 17th. The UNHCR report lists no deaths for the 15th or 16th at all. The Guardian's live blog says for the 15th:
The online edition of Libya's privately owned Quryna newspaper, which is based in Benghazi, reported that demonstrators had petrol bombs and threw stones.

It said a crowd protested outside a local government office to demand the release of the activist [Terbil], and then went to the city's Shajara square where demonstrators clashed with police and government supporters.

Government supporters have now taken over the square, according to reports. Fourteen people were injured including 10 police officers, but none of the injuries was serious, the newspaper said.
Here it's said we have "several injured," which, if they're not talking police, must be about four. No one died. No serious injuries. No shooting. But there were shots! And blood!
Two possibilities, one imaginative, the other more likely:
1) It could be fake. I'd say the gunshots could be loud firecrackers, but for the bloodied kid. And I could see that as special effects, but for the gunshots. So hypthetically, it could have all been a staged bit of fakery, by whichever side (both) might have a motive to demonize the other. But how do you get so many people to run from firecrackers?
2) The injured kid we see was bloodied up in a hand-to-hand scuffle, or by a tossed rock maybe, and the shots were in the air to break it up.
The police may have saved him
from further injury for some punk remark. His friends carried him off, either to make him look gravely injured for some cameras, or just because he's a pansy, or felt a bit woozy. Again, could be from either side, but I suspect anti-Gaddafi.
Anyone else have a better explanation?