June 18 2011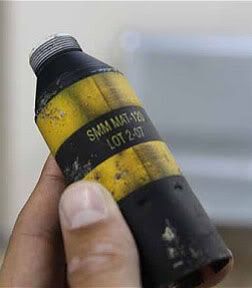 The only reasonably confirmed cluster bomb attack on Misrata, the night of April 14, was of "at least three" Instalaza MAT-120 cluster munitions, visibly bursting over the city and scattering their bomblets - 21 each. The MAT-120 is a weapon
in NATO's known arsenal but not Libya's
, but their use in Misrata was instantly blamed on Libya. One of the bomblets - found or made innocuous - can be seen at left, held for the camera of either Human Rights Watch or the New York Times, I forget which.
If it's in this shape, I think that means it never exploded. I was wondering how many of these at least 63 little guys detonated at all, given there seemed to be no deaths or even injuries in the residential area targeted. There was at least the one that was a dud, and I thought I saw a photo of at least two in the same frame.
I was going to look at the available pictures again sometime, or some reports, but stumbled across this first:
a video by UNICEF
, posted June 6. I found the screen capture below interesting -
fourteen
apparent dud bomblets displayed amongs other military artifacts in a downtown bazaar. That would suggest a failure rate of somewhere just under 25% if the number was 63.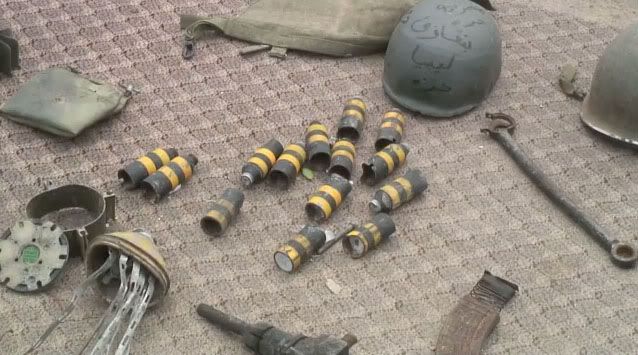 Did any of these things actually blow up, I wonder, or was no live fire, no death, part of the psyop code of ethics? It sure wouldn't be on the brutal government attack agenda, to do something so stupid just to get caught and kill no one in the process anyway, in the attack or after.
Update June 19:
There are now some questions over the research supporting no Libya link to the MAT-120, at least, and related issues. I'll try to report on this once I've gotten a clearer view. One helpful new source is
this follow-up
from C.J. Chivers, the New York Times reporter who first ran with the story. He cites reports before his arrival early on April 14, and bursts visible as he sailed in as consistent with (but not proof of) more cluster bombs. He saw the bomblets starting that first day, and late that night/early on the morning of the 15th, he heard several detonating with "distinct sounds — a densely compressed set of crunching, rolling explosions in a small area." Plus there were the other witnesses who said they saw such detonations.
So really this line of questioning probably isn't worth much. But the image was interesting, and for what it's worth, there's a small thought.